It's been a while since we've talked about our Bramble Berry Athletic Club. We're psyched to be able to donate to different charities around the country and support the athletic events of the BBAC! If you don't know what the BBAC is, check out the team here! We've already made a handful of donations so far and we're excited to make the rest of the donations this week! We're putting the goody bags together as we speak (ahem…the team shirts are so cute) and we're sending an essential oil blend for each member of the team to try out before, during and after their athletic event. Don't worry, we're going to share the EO blends with our Soap Queen readers too (we would hate to leave anyone out)!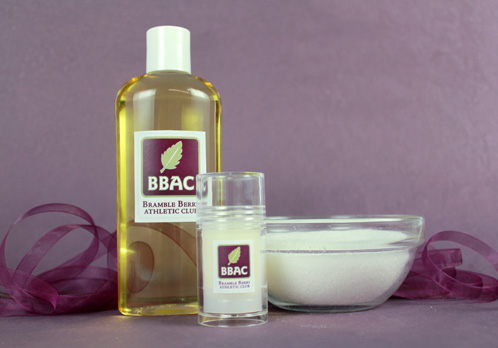 BBAC Sore Muscle Essential Oils
Eucalyptus (Eucalyptus globulus) Essential Oil is distilled from the leaf of the Eucalyptus plant. Most people are familiar with its scent for the antiseptic uses. But what you may not know is that this very strong essential oil that is great for massaging into those sore muscles for nearly instant relief. It's an anti-inflammatory that you'll find in many creams and rubs.
Black Pepper (Piper nigrum) Essential Oil is distilled from the berries of the Black Pepper flowering vine. It gives a warm and soothing effect making it great for treating pains, strains and muscle aches when applied topically.
Lavender 40/42 (Lavandula angustifolia) Essential Oil is a natural lavender essential oil blend that like red table wine and is blended from a variety of batches every season to ensure stability in odor and strength. This oil is commonly used as a relaxant in oils, salts and rubs. This EO will be great for after the race. It's even known as a healing agent is reputed to treat bites, stings, cuts and inflammation.
Peppermint (Mentha Piperita) Essential Oil causes a cooling effect on the skin which is good for circulatory stimulation. The essential oil can stimulate and energize you for your big event!
Just a reminder: with essential oils, you MUST dilute them before using them on the skin. Never, ever use them straight.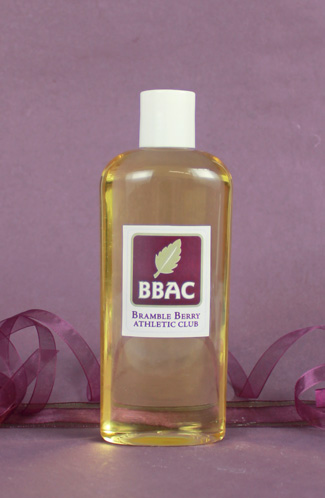 Recipe #1: Pre-Race Blend Massage Oil
Loosen up  up before the big race with a combination of Lavender 40/42, Peppermint and Eucalyptus Essential Oils mixed with Avocado and Vitamin E Oils. The lavender will help reduce stress so you can get focused on your event while the other other two oils stimulate your circulatory system. Get those muscles ready to win!
Ingredients:
2.5 grams Lavender 40/42 Essential Oil  
1 gram Peppermint Essential Oil
1 gram Eucalyptus Essential Oil
7 oz. Avocado Oil
1 oz. Vitamin E Oil
(1) 8 oz. bottle
ONE: Blend essentials oils of Lavender, Peppermint and Eucalyptus at a 2.5:1:1 ratio.
TWO: Combine 7 oz of Avocado Oil  and  1 oz of Vitamin E Oil in a mixing bowl and combine.
THREE: After thoroughly mixing the oils, add in the 4.5 grams of the essential oil blend and mix thoroughly.
FOUR: Pour into the 8 oz. bottle!
To Use: Apply massage oil to sore muscles (hopefully with an actual massage!)
Recipe #2: Sore Muscle Blend Massage Stick
This massage stick is great to use right before the big race or keep in your pack during a long marathon. We designed this EO blend with more Eucalyptus so you might feel faster relief when you apply this to your pained muscles during your event. 
Ingredients:
6 drops Eucalyptus Essential Oil
3 drops Black Pepper Essential Oil
3 drops Lavender 40/42 Essential Oil  
1 oz. Solid Perfume Base
(1) Push Tube
ONE: Blend essential oils of Eucalyptus, Black Pepper and Lavender at a 2:1:1 ratio. This equals roughly 6 drops Eucalyptus, 3 drops Black Pepper and 3 drops Lavender 40/42.
TWO: Scoop 1 oz. of Solid Perfume Base out into a small, heat safe, measuring glass and microwave until melted (at 15-second bursts).
THREE: Add 12 drops of the essential oil blend to the melted perfume base and mix thoroughly.
FOUR: Pour the mixture into the push tube and let cool.
To Use: Apply lotion bar to your sore muscles.
Recipe #3: Post Race Foot Soak
This recipe is similar to the one above but the has a little more Black Pepper to help prevent stiffness and encourage circulatory stimulation. Pssst – Black Pepper also has anti-bacterial properties. Your feet might need it after a long run!
Ingredients:
4 grams Black Pepper Essential Oil
2 grams Lavender 40/42 Essential Oil  
2.4 grams Eucalyptus Essential Oil
2.5 cups of Epsom Salt, Extra Fine
(1) Dropper
Step 1: Blend essential oils of Black Pepper, Lavender and Eucalyptus at a 2:1:1 ratio. This equal approximately 4 grams of Black Pepper, 2 grams of Lavender 40/42 and 2.4 grams Eucalyptus essential oil.
Step 2: Pour 2.5 cups of Epsom Salt into a large mixing bowl and stir salts until all clumps are gone.
Step 3: Slowly mix 8.4 grams of the essential oil blend into the Epsom salts and mix well.
To Use: Add 4 tablespoons of the salt soap per 2 quarts of warm water. Feel free to add more if you want a stronger scent or a more 'zingy!' foot bath.

Click here to add everything you need for this project to your Bramble Berry shopping cart!
BBAC Athletes – look for your goody packages, including your t-shirts, next week. And, for the rest of you, there's an athlete in us all! Go work your muscles extra hard, try our blends or create some of your own. I want to hear what your go-to blends are. After all, the sun is starting to shine in Bellingham and I'm looking forward to getting out and pounding the pavement myself.