It's the very first Make It Monday (er… Tuesday),  contest of 2013 and I can't wait to see what you have in store for us. This last week has been a blur of activity from these fun Hidden Color Bath Bombs to Making Soap for AmeriCares (Go Team Bramble Berry!) and our first Soap Queen TV episode of the year. On Wednesday last week, we finally learned the gender of Bramble Baby #2 (we are having a girl, did you guess right in our poll?) and I had to keep the secret until we could tell our family at a gathering on SATURDAY. People, do you know what that was like?? It was soooo hard to keep a secret!
That being said, I'm excited to bring you the Make It Monday (errr …. Tuesday!)  contest. Are you ready for this? Drum roll please…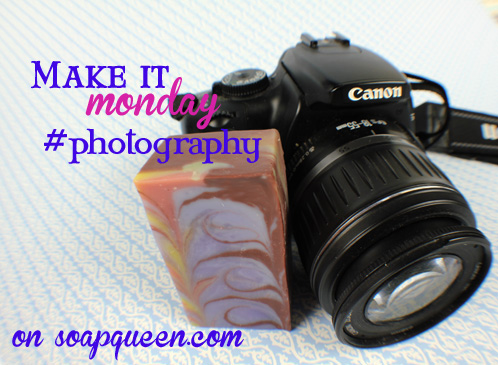 Mission (if you choose to accept it)
This contest is a bit different, we want you to submit a picture (that YOU took) that follows the theme for the challenge of the week.  This week is all about using capturing great pictures of your bath and body products. For some great tips on photographing your products, check out this blog post.
Post your pictures of your soapy photography to Bramble Berry's Facebook page during the entry period (January 15th -January 29th).
Your entry must have the hashtag of the week in order to be entered into the contest. This week, your picture must have the hashtag "#photography".
You may submit up to three different pictures.
At the end of the two weeks, Team Bramble Berry will pick our favorite soaps. The winners of the challenge will be featured in their very own Soap Queen Blog post. You have until Tuesday, January 29th to post your #photography.
Here is some inspiration to get you started!