Halloween is creeping and crawling closer and closer, and this week we're focused on creating all kinds of ghoulish crafts. If you need some extra-spooky soapy inspiration, check out our Spooky Eyeball Soap and the SpiderWeb Cold Process Soap. If melt and pour is more your style, you might like our Jack-O-Lantern, Candy Corn or Fall Leaves Project.
In related soapy news, we kicked off this week with a quick primer on how to use our fragrance calculator. You'll never again have to guess how much to fragrance your holiday-scented goodies! On Thursday, we discussed something all cold process soapers dread: soda ash. Check out the post for tips on how to prevent the ash from forming or strategies to clean it off so your bars look shiny and clean.
Speaking of shiny and clean, this week's photo is a beautiful milky-white bar of soap with a spooky twist. Read on to learn more about our winner!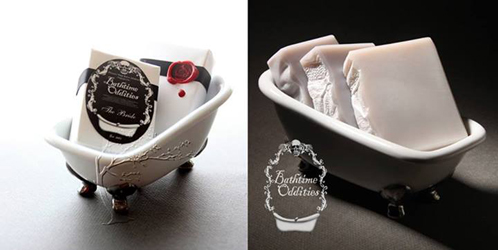 This week's feature is a delightfully spooky set of soaps from LeeAnn, owner of Rowan Tree Bath Works. LeeAnn showed of the new packaging for her line of Bathtime Oddities Soaps, which are a line of macabre-inspired soaps (perfect for the Halloween season!) We just loved the cute mini-bathtubs that were part of her presentation, and thought that the packaging was spot-on. For more inspiration on packaging, check out this #packaging album on our Facebook page. Thank you so much to LeeAnn and all the soapers and crafters who are a part of our amazing soapmaking community. You continue to impress me with your creativity, determination and dedication to the craft. =)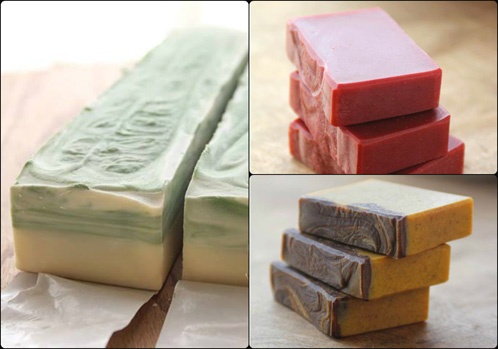 LeeAnn's Facebook Page: Rowan Tree Bath Works

Post pictures of your soap creations on the Facebook page each week for a chance to be featured on the Soap Queen blog and receive a sweet soapy package from Bramble Berry.