Team Bramble Berry and I were brainstorming Halloween soap ideas and this was the project that we got most excited about. It's a very simple technique that adds that extra special (spooky)  touch for Halloween. Give these away as a hostess gift or put them in  your guest bathroom to impress your friends.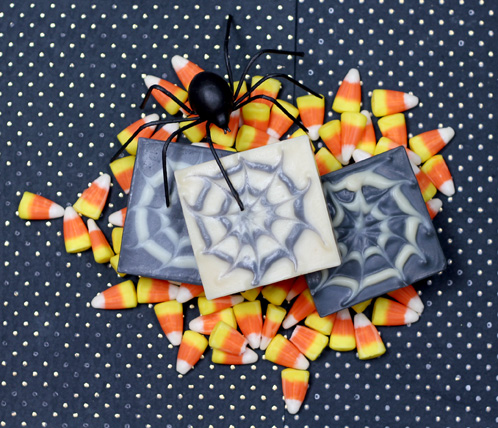 Ingredients
1.04 oz Castor Oil
7.5 oz Coconut Oil
17.2 oz Olive Oil
8.6 oz Palm Oil
4.8 oz Lye
11 oz Distilled Water
Spiced Apple Cider Fragrance Oil
Tools
Stick Blender
2 non-reactive Mixing Bowls
Whisk
Toothpick or Skewer
Gloves
Buy everything you need for this project in the click of a button.

If you have never made cold process soap before, I strongly suggest getting a couple of  basic recipes under your belt before diving in. Check out Soap Queen TV on Cold Process if you want to get started with cold process. It's a 4 part series that will take you through the basics (and be sure to watch the episode on Lye Safety). If you're a book worm, Bramble Berry also has some helpful reading on the cold process technique.
ONE: Suit up! Make sure you're wearing long sleeves and put on your goggles and gloves. Carefully add the lye to the water (never the other way around!) and mix until the water is clear. Set aside to cool.
TWO: Melt and mix the Coconut Oil, Palm Oil, Olive Oil and Castor Oil. Slowly add the lye water to the oils, stick blending for about 10-15 seconds or until you reach a light trace. Not sure what trace is? See it in the SoapQueen.TV basic CP episodes!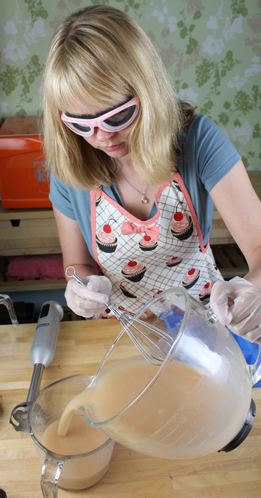 THREE: Add 3 ounces of Spiced Apple Cider fragrance oil and whisk until it's fully mixed in. Then split the batch in half.
FOUR: Add 2 teaspoons of Super Pearly White Mica to one half of the batter and 1 teaspoon of Activated Charcoal to the other. Mix the white colorant first using a stick blender and the Charcoal second using the same stick blender (mixing from light to dark saves dishes and time!). Be sure not to over mix. We still want the soap batter at a light trace so we have time to work with the soap batter.
FIVE: Next pour about 1/2 cup of each color into a squirt bottle (like a ketchup or mustard bottle). We found ours at the local restaurant supply store. You may need to snip off the end to make a wider hole for your soap batter to easily flow out.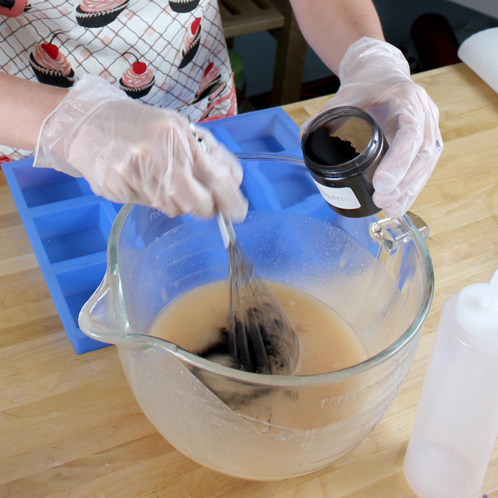 SIX: Fill up one cavity of the mold with white soap leaving a little room at the top.  Then use the black soap to create 2 circles within each other and a dot in the middle and visa versa for the white on black design.
Tip: I did one at a time and worked quickly, pouring the soap and then the "spider web" with the squirt bottle. Looking back, I think I would have poured all of the soap first, then made the spider webs. Let me know what technique you decide to use.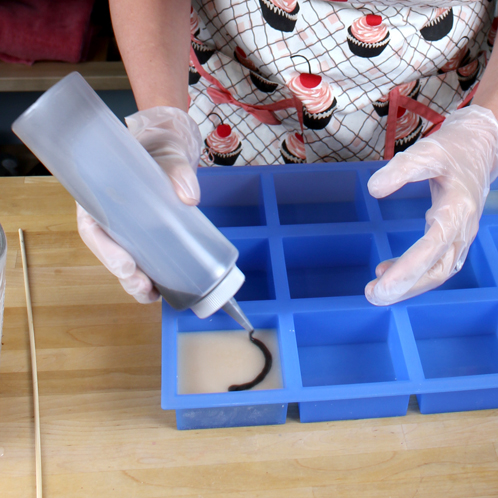 SEVEN: Place the skewer in the center of the circles and drag the soap out. The tip of the skewer just barely goes in the soap, it does not go all the way down into the batter.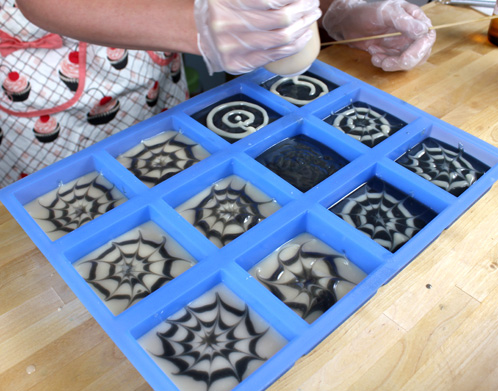 EIGHT: Spritz the top of the soap with 91% rubbing alcohol to prevent soda ash. Cover with a "lid" (cardboard in my case) and place a towel on top to insulate and put the soap to bed. Wait 2-3 days until unmolding the soap. This recipe needs an extra day or two to harden up.