This week was all about natural cleaning ingredients, like baking soda. Baking soda works on everything from shower scum to scuff marks on shoes. White vinegar is another multipurpose cleaning option. It helps remove grease from ovens and rain spots on the windows. Learn more about natural cleaning options in the Top DIY Cleaning Ingredients post.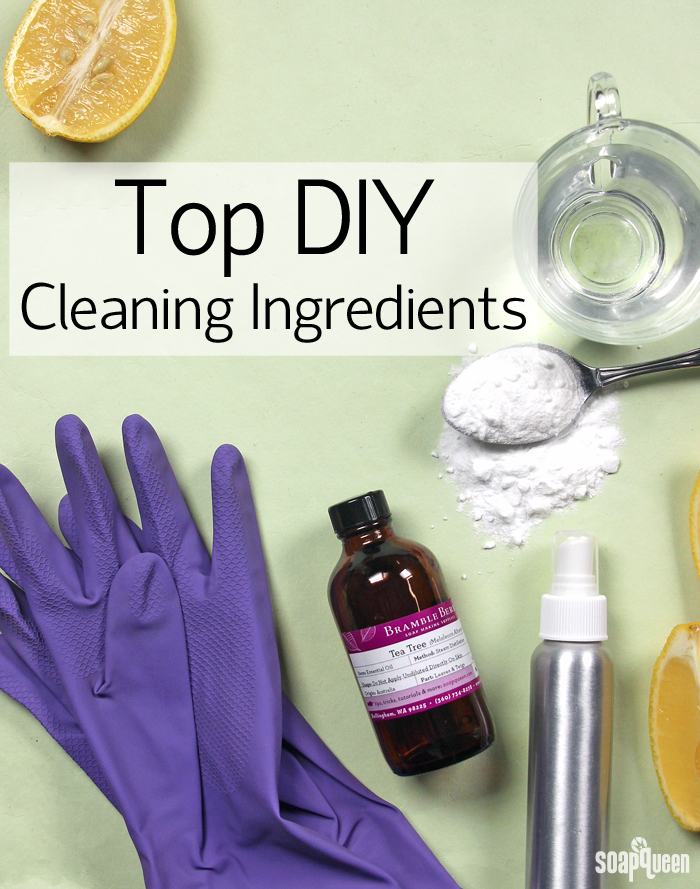 Salts are great for tough kitchen odors. In the Natural Cleaners for the Kitchen + Free Label Template post, Epsom salt is used in the Garbage Disposal Fresheners. Along with the salt, vinegar and lemon essential oil make the disposal smell fresh. Lemon essential oil also adds a clean scent to the Multipurpose Cleaning Spray. The spray makes counter-tops and other surfaces in your home shine.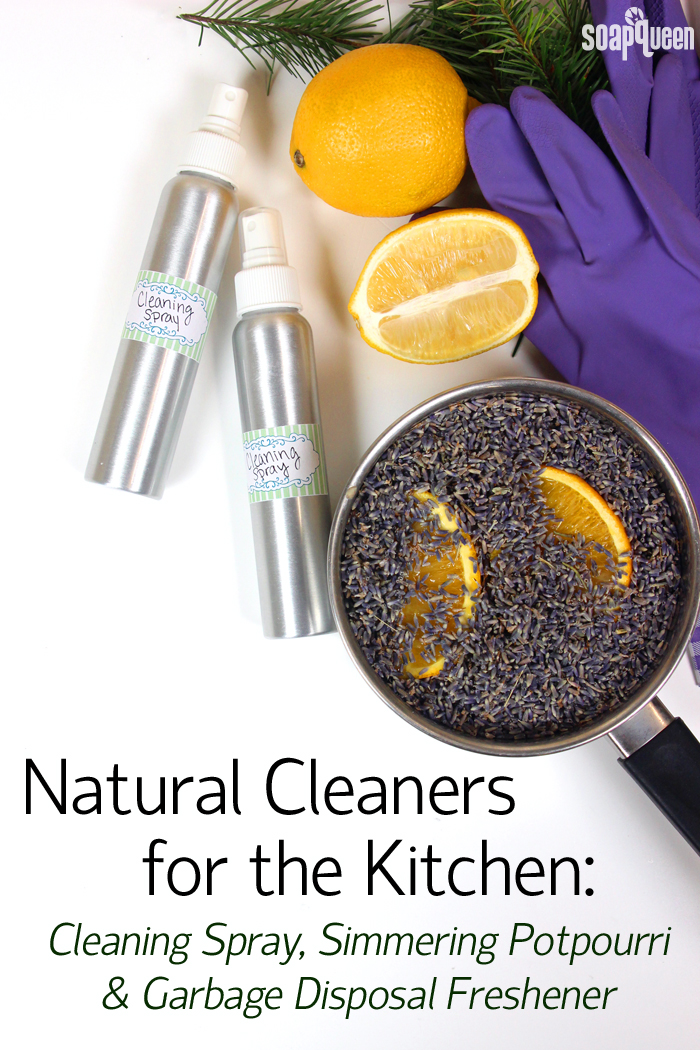 For the laundry room, vinegar can be used to make dryer sheets. The sheets are made by soaking towels with vinegar, lemon essential oil and lavender 40/42 essential oil. Then, you can toss them in the dryer for fresh-smelling laundry. Lavender is also a great floral scent for laundry soap. Learn how to make it in the Natural Laundry Soap + Natural Dryer Sheet Recipe post.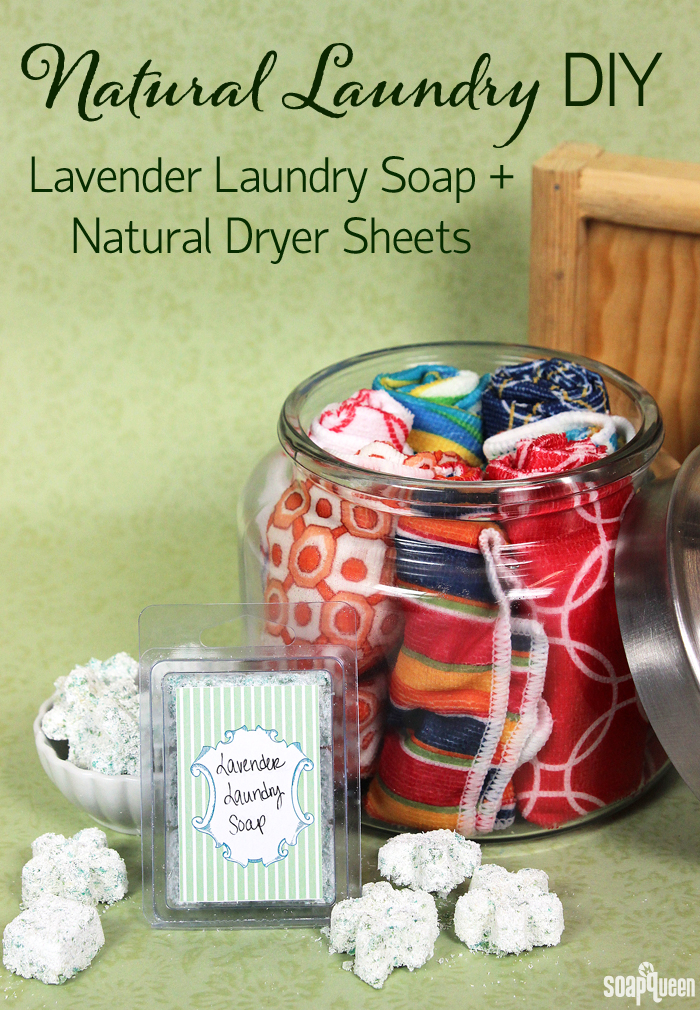 Salt can also be used to naturally thicken liquid soap. Bramble Berry carries several liquid soap bases, including premade liquid soap bases and concentrated pastes. They vary from thick to thin, depending on the base and the fragrance or essential oil used. If you want a thicker texture, a mixture of table salt and distilled water does the trick. Learn more in the How to Use and Thicken Liquid Soap Base post.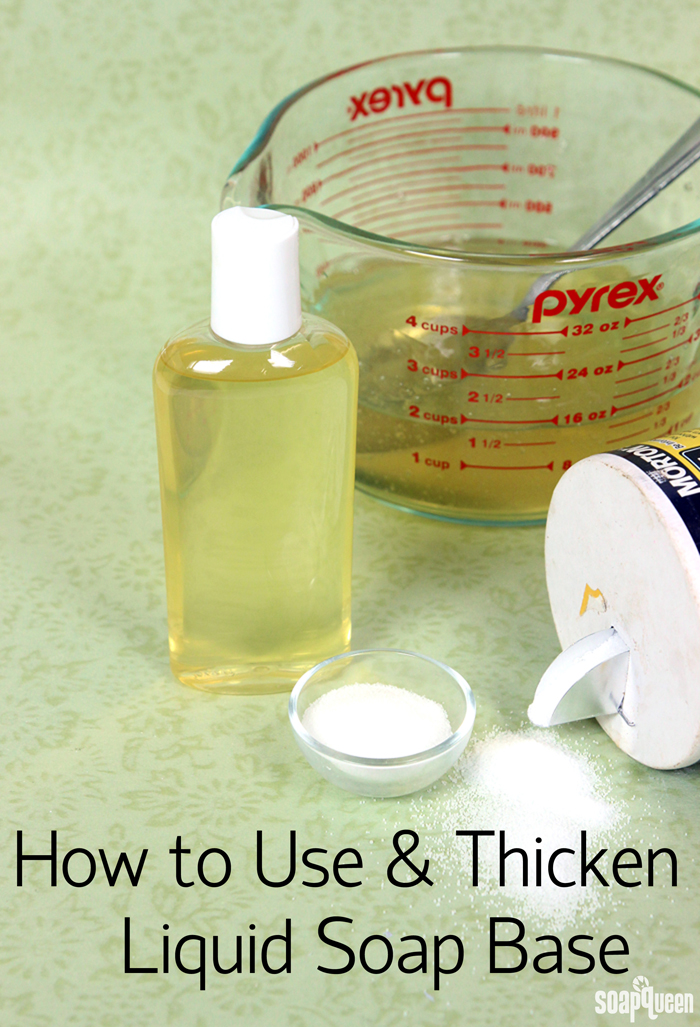 Along with cleaning and organizing the home, another common new year resolution is to eat healthier. The Tofu and Zesty Kale Fresh Rolls are an easy and tasty way to keep that resolution. They're made with kale, tofu, carrots and cucumbers. They can be customized with any vegetable you like. For extra flavor, you can dip them in a creamy peanut sauce.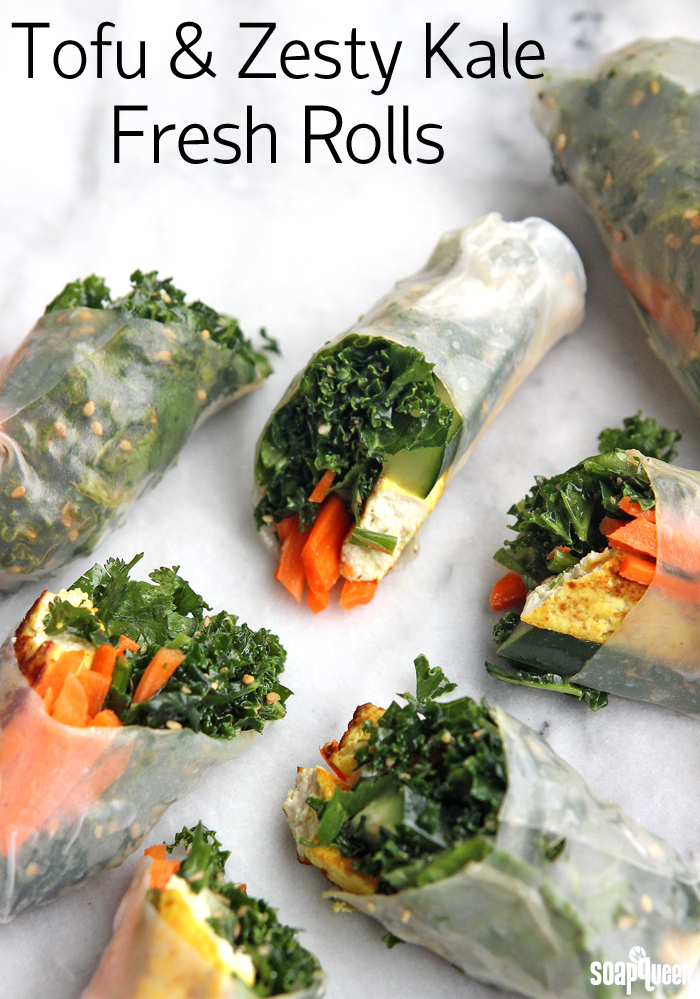 For many crafters, Valentine's Day preparations are in full swing. This week's Facebook Photo of the Week is perfect for the holiday. How gorgeous is this Valentine's Day soap by Lori with Happy Bee Personalized Lip Balm?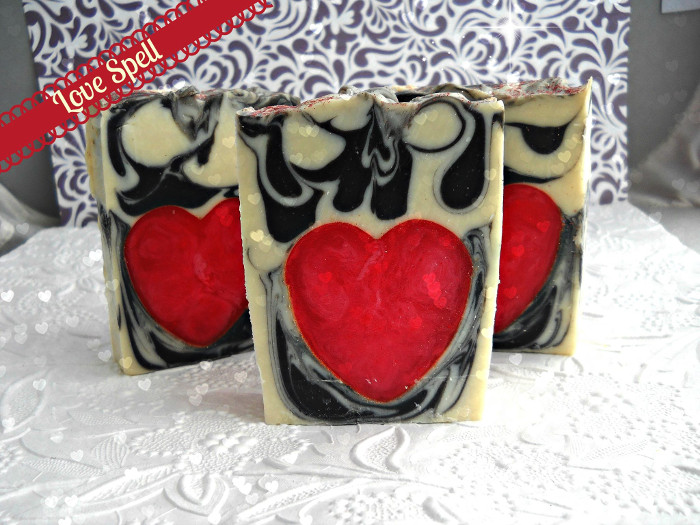 The bright red heart is stunning. It definitely stands out against the black and white base. The drop swirl technique creates interesting and unique patterns inside the bars. For more beautiful heart embedded soap, check out the Rainbow Hearts Melt and Pour Soap video on Soap Queen TV. The Valentine Cold Process Soap features a heart embed as well.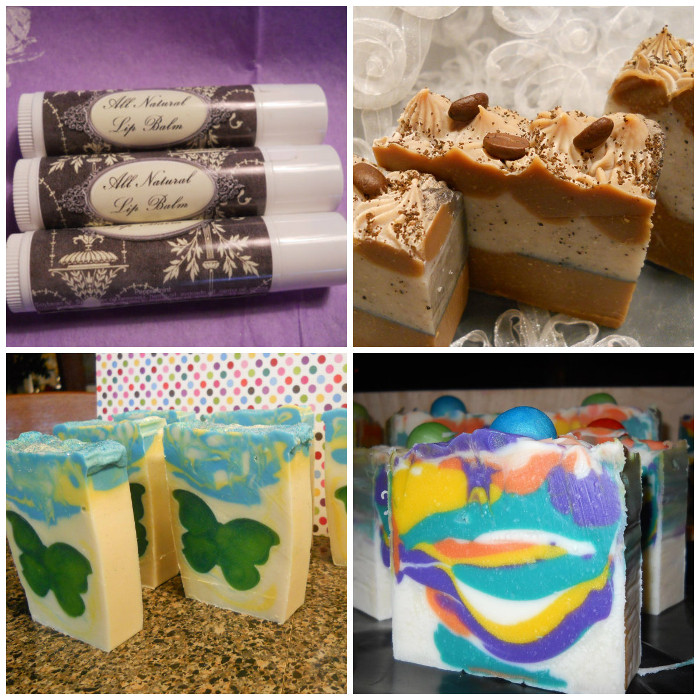 Above (clockwise, top left) are Lori's all natural lip balm, coffee soap, swirl soap and butterfly embed soap. For more coffee inspiration, click through the Espresso Shot Cold Process Tutorial. The Pumpkin Spice Latte Sugar Scrub smells like the popular fall coffee drink.
Find Happy Bee Personalized Lip Balm
On Facebook
On Etsy
This week's Instagram Photo of the Week by Sassafras Soap Co. features lovely embeds and swirls as well. I love the way the swirl winds around the blue and green embeds. The curves on top look like ocean waves. It's gorgeous! See more of Sassafras's beautiful work on their Instagram page.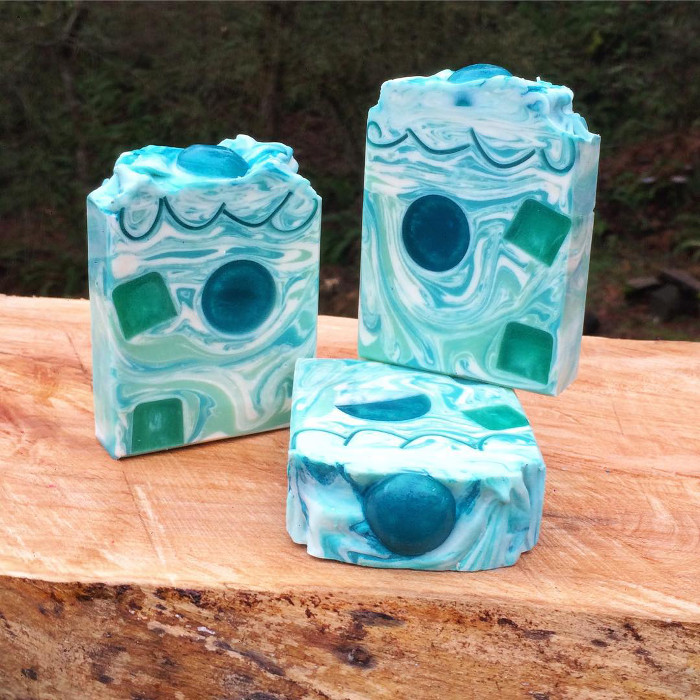 Post pictures of your crafty creations on the Facebook page each week for a chance to be featured on the Soap Queen blog and receive a sweet soapy package from Bramble Berry. Photos are chosen based on consensus from the Bramble Berry staff, so the best way to increase your chances of winning is to show us lots of photos!
To participate in the Instagram contest, hashtag your pictures with #soapshare. Each Friday, I will pick a photo on Instagram to be featured on the Bramble Berry Instagram account.
For those of you who have been featured on the blog, we now have an official "Featured on the Soap Queen" badge! You can include that badge on your website, blog, pictures, etc. To save the badge, click here. =)