Valentine's Day is one of my favorite holidays. It's a great time to express your love for the people in your life, be sappy and say the things that we don't always say in everyday life. I like to spoil my friends and family with small handmade gifts on Valentine's Day. Who doesn't enjoy receiving a gift covered in hearts? In addition, who doesn't love making gifts covered in hearts? It's a win win!
With Valentine's Day just a few weeks away, now is the time to get crafting. Melt and pour is an awesome crafting option when you're in a time crunch, because the soap does not require any cure time. These cute Sparkling Strawberry Melt and Pour Bars feature pink and red hearts, scented with a combination of Strawberry and Champagne Fragrance Oil.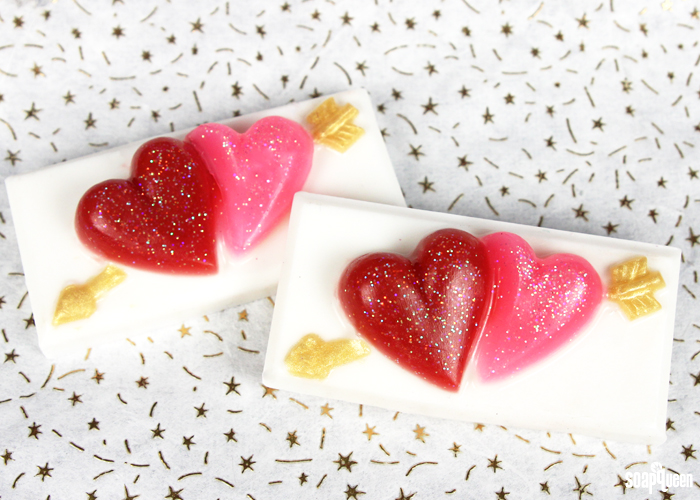 These Sparkling Strawberry Melt and Pour Bars smell sweet and bubbly. 
Rose gold has become super trendy in the past few years. It translates beautifully in melt and pour soap with the use of Rose Gold Mica. In both the Romantic Rose Gold Melt and Pour Bars and the Rose Gold & Charcoal Heart Melt and Pour Bars, Rose Gold Mica creates a warm pink hue. The Romantic Rose Gold Melt and Pour Bars are scented with Baby Rose Fragrance Oil for a traditional Valentine's scent. In contrast, the Rose Gold & Charcoal Heart Melt and Pour Bars use White Magnolia Fragrance Oil which has a soft and feminine scent.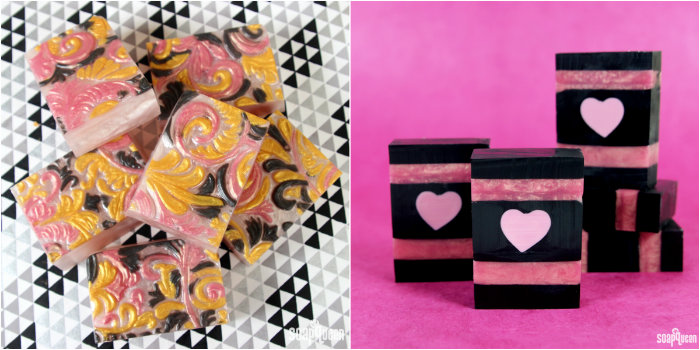 Left to right: Romantic Rose Gold Melt and Pour Bars, Rose Gold & Charcoal Heart Melt and Pour Bars
For the makeup addicts in your life, Rose Gold Mica is safe to use for both eye and lip products. The combination of pink and gold makes it a flattering shade for a wide variety of skin tones and applications. In the Rose Gold Cosmetic Collection, Rose Gold Mica is used to create eyeshadow, lip balm and nail polish. I love all three, but the nail polish may be my favorite! For more makeup options, check out the Moisturizing Highlighter Sticks tutorial to learn how to create three highlighting shades.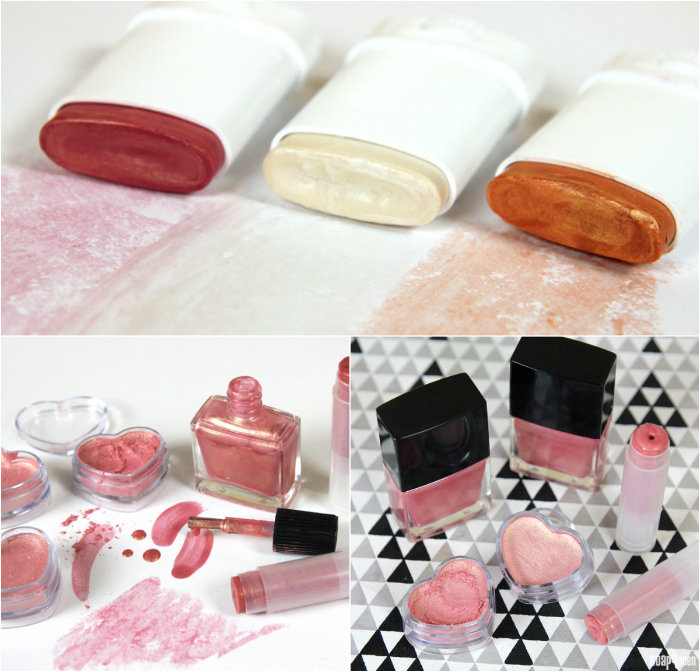 Top: Moisturizing Highlighter Sticks
Bottom: Rose Gold Cosmetic Collection
If you're a cold process soapmaker, Valentine's Day is the perfect time to try the swirled heart technique. To start, create small dots on the top of the soap while at a thin trace, then use a skewer to drag the dots. The dots transform into an elegant heart pattern. To see this technique in action, check out the Soap Queen TV video below. To see a colorful version of this design, check out the Rainbow Heart Swirl Cold Process Tutorial. If you haven't made your cold process project and still want to give it for Valentine's Day, include a "Use By" note to ensure the soap finishes curing.
I love giving Valentine's gifts that allow the recipients to pamper themselves. Soaks, scrubs and bath bombs are a great way to create a spa experience for your loved one at home. In the Soothing Floral Bath Salts, dried flowers are combined with a blend of salts to create a beautiful and skin-loving product. The LoveSpell Solid Bubble Bath DIY is extra girly, with a feminine scent and lots of glitter. If you prefer fizz to bubbles, the Pikake Flower Bath Bombs scream love with pink, a floral scent and dried rose petals.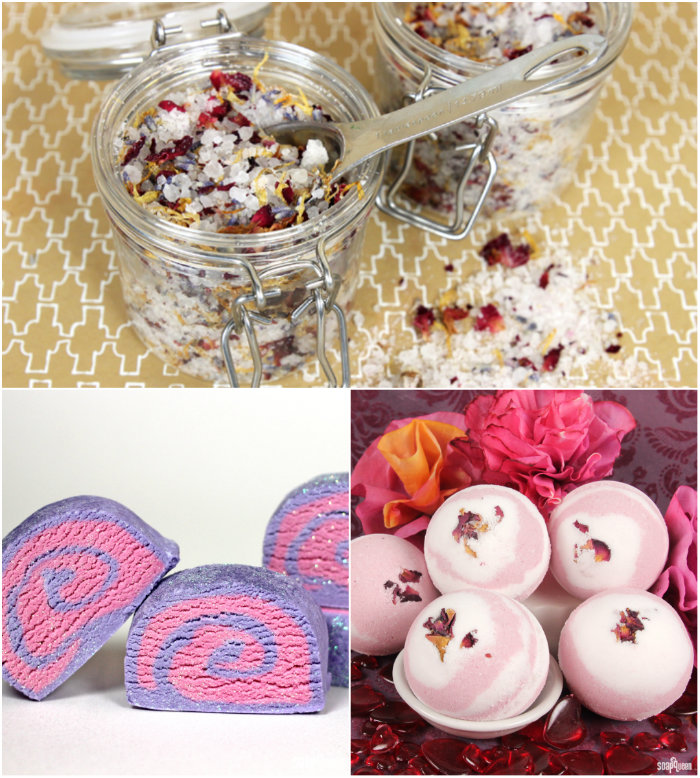 Top: Soothing Floral Bath Salts
Bottom: Lovespell Solid Bubble Bath DIY, Pikake Flower Bath Bombs
Perfume is a classic Valentine's Day gift. There are lots of DIY perfume recipes and options. If you like liquid perfume, the Body Oil Perfume Spray Tutorial uses fractioned coconut oil for a lightweight and hydrating formula. Don't like the feeling of oil? Check out the How to Make Perfume video on Soap Queen TV to create perfume using water and alcohol. Solid perfume is great for traveling, and is easy to make. The Honeysuckle Solid Perfume and Cherry Blossom Solid Perfume tutorials show you how.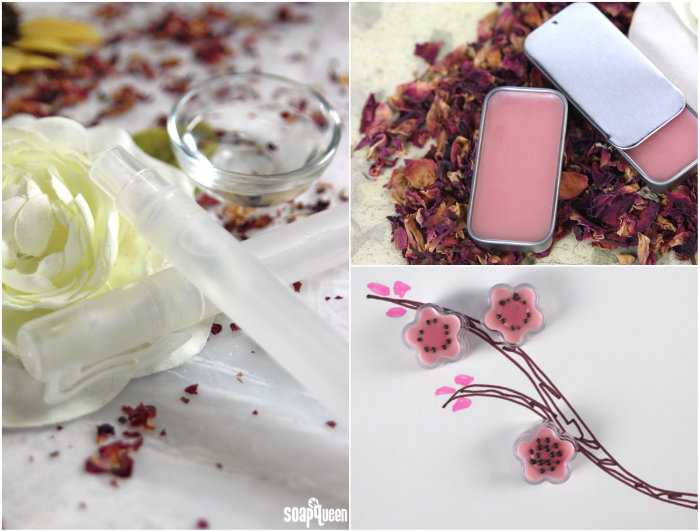 Left to right, clockwise: Body Oil Perfume Spray Tutorial, Honeysuckle Solid Perfume, Cherry Blossom Solid Perfume
If you're ever in the need of soapy inspiration, the #Soapshare hashtag on Instagram is a great place to look. Everyday, hundreds of images are uploaded and shared. Here are just a few of my favorite #SoapShare projects that I think would make lovely Valentine's Day gifts.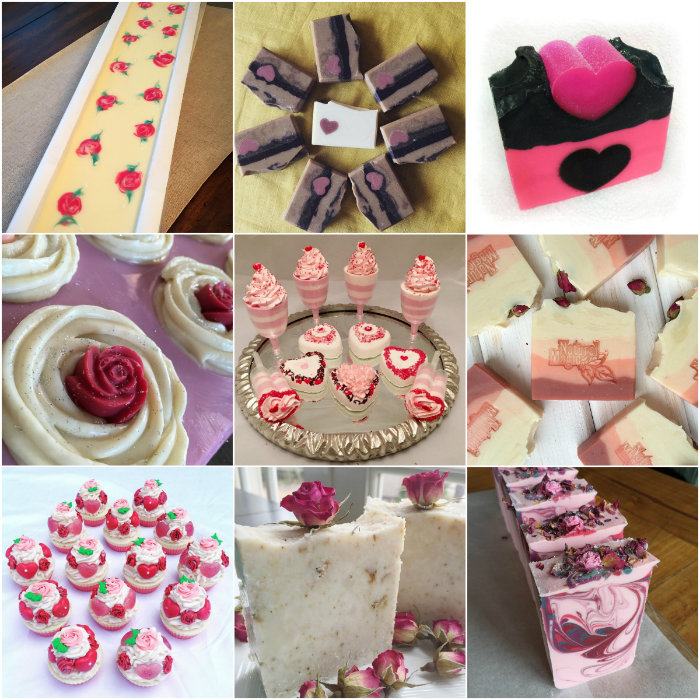 Top row, left to right: sarahleesoaps, dtuzon_kahanananea_soaps, silvercrystalscouk
Middle row, left to right: ilham_skincare, indulge_bath_bombs, natural_magic_by_olga
Bottom row, left to right: earthsrawbeauty, strawberrymoonsoapco, renaissancesoaps
What are you making for gifts this Valentine's Day?