Guess what day it is? Yep! It's Talk It Out Tuesday (you can check out previous TIOT's on melt and pour, preservatives, colorants, bath bombs and our most recent one on lotions)! This is a fun topic because lip balm are a blast to make and use. Read on to find the answers to many of Bramble Berry's frequently asked questions.  If there is anything I didn't cover, feel free to ask your questions in the comment section. Or if you want to get started right this very second, check out our Lip Balm Quick Start Guide on the Bramble Berry Website.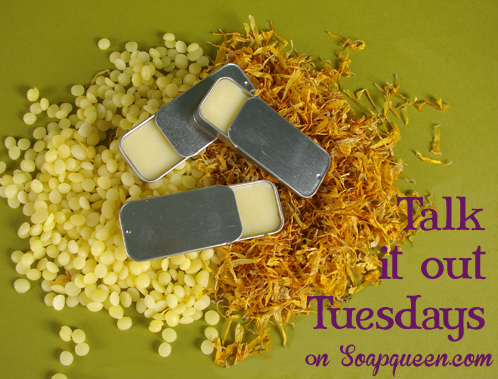 What is lip balm?
Lip gloss, lip shimmers, lip conditioners, lip sheers, lip balms and lip butters are all very easy and inexpensive to make. Generally, they are a mixture of oils and waxes combined to heal and soothe dry or chapped lips (and sometimes, they provide a bit of color as well). You can create an all-natural mixture using edible essential oils and nourishing vegetable butters or you can get wild and make them sparkly and decadent with micas and flavors. But a word of warning – once you start making your own beautifully hand crafted lip balms, you won't be able to buy another mediocre, manufactured, tube of low quality oil and wax again. We're all addicted to our homemade creations here and, it's a good thing!
What is the difference between lipstick and lip balm?
Quite simply, it's the color; lipstick's primary purpose is to color or 'stain' your lips, while lip balm's primary purpose is to relieve dry or chapped lips. They can be dual purpose however. Often lipsticks will have those extra moisturizing oils as well but give you that added benefit of staining your lips. Lipstick is all about the color and lip balm is all about the protective cover but the two  can happily intermingle in purpose.
How do you make lip balm?
Lip balm recipes are the most fun and easy projects you will do,  and there are hundreds (if not thousands!) of recipes out there. But, all you are going to need is a few oils, butters, waxes and your choice of colorant and flavoring oil and you have your very own lip balm recipe.  Here is a quick and easy recipe that I frequently make:
2.5 oz. Sweet Almond Oil
1/2 oz. Shea Butter
1 oz. Beeswax
1/2 oz. Coconut Oil
2 mini scoops Lip Safe Colorant
4 ml Flavor Oil
Step One: Combine the Beeswax, Sweet Almond Oil and Coconut Oil in a heat safe container and heat in the microwave for 2 minutes. Stir the mixture half way through to ensure even mixing.
Step Two: Once the beeswax is melted, stir in the Shea Butter. Heat in the microwave for 30 seconds if the Shea Butter does not melt all the way down with gentle stirring.
Step Three: Once the mixture is completely melted, mix in the Lip Safe Colorant and Flavor Oil.
Step Four: Pour your mixture in your choice of lip balm container (Lip Butter Pot, Clear Chapstick Tubes, Daisy Lip Butter Pots, Heart Lip Butter Pot, Clear Lip Butter Pots, or Slidey Lip Tins).
You can also check out these recipes for fun lip balms: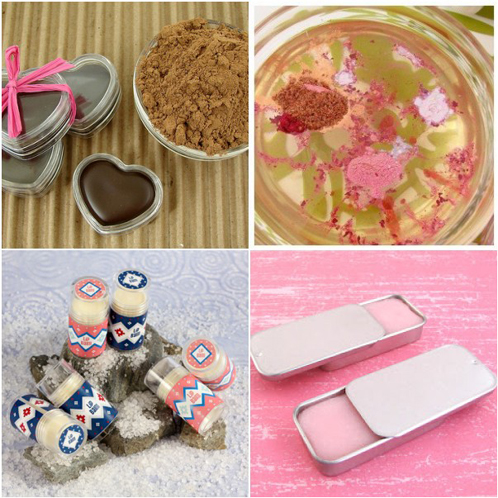 1. Chocolate Lip Balms with Cocoa Powder    2. Fun Summer Lip Balm
3. Winter Lip Balm    4. Chocolate Lip Gloss
Not pictured:  Passionfruit Rose Lip Balm, Mother's Day Lip Balm
How to Make Infused Lip Balm from Soap Queen on Vimeo.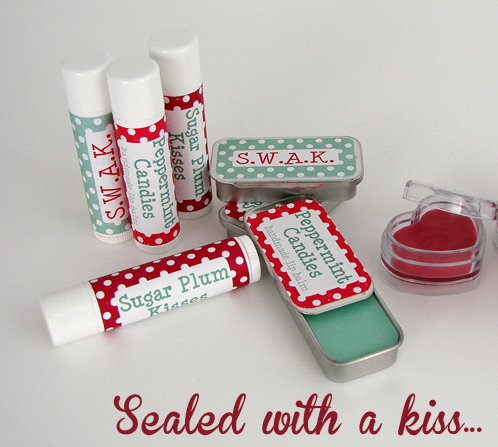 What can I use to color or flavor my lip balms?
Number One Rule: Always use lip safe flavors and colorants! Fragrance oils are not approved for use on lips and not all colorants are okay for lips. Check with your vendor if you're ever unsure. Extracts, from the store in the baking section, usually will not mix with your oils/wax mixture. Food coloring does not mix into oils and waxes.
Colorants: Coloring can be so much fun, but you don't want to go to the extremes in lip balms (that's more for lipsticks). What is "extreme" you ask? In order to turn your lips any color that really shows up and wows, you would need at least 5 to 6 tablespoons of of color in 2 ounces of lip balm base. To achieve the colors above (the lovely sheers), it doesn't take much — one quarter teaspoon of color in an ounce of lip balm will get you a nice color in your balm without staining or coloring the lips. Remember, you can always remelt and add more color but you can't ever take it out so when in doubt, add 10% more color each batch until you get the shade and hue that you love.
Flavor: Melt for 1 minute increments and then stir thoroughly so that the base is melted evenly.  When the base is fully melted, use our lip balm flavors at their normal usage rate (3% to 5% of the total weight).  This usage rate works out to .0025 oz weight of the lip balm flavoring per ounce of the lip balm base. You might consider making 10 oz batches at a time- then, you can use a .25 oz. of lip balm flavoring which might be easier to weigh out.  If you use more, it's not the end of the world – mostly just a waste of your money.  Although, some flavors (such as Mint Julep and Root Beer) which use real essential oils might get tingly on the lips with too much in there. Remember, many flavor oils don't so much 'taste' as give the illusion of taste through smell. If you want your lip balms to taste, you'll want to use this sweetener or all-natural stevia (trickier to use but all natural).
Warning: Never use a flavoring oil (or essential oil) that is a photosensitizer (a substance that is sensitive to the influence sunlight).  Some common photosensitizer are citrus-type flavors like Lime, Bergamot,  and Orange.
How do I label lip balm?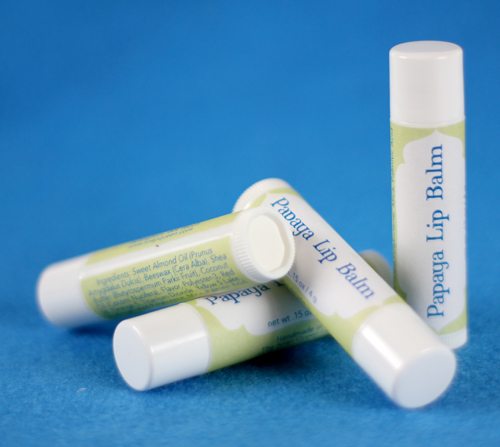 Labeling lip balm, like other handmade products (cold process soap and lotion to name a few), can seem super confusing. With labeling lip balm, there are three basic rules:
Ingredients: List ingredients from most used to least used (colorants are the exception to this rule, and you can just add those to the end of your ingredients). The names of the ingredients need to follow INCI (International Nomenclature of Cosmetic Ingredients)  rules.
Quantity: Here you list how much product (by weight, since lip balm is a solid) is in the container.
Who Made It: You need to list the name of the maker of the product and where they are located. This means an address and not just a website.
Example recipe:
2.5 oz. Sweet Almond Oil
1/2 oz. Shea Butter
1 oz. White Beeswax
1/2 oz. Coconut Oil
1 mini scoop Fired up Fuchsia
1 mini scoop Yellow Mica
4 ml Papaya Flavor Oil
For the above recipe, the label would look like:
Ingredients:  Sweet Almond Oil (Prunus Amygdalus Dulcis), Beeswax (Cera Alba), Shea Butter (Butyrospermum Parkii Fruit), Coconut Oil (Cocons Nucifera), Flavor, Polyester-3, Red 28, Orange 5, Titanium Dioxide, Yellow 5 Lake, Hydrogenated Polybutene, Mica, Palmitic Acid
And that's it! It really is super simple to label your lip balms and not as scary as you might have thought. Check out this blog post on Labeling Your Products : Lip Balm for more information on how to label your lip balms.
Help! My lip balm looks funny!
Have you ever poured your lip balm and before you know it you see little air bubbles, divots and holes in your once perfect product? Don't fret, there is a fast and easy way to fix those little imperfections so your lip balm can be customer ready. Barb from Miller's Homemade Soaps gave us the tip:
"You can fix holes in your balms by waiting until the holes appear and then waving a heat gun set on low over them. The heat gun will remelt the top of the balm. I usually add a little more balm and then let them cool again. Works great for lip balms and solid lotion bars!"
Pouring lip balm takes forever, isn't there an easier way?
Have you ever tried to pour lip balm into each and every individual tube you are filling? It can take forever (or what seems like forever) if you are trying to fill individual tubes one at a time. Did you know that Bramble Berry carries a Lip Balm Pour Tray in which you can fill 50 lip balm tubes at the same time (how cool is that!)? All you do is attach your lip balm tubes to the tray and pour your lip balm…it really is that easy! For more information on how to use it, visit How To Fill 50 Lip Balm Tubes at Once.
What is your favorite ingredient to put in lip balms? Right now, I'm obsessed with Meadowfoam Oil and Shea Butter. I'd love to hear what's jazzing you up!
P.S. Check out all the posts in the Lip Balm category on the Soap Queen Blog for inspiration!