Who's ready for another challenge? This time it's going to be all about cold process soaps and Team Bramble Berry is so excited to see what you will come up with! Just like our Make It Monday Melt and Pour Challenges (#Layers, #Embedding, #Swirling and #Sculpting), each week will have a different theme and you will have the chance to have your creation featured in a Soap Queen blog post!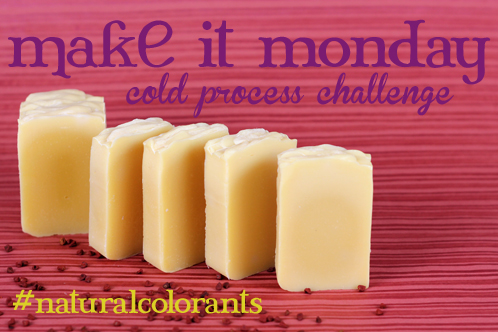 Mission (if you choose to accept it)
Create a unique soap that follows the theme for the challenge of the week. This week is all about using natural colorants and infusions in your cold process soap.
Post your pictures of your cold process soap to Bramble Berry's Facebook page during the entry period (August 27th -September 10th).
Your entry must have the hashtag of the week in order to be entered into the contest. This week, your picture must have the hashtag "#naturalcolorants".
You may submit up to three different pictures.
At the end of the two weeks, Team Bramble Berry will pick our favorite soaps. The winners of the challenge will be featured in their very own Soap Queen Blog post. You have until Monday, September 10th to post your Cold Process #naturalcolorants.
Here is some inspiration to get you started!
How to do the Peacock Swirl in Cold Process Soap from Soap Queen on Vimeo.
Learn to Make Sunshine Soap with Orange and Calendula from Soap Queen on Vimeo.
Happy Soaping!