This week is Thanksgiving and we have so much to be thankful for and that includes you, our wonderful customers, friends, fans and readers. I've enjoyed seeing all the creative ideas that everyone has come up with for our Make It Monday: #Bath Bombs Challenge. From adorable little cupcakes to chill pill fizzies and even bubble gum bath bombs, it has been so much fun to check Bramble Berry's Facebook page everyday and ooh and ahh over all the fizzy creations you have created. Like all our Make It Monday challenges, it was difficult to choose the winners. But, it had to be done. Drumroll please…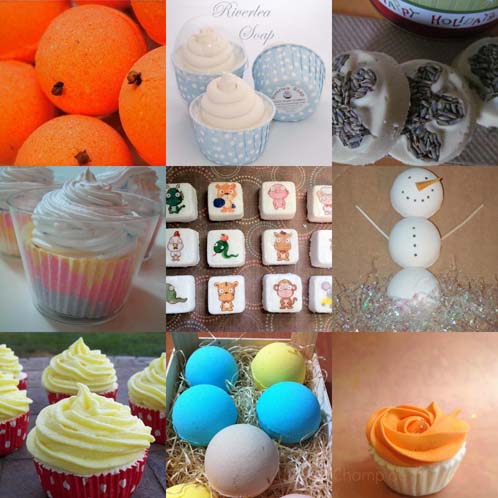 Top Row: 
Athena from Antoinette's Bath House – Orange You Glad I'm Naked Bath Bombs
Odette from Riverlea Soap – Bath Bombs Fizzy Soap Combo
Anntoinette from the Yard Store – Natural Bath Truffles (from the Soap Queen tutorial) with Lavender-infused Olive Oil
Middle Row:
Aneta from Sapuneta – Scented with Raspberry
Laura Harris – Lil' Animal Fizzies scented with Exotic Fruit Smoothie
Elizabeth from Tidal Creek Candles & Soaps – Happy Snowman Bath Bombs scented with Cranberry Fig
Bottom:
Amy from Sunbreak Soaps – Coconut Lime Verbena Bath Bombs
Marisa from Soaps Temptation – Sabonetes Artesanais 
Ginger-Vee from Champ de Fleurs – Sweet Orange and Spicy Ginger Bath Bomb Cupcake
Thanks to all who participated and keep your eyes peeled for our next Make It Monday challenge being posted later today. If you need some extra fizzy inspiration over the Thanksgiving weekend, take a look at our #Bath Bomb Facebook album to check out all the bath bombs that were entered. In the meantime, I'll continue planning for Thanksgiving (I'm making the lasagna and the kale salad) and being extra grateful for such a fun community of soapers (and fizziers!) to share my days with.