It's time for a fun and fresh new #Make It Monday contest. This week is all about Nail Polish! Did you know that Bramble Berry recently introduced a whole line of nail polish products? So of course we've been having an absolute blast experimenting with all the fun colors and glitters, making our very own nail polishes. Now it's your turn…we want you to show us your fresh and funky nail polish creations!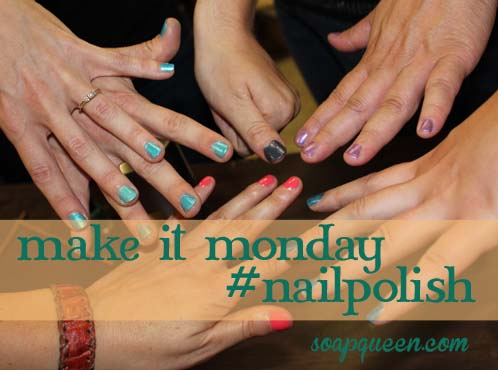 Mission (if you choose to accept it)
Create a unique product that follows the theme for the challenge of the week. This week is all about nail polish!
Post your pictures of your cute and creative nail polishes to Bramble Berry's Facebook page during the entry period (November 19th – January 15th).
Your entry must have the hashtag of the week in order to be entered into the contest. This week, your picture must have the hashtag #Nail Polish
At the end of the entry period, Team Bramble Berry will pick our favorite entries. The winners of the challenge will be featured on the Soap Queen Blog. You have until Monday, January 15th to post photos of your #Nail Polish. Please submit your photos by 12 pm (pacific standard time).
You can submit up to three different pictures! Bonus points if you tell us which colors your polish creation used.