Time:
20 minutes to an hour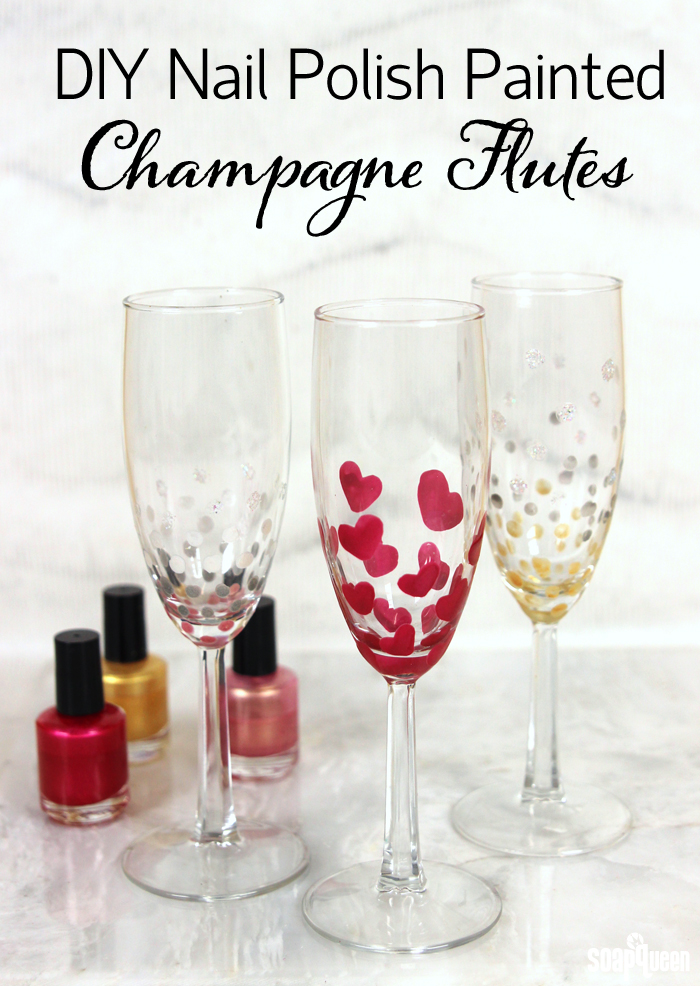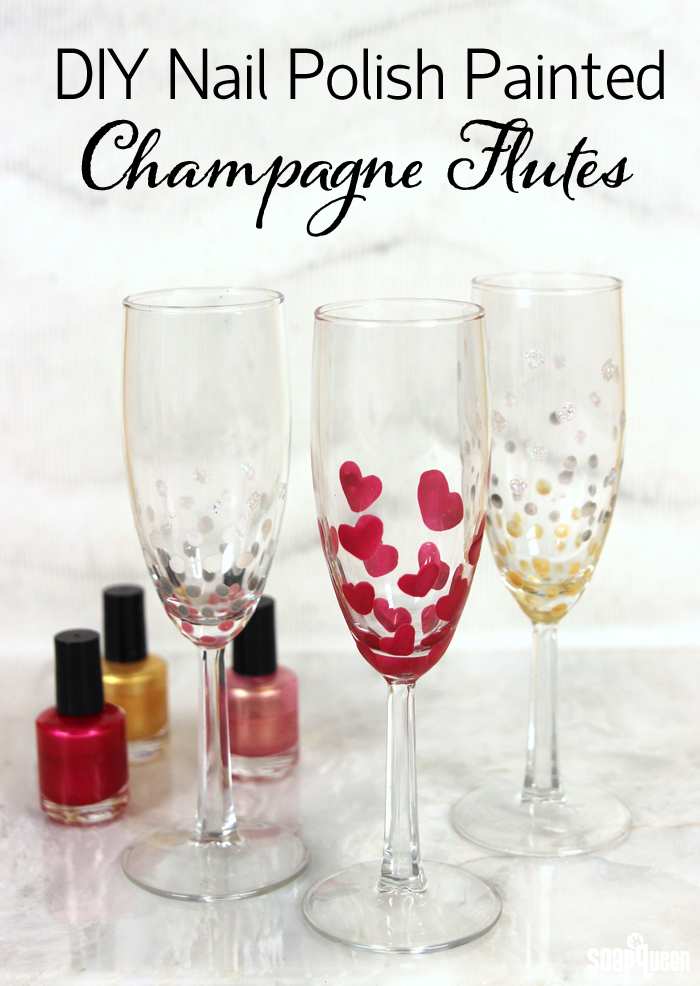 Making your own nail polish is a fun and easy DIY project. It's also a really awesome party idea; last May I threw a nail polish party for a few of my friends and it was a blast. Check it out here. If you're looking for another party activity, you can use your nail polish as paint! The Bramble Berry team and I recently created these painted champagne flutes for New Years and Valentine's Day using homemade nail polish. It was a fun and super simple crafting session. This project can also be done with nail polish you already own.
To make these glasses, I used Q-tips to apply the nail polish directly to the glasses. Once they are painted and dried, I recommend hand washing them. I wouldn't recommend placing these glasses in the dishwasher. The heat from the dishwasher may cause the paint to come off. We didn't use a sealing spray, but you can if you like. I also recommend keeping the nail polish and the sealant spray toward the bottom of the glasses if you plan to drink from them. If they are just for decoration, feel free to decorate to the brim!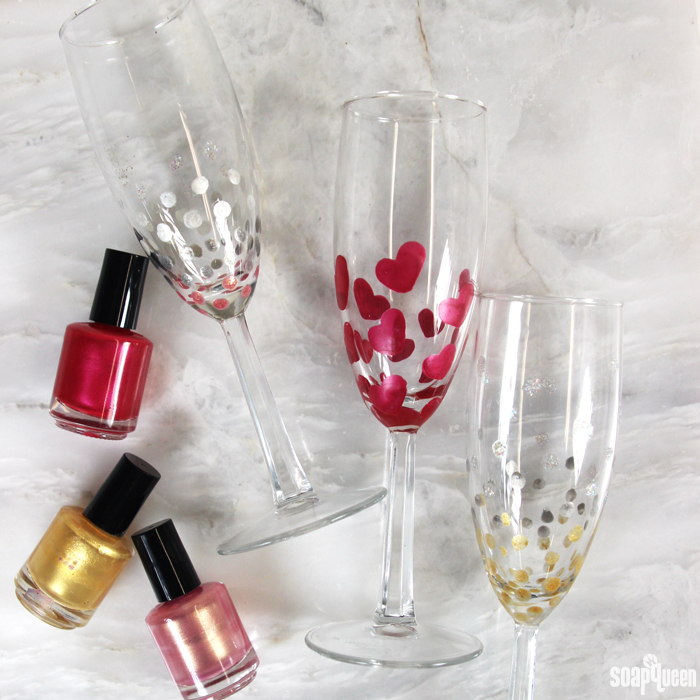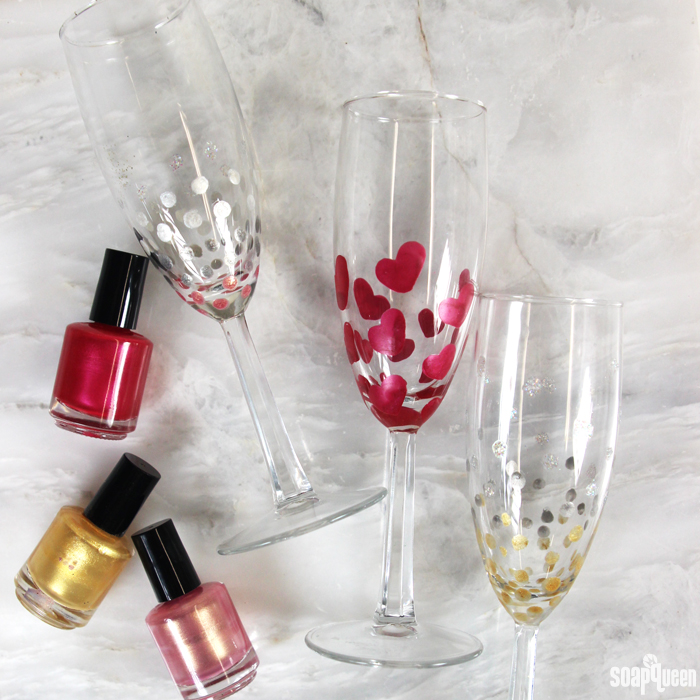 If you've never made nail polish before, it's incredibly easy. Simply fill the bottle with the mica of your choice, then fill the bottle with Suspending Nail Polish Base. Shake until the colorant and nail polish base are completely mixed together. Then, it's time to get painting! To see the process in action, check out this Soap Queen TV video.
What You'll Need:
Note: Exactly how much of each product will depend on how many bottles of nail polish you want to create! This list of ingredients will create four shades: red, pink, gold and silver.
4 oz. Suspending Nail Polish Base
Four 15 mL Nail Polish Bottle
Nail Polish Mixing Balls
Cellini Red Lip Safe Mica
Rose Gold Mica
King's Gold Mica
Pewter Silver Mica
Q-tips
Painters Tape


Click here to add everything you need for this project to your Bramble Berry shopping cart!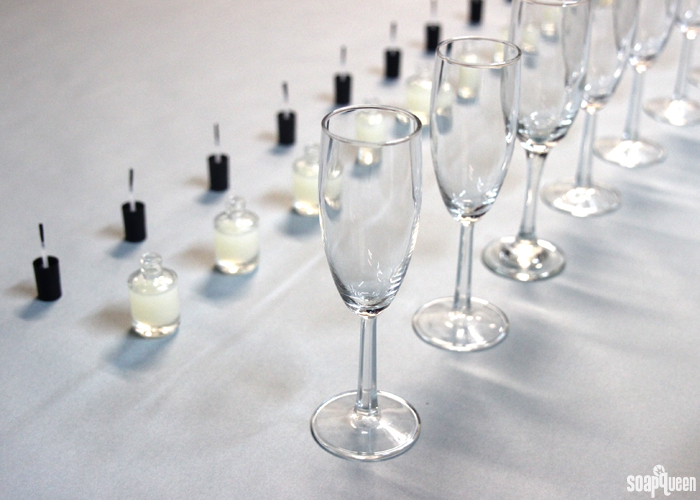 For the nail polish painting party, the team and I started with making the nail polish. We made a variety of shades that included typical "celebration colors" – gold and silver – along with Valentine's Day colors. We also created a few shades of blue with the new Mermaid Mica (it's so pretty!) and a few glittery shades for extra sparkle.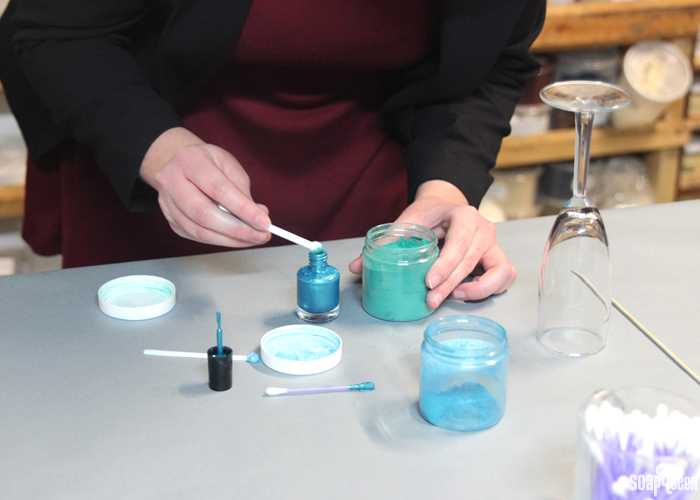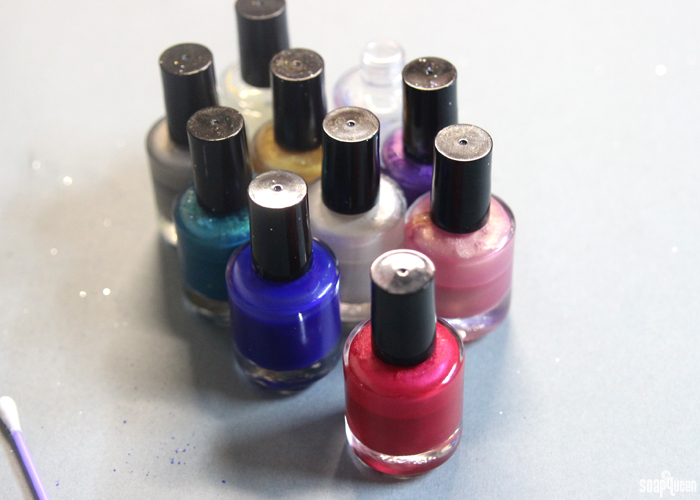 Once the polish is made, it's time to decorate! I recommend using Q-tips to apply the polish directly to the glass. You could also use the nail polish brush, but we found a Q-tip to be a little bit easier and more precise. Below, Terah applies cute gold dots made with King's Gold Mica to her champagne flute.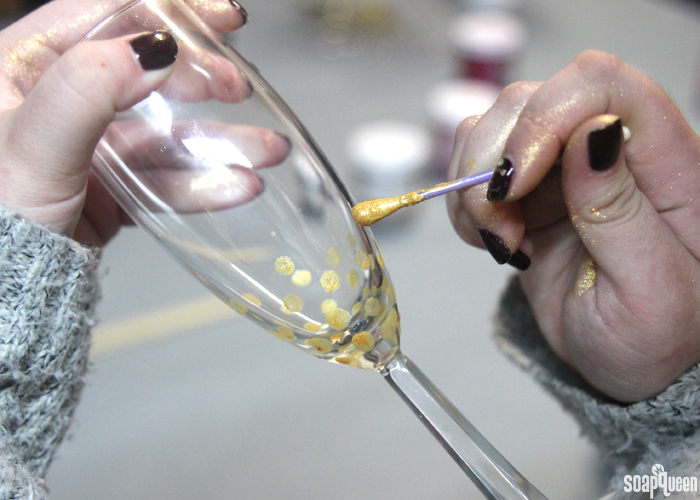 Caitlin also created a dot design using silver polish, rose gold polish and sparkle at the top. The dots design is a great idea; it's simple to do and looks really sophisticated. I recommend applying a small amount of polish to prevent it from running down the glass as it dries. Blowing on the polish also helped it to dry faster. Having a small fan nearby would be a great idea as well!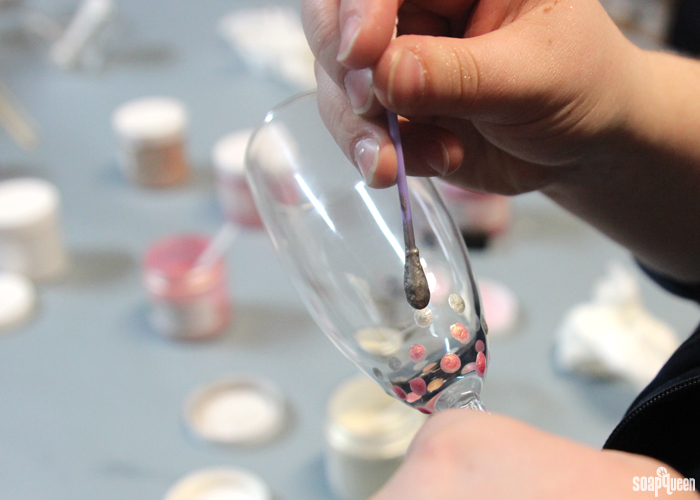 Teal in customer service decided to make her glass teal, of course! She painted the bottom of the glass using the nail polish brush, then painted stripes on top with a Q-tip. While the nail polish was still wet, Teal dusted the glass with Silver Nail Polish Glitter to give it extra sparkle. Painters tape is a handy way to keep certain areas of the glass clean, or make extra crisp lines. Haley taped the stem of her glass (shown below) to prevent it from getting covered in glitter.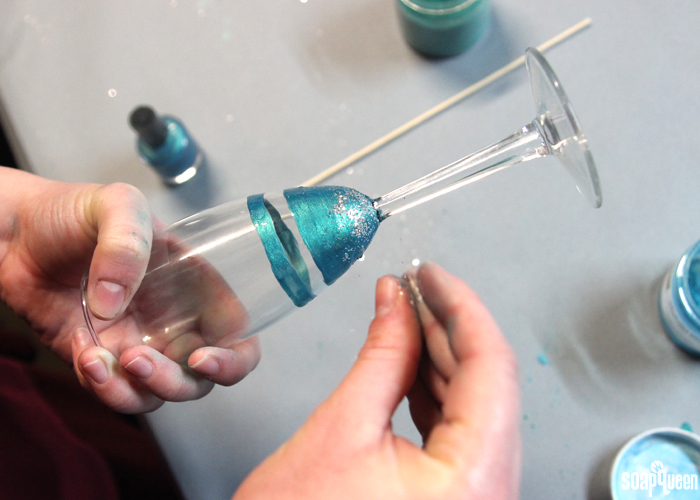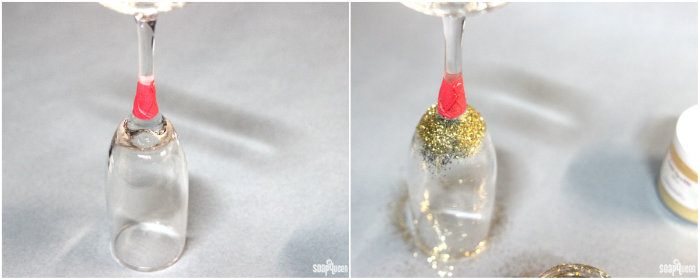 Ta da! Below are some of the pretty glasses we made. Amanda used the Q-tip to make little hearts on the bottom of the glass, making it perfect for a toast on Valentine's Day. She used the Cellini Red Mica to create the vibrant red shade.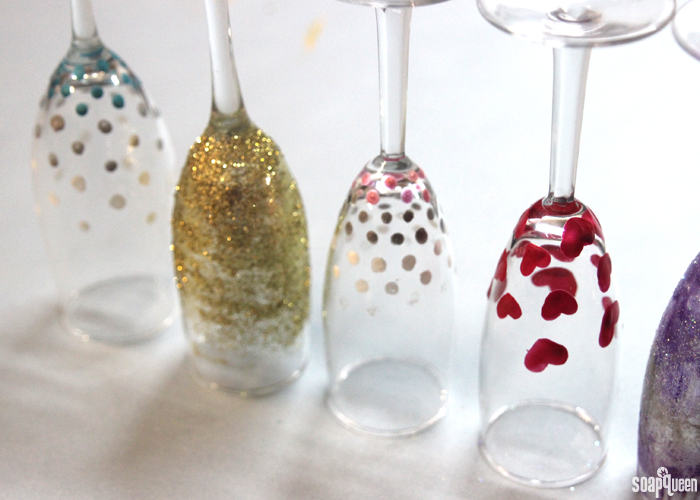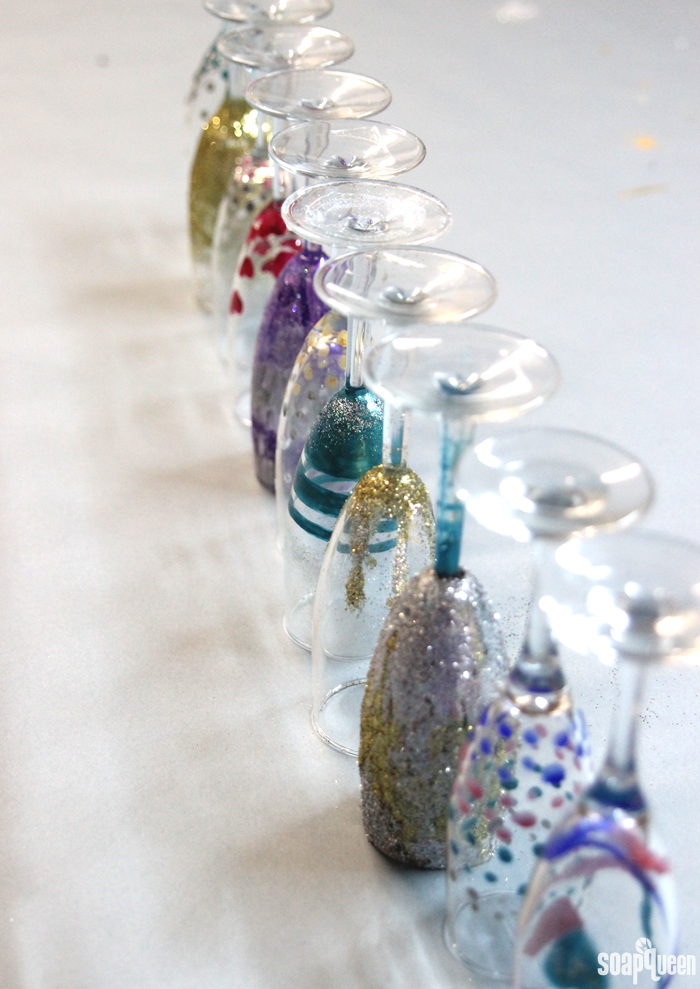 I love how these glasses turned out! It's such a simple and fun project. I can't wait to try it on wine glasses and vases. So far, I have gently hand washed my glass a couple times, and the nail polish has stayed on. If you use glitter on your glass, you will want to be extra cautious when washing, and will most likely lose some glitter with each wash.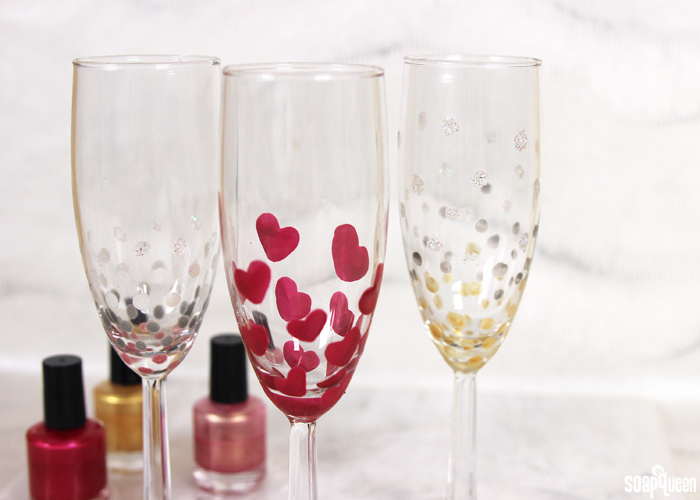 Have you used nail polish to decorate something other than your nails?