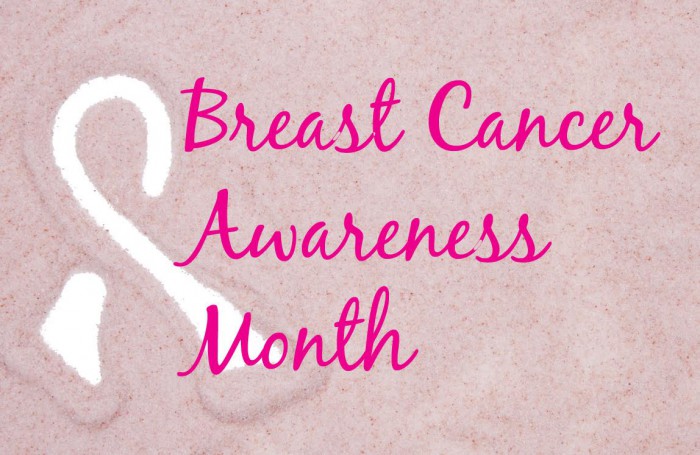 October marks the beginning of Breast Cancer Awareness Month, a yearly campaign to raise awareness for the disease. According to the National Breast Cancer Association, breast cancer is the most commonly diagnosed cancer in women. If you or somebody you know has been diagnosed with breast cancer, you understand how important raising awareness and increasing early detection is.
This month, Handmade Beauty Box is thrilled to partner with Project Violet to help fund the organization's cancer drug research program. Project Violet is led by a team of Fred Hutch scientists whose goal is to effectively cure diseases that are currently considered uncurable, such as breast cancer. Handmade Beauty Box will donate 100 percent of sales from the October box to Project Violet, with a minimum donation of $10,000. Click here to read more about Handmade Beauty Box's partnership with Project Violet, and click here to sign up. What's better than crafting for a good cause?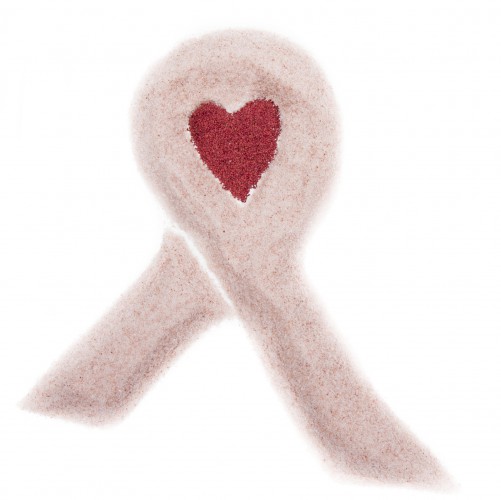 If you're looking for more ways to support those affected by breast cancer, the National Breast Cancer Foundation has some great suggestions. As an avid crafter, I find that sharing my skills with others in the form of handmade gifts is a great way to show that you care. If you're a small business owner, selling pink projects and donating the proceeds to charity is a fantastic way to involve your community and business in philanthropy. If you're looking for some pink project inspiration, I've got you covered.
Made with soothing ingredients such as olive oil, vitamin E oil, cocoa butter and calendula extract, the Soothing Lavender Breast Balm is inspired by Sharon's Boob Balm for Radiation Burns. This balm is specially formulated for breasts, but can also be used on any areas of the skin that need a little TLC. If you are going through radiation, check out Sharon's Boob Balm for Radiation Burns for an extra powerful version of the recipe below.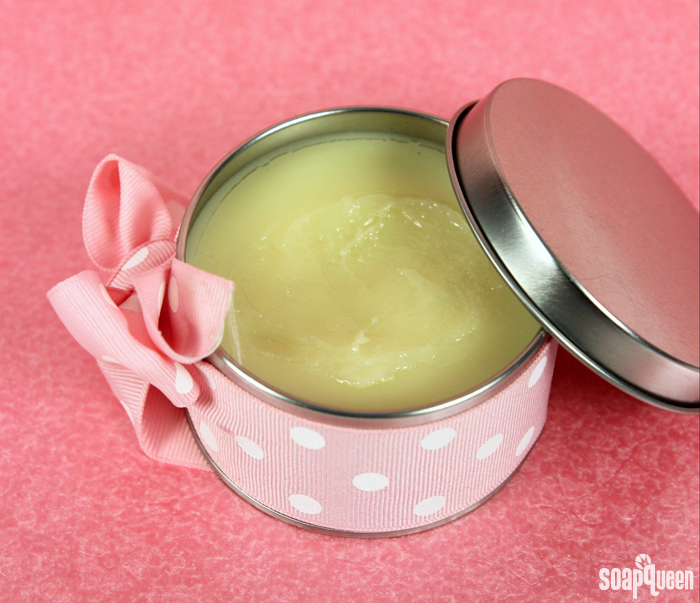 The Soothing Lavender Breast Balm contains skin-loving ingredients to moisturize skin.
If you're skin is looking for extra moisture but you prefer a lotion consistency, the Rose & Aloe In-Shower Lotion is applied right before exiting the shower. In-shower lotion is thicker and average lotion, and is like a conditioner for the skin. Applying the lotion while in the shower avoids the "sticky" feel of lotion before it absorbs. The lotion is given a light pink color with Fuchsia LabColor and smells like rose blossoms and crisp apples.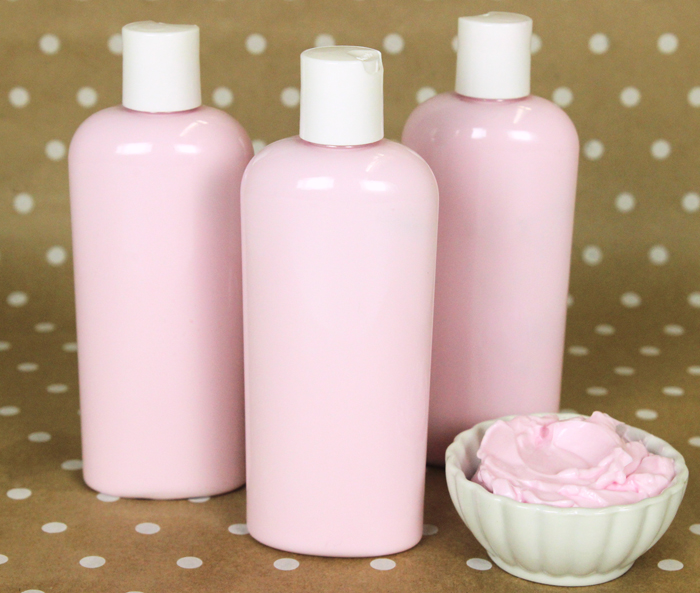 In-shower lotion is a great way to hydrate the skin without the "sticky" feeling of freshly applied lotion.
Pink Himalayan salts are a gorgeous and natural option for bringing pink into your projects. In the Pretty in Pink: Salty Cold Process project, the small pink Himalayan salt adds exfoliating and moisturizing properties to the soap batter. If you prefer melt and pour, the Pink Salt and Shea Bath Bars are easy to make and look wonderfully feminine. Pink sea salts can also be added to bath bombs, as shown in the Bath Bombs + Salt = Love. If you're looking for super pink bath bombs, the Pikake Flower Bath Bombs feature layers of pink and white, in addition to rose petal accents.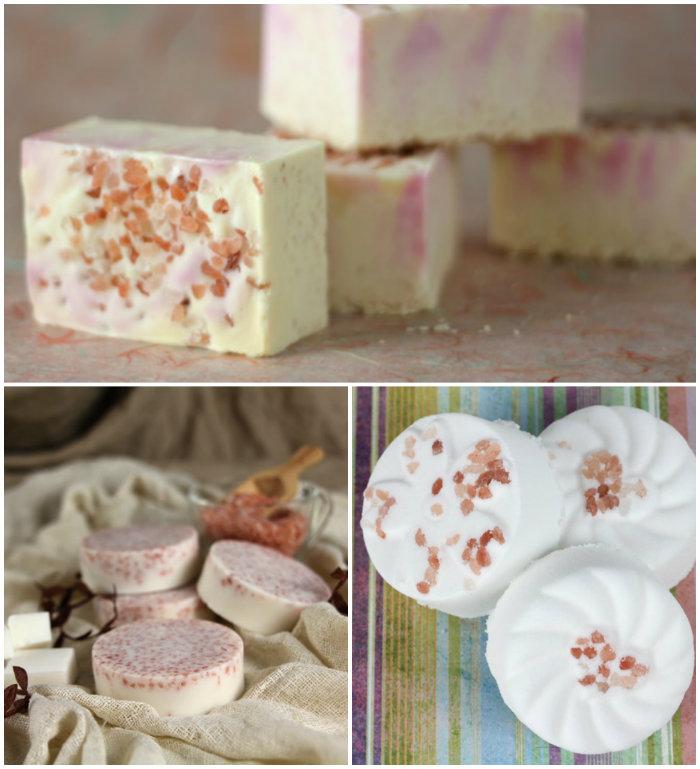 Top, clockwise: Pretty in Pink: Salty Cold Process, Bath Bombs + Salt = Love, Pink Salt and Shea Bath Bar
If you're a beginner, the Coconut Oil & Pink Salt Scrub contains only five ingredients (including fragrance oils) to create a super hydrating product. The small pink sea salts give the scrub a soft pink color. Check out the video below to see just how quick and easy this scrub is to make!
Looking for even more soapy ideas? Check out the pink-centric cold process tutorials below. From ombre layers and rebatch to cherry blossom and rose gardens, there are so many beautiful ways to incorporate pink into your projects.
Top row, left to right: Striped Berry Champagne Cold Process, Cold Process Soap Color Gradation Tutorial
Second row, left to right: Ombre Rebacth Layers, Cherry Blossom Cold Process Soap
Third row, left to right: Modern Cherry Blossom Cold Process, Rose Garden Cold Process Soap Tutorial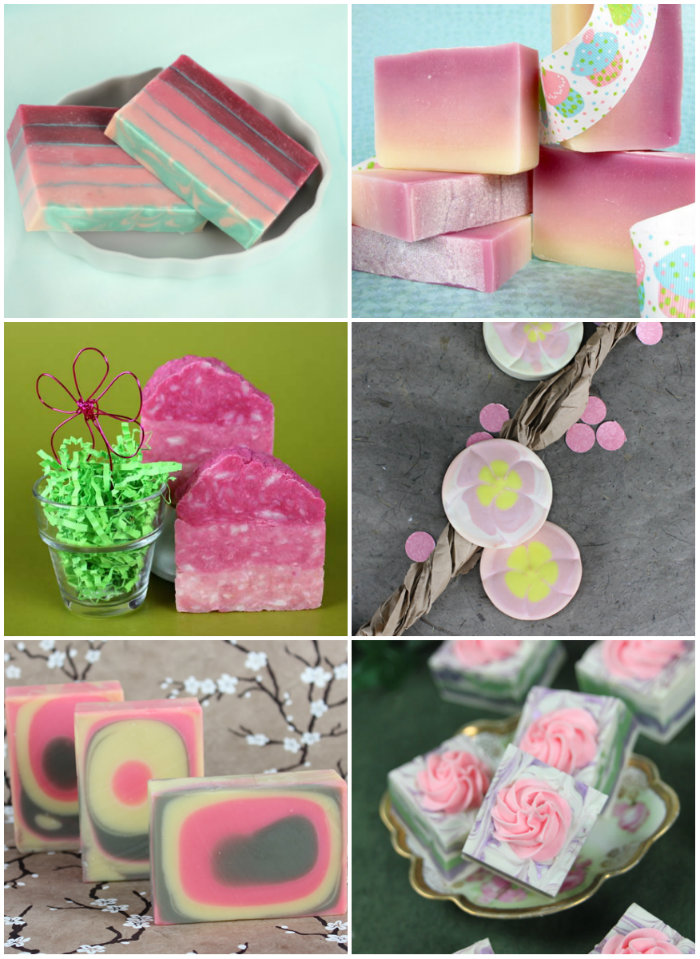 If you create a project this month to participate in Breast Cancer Awareness month, I would love to see it. Use the hashtag #SoapShare on Instagram to share your crafty projects. Don't forget to read more about Handmade Beauty Box's partnership with the amazing Project Violet. If you're interested in seeing what the HBB project is for the month of October, click here. All proceeds of this box will go to support Project Violet research!