The National Cherry Blossom Festival is taking place this month in Washington DC! I love the Cherry Blossom fragrance oil that the S.O.A.P. Floral Edition approved, so I thought it perfect to make a great project with for March. Plus, it made for a great opportunity to soap with one of our newest silicone molds!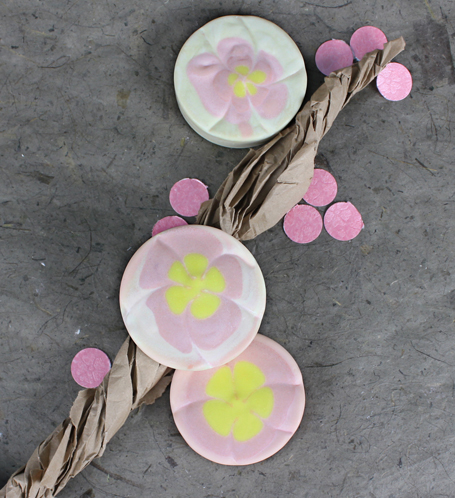 Ingredients
1.0 oz Castor Oil
6.6 oz Coconut Oil
22.1 oz Olive Oil
3.3 oz Palm Oil
4.4 oz Sodium Hydroxide Lye
10.1 oz Distilled Water
3.3 oz Cherry Blossom Fragrance Oil
½ teaspoon Merlot mica
½ teaspoon Electric Bubble Gum colorant
½ teaspoon Fizzy Lemonade colorant
2 ¼ teaspoons Super Pearly White
0.9 oz Avocado Oil
Soap Making Buddy (optional)

Get everything you need for this project with the click of a button!
If you have never made cold process soap before, I strongly suggest getting a couple of basic recipes under your belt before diving in. Check out Soap Queen TV on Cold Process if you want to get started with cold process. It's a 4 part series that will take you through the basics (and be sure to watch the episode on Lye Safety). You need gloves, goggles, and safety is the most important part of any soap recipe. If you're a book worm, Bramble Berry also has some helpful reading on the cold process technique.
Color prep: Disperse Merlot mica, Bubble Gum Pink pigment and Fizzy Lemonade in 0.3 ounces of Avocado oil for each color. Use your mini mixer to make good work of those powders, but be sure to saturate them in the oil a bit before turning on the mixer, otherwise you'll create a cloud of colorant!
ONE: Suit up! Kids and pets out of the way, long sleeves, gloves and goggles on. Carefully add your lye to your water (never the other way around!) and stir until clear. Set aside to cool.
TWO: Melt (when necessary) and mix together Castor Oil, Coconut Oil, Olive Oil and Palm Oil.
THREE: Slowly add the lye to your oils when both are under 130 degrees. Pulse your stick blender so you reach a very light trace. I wanted a nice pastel look to the colors, so I also added the 2.25 teaspoons Super Pearly White mica to the base oils.
Tip: when adding powders directly to your oils, dump them in a heap so they are sitting on top of the oils, then capture them with your stick blender as it enters the oils. Here's what I mean: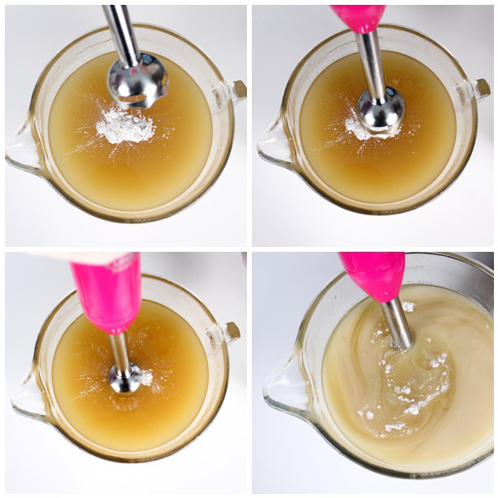 FOUR: Split and color your batch as follows: one 16 ounce batch colored with ½ teaspoon of dispersed Bubble Gum Pink pigment, one 8 ounce batch colored with ½ teaspoon of dispersed Merlot mica, one 5 ounce batch colored with one teaspoon of dispersed Fizzy Lemonade pigment, and the remaining soap will stay as-is, with just the Super Pearly White. Mix in your fragrance oil. Use a whisk for mixing at this point, so you don't accelerate trace. You still want a light to medium trace when you start to make the soaps!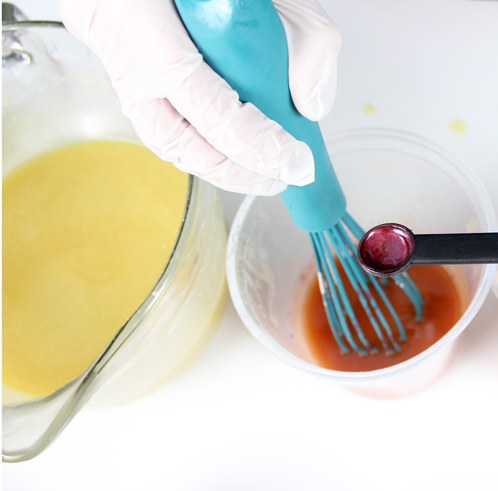 FIVE: Fill each of the cavities of the 12-bar silicone mold about ½ way with the Super Pearly White soap. It's time to create some Cherry Blossoms! Pour enough of the  soap colored with Electric Bubble Gum so that it's almost to the edge of the mold, but with still a little bit of white showing. Be sure to pour close to the mold so that the soap stays on top. Follow the pink with Merlot colored soap, leaving a good amount of pink showing. And then with the Fizzy Lemonade, just a teensy little bit  toward the middle of the soap (like the center of a flower). The circles don't necessarily have to be perfectly in the center, a little off-centered can add character to your blossoms! Tap, tap, tap that mold on the table to settle the soap colors flat and so they nicely blend into each other.

Tip: It might be helpful to pour each of the cavities individually and have a buddy do the next step to allow for faster working time.
SIX: With a chopstick or dowel, drag through the soap starting at the outer edge of the circle and ending at the yellow dot. Do this around the soap five times, wiping your tool off between drags. Ta da! Instant blossom petals! Repeat with all of the cavities in the mold.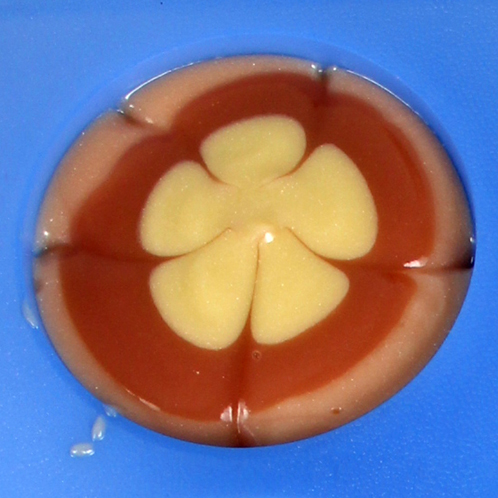 SEVEN: Let the soap sit in the mold for 24-48 or until it's ready to come out. Allow to cure for 4-6 weeks and enjoy!