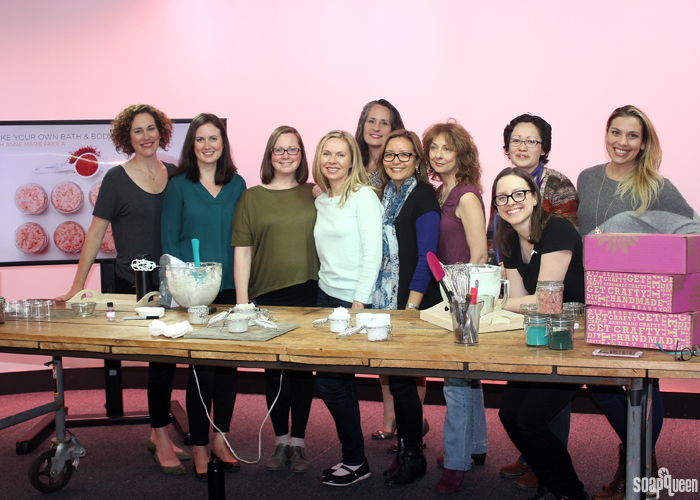 A few of the amazing Creative Live team members, the live studio audience and Courtney of Handmade Beauty Box. Such an amazing group!
On Thursday, I taught a class on Creative Live. It was such an amazing experience; I'm still on cloud nine! If you're unfamiliar with Creative Live, it's a website with high-quality workshops on a wide variety of topics including design, music, crafts and photography. My class focused on bath and beauty projects, including cold process soap, scrubs lotion and more. Click here to purchase the class and see all 25 lessons. I demonstrated lots of projects. You can find all the kits for the recipes here.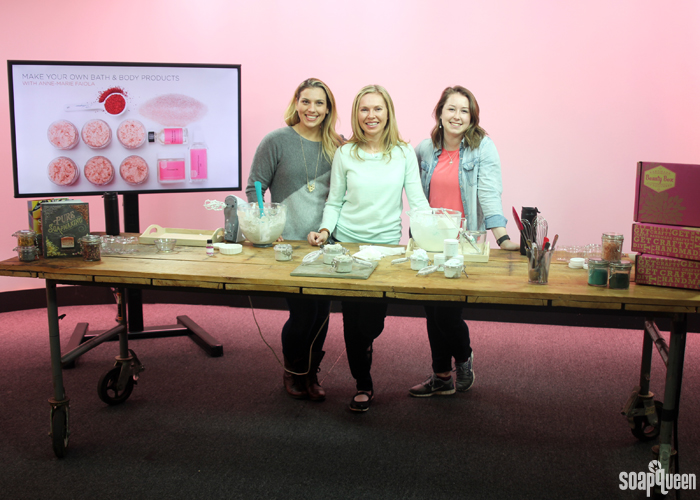 My A-Team: Courtney (far left), myself and Haley. These girls really rocked the entire setup!
To start the day, my team and I got to the Creative Live studio bright and early to set up. Below, you can see a very small amount of the prep work that went into making this class happen. A huge shout-out to Courtney who measured and packed every little ingredient and tool. In addition, I wouldn't have made it through the day with Haley, who was there to help in any way necessary. You guys are awesome!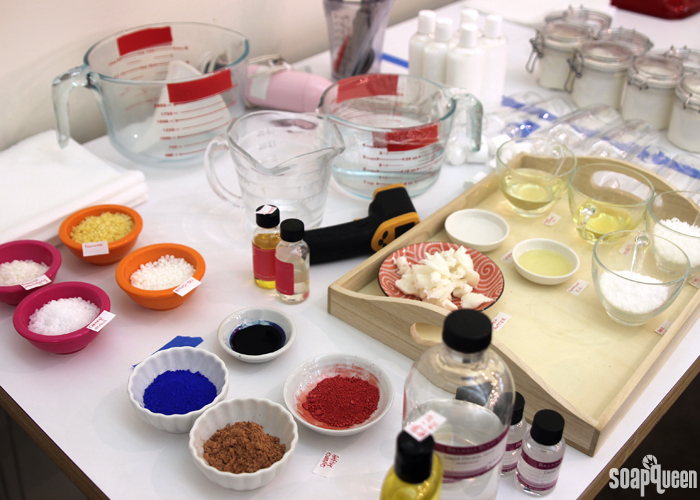 So much prep work went into the Creative Live class. 
The first lesson was all about cold process soap. I went over several topics, including the science of soaping, tools needed and lye safety. I created a lavender cold process soap, you can find the kit for that project here. Making cold process soap live on camera is always a little nerve wracking, but luckily everything went off without a hitch.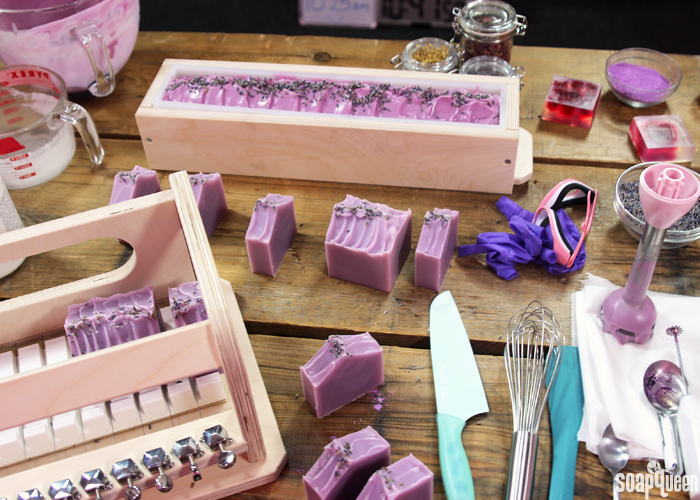 Below is the beautiful Creative Live studio after the cold process soap demonstration. Between each project, the team hurried in to help clean and get ready for the next class. I was so impressed with the Creative Live team. They were friendly, energetic, organized and helpful. It's clear they love their jobs.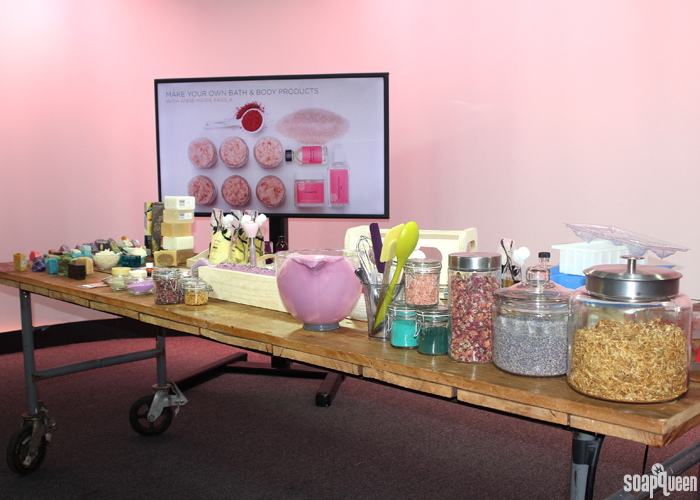 One of the classes was all about scrubs: why to use them, what grain size works for different types of scrubs, the different types of salts and more. Some of the other projects I demonstrated included a walnut scrub, shaving soap and emulsified salt scrub. In addition to the recipe, the Creative Live team made sure that class included substantial information about each project. This includes what kind of preservatives to use in scrubs and lotion, what ingredients are best and labeling information.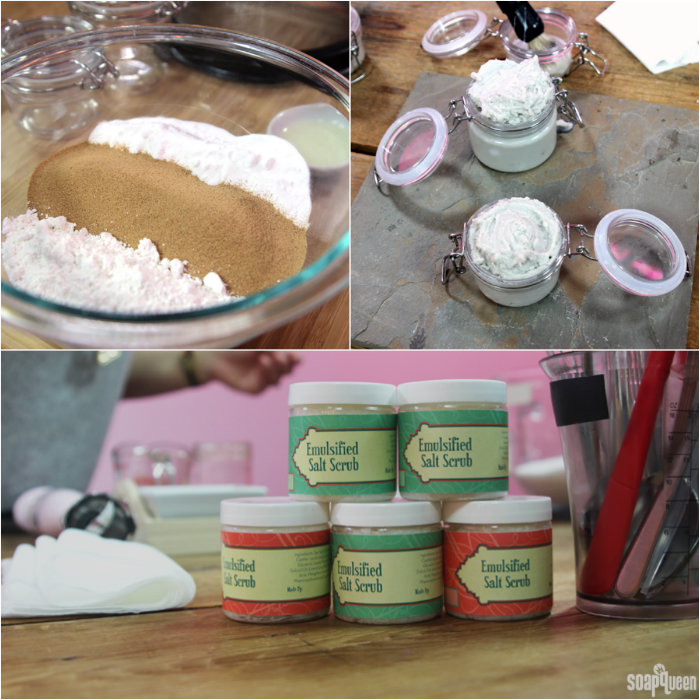 Top left, clockwise: Walnut scrub, shaving soap, emulsified salt scrub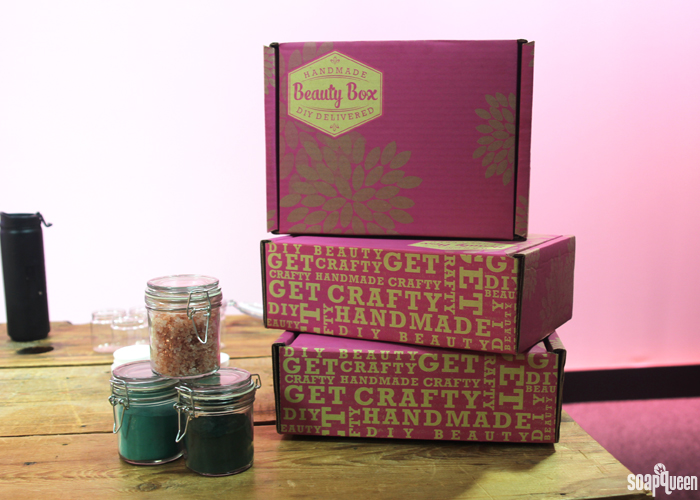 One of my favorite parts was meeting with the live studio audience. It was a small group of six women who had so many amazing questions and, quite the attention span. The day was loooonnnng. Below is Vanessa who came all the way from Australia with gifts for me and the kiddos (awwwww)! Thanks Vanessa, it was great to meet you! =) I was glad to have the opportunity to sign books for them and answer their questions off-air as well.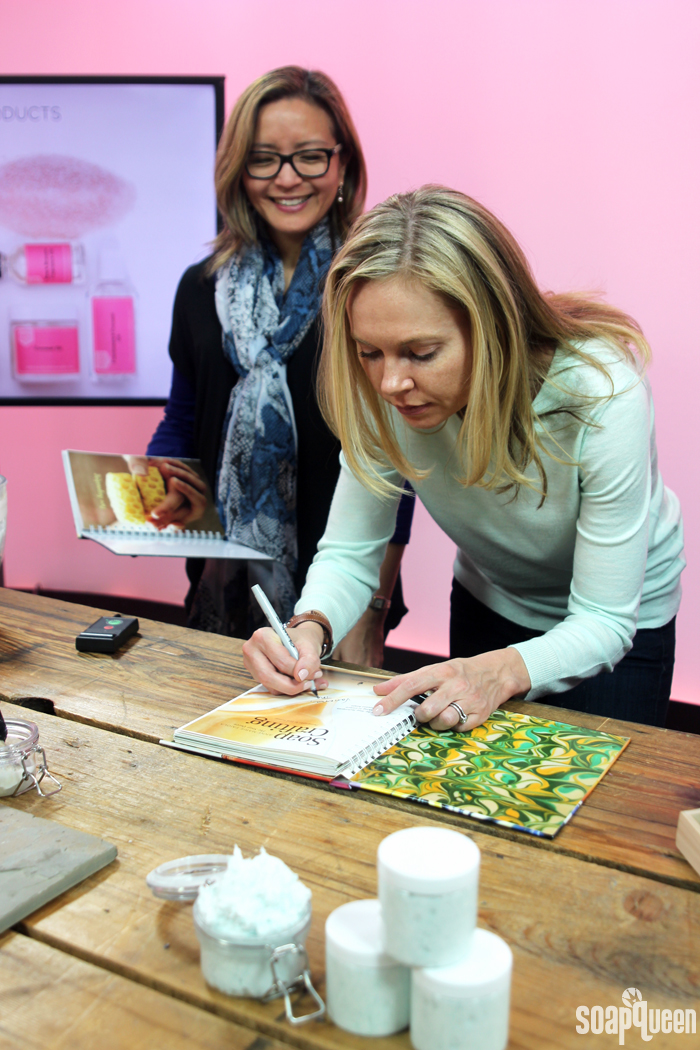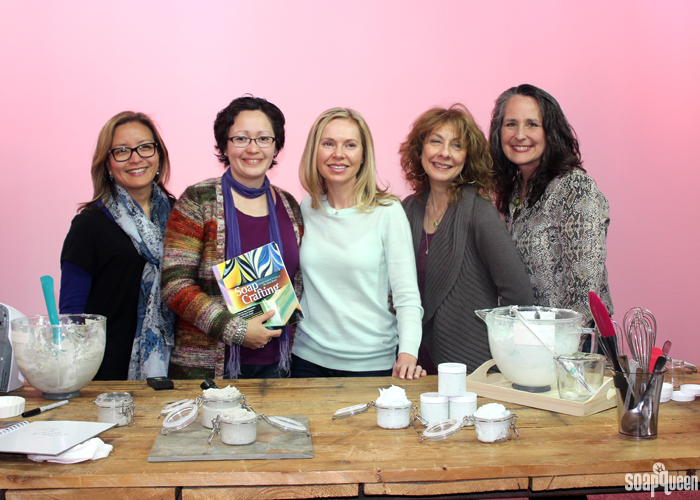 The live studio audience members are amazing ladies. They all had such great questions and were so excited to learn!
Thank you to everybody who watched the live broadcast; there were so many interesting questions that came in. Below is an amazing wall in the Creative Live studio that really summed up the experience, "Today was a good day." It was a great day. #bestdayever I hope I get to do it all over again! =)