As the leaves turn colors and the weather gets colder, there is nothing better than bundling up with a warm cup of Chai Tea. Throughout October, Bramble Berry orders will receive a complementary half-ounce bottle of Chai Tea Cybilla Fragrance Oil. To celebrate this sweet and spicy fragrance, we're encouraging you to use the sample to create a unique bath & body product as part of our Make It Month.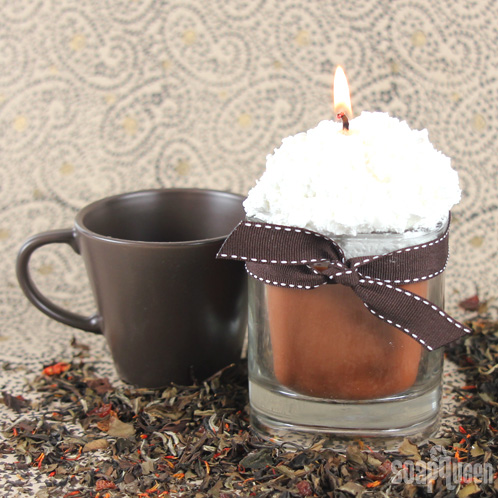 This month's Sample Page project features Chai Tea Cybilla. Take a look at the Sample page to learn how to make your own Chai Tea Candle.
Chai Tea Cybilla is a wonderfully warm and comforting drink that has welcoming, familiar scent. You can use it in everything from melt and pour soap, cold process soap and even our Sample of the Month project — a wonderfully whipped candle! With its traditional Earl Grey Tea base and sweet notes of Vanilla and Nutmeg , this delightful and spicy fragrance is fantastic in fall soaps.
Be aware that this fragrance will discolor, so take that into account when you're formulating your cold process recipes. To learn more about how to use the fragrance's natural discoloration to your advantage, check out this FAQ blog post, 'Why did my soap turn brown?'
Ready to show off your Make it Month creation? Check out the full details and helpful tips below: 
Your project needs to utilize the Chai Tea Cybilla Fragrance Oil. Cold process, melt and pour, lotions, scrubs, home crafts and all other bath & body projects are all welcome. 
Post photos of your creations on Bramble Berry's Facebook page between now (October 7th) and October 30th. Entries submitted after October 30th will not appear in Facebook album.
Your entry MUST include the hashtag "#BrambleChai" in the photo caption. Without the hashtag #BrambleChai, your photo will not appear in our Facebook album (we use this hashtag to easily find the photos; the hashtag makes it possible for us to search for just those photos for the Make It Month).
You can make multiple projects, but we will only consider three photos per person.
We will post a collage of staff favorite projects on November 4th. We'll base our choices on how unique and creative the item is.
We encourage everyone to participate, from veterans to newbies! All photos submitted before the deadline that include the hashtag #BrambleChai will appear in a Facebook album on the Bramble Berry Page.
This is an excellent way to show off your creations, and it's a great source of inspiration for your upcoming holiday projects. In the past, we've hosted Make it Months with a variety of themes, including 4th Of July, Oatmeal Milk and Honey Cybilla Fragrance Oil and creative packaging.
To give you a few ideas, here are a few photos from a recent Make It: 4th of July challenge: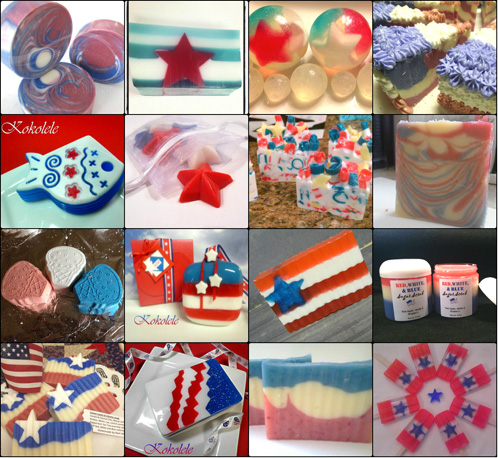 We've given you the instructions, and now it's up to you to start crafting, creating and soaping. We can't wait to see what you'll come up with!