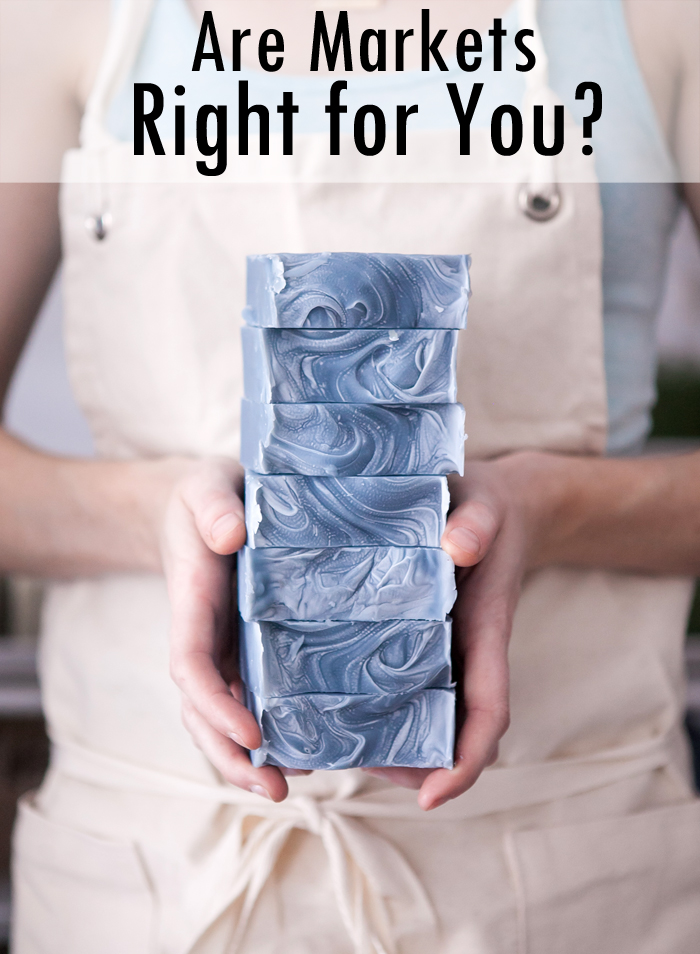 Photo courtesy of Old Whaling Company. Photo by Leslie Ryan. 
When you first start making soap, you'll soon find you have more bars than you know what to do with. Many crafters give soap and other handmade products to friends and family. It's pretty common for your loved ones to get hooked on those products and want more. Over time, people may ask about buying them. If that's the case, selling your products is definitely something to consider. This post has more information on moving from hobby to business. Local farmers markets, fairs and events are a popular place to sell handmade products. But how do you know if that's the right path for you?
Are markets right for you?
First things first, markets take time, money and effort.
Lauren with Single Barrel Soaps said it's a lot of work to sell your products at a market. She's been selling soap for about two years and does at least one market a month. Read our interview with her here. That work includes making the products from scratch, packing them up and transporting them to the event. Once you're at the event, you need to set up your booth or table and sell products for several hours. At the end of the event, you have to take the display down, pack it up and transport it back. It's a full day of talking soap and selling products.
Markets are also very social. April with Old Whaling Company said she talks about her products all day to multiple people. She started Old Whaling Company in 2012 and sells her products at the Charleston City Market every day of the week. People there are very curious about handmade soap.
"You have to be ready to answer a lot of questions," she said.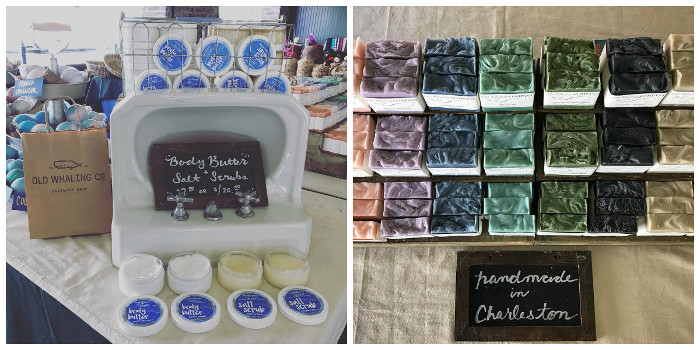 Several of Old Whaling Company's gorgeous market displays.
There are definite advantages to selling your products at markets. You have a direct line to customers. You can talk to them about your products, how you carefully chose each ingredient and why they feel so amazing on the skin. The products aren't made in a factory by a large company; they're personally crafted by the person standing in front of them. That's one of the many advantages of handmade soap. Learn more advantages in this post.
"Selling at markets gives us a chance to get out there and meet our customers – to physically see their likes and dislikes and get feedback," said Jamie with Whitetail Lane Farm. She's been selling soap since 2014 and does about 8 markets a year. "It also gives our customers a chance to touch and smell our product. We have a sign in our market tent that says 'smells are free' and most people that begin picking up and smelling a bar of soap will usually purchase it."
If selling at markets sounds like the right path for you, the next step is getting started.
How do you get started?
Deciding where to sell your products requires quite a bit of research. Start scoping out markets, fairs and events in your area. Once you find one that interests you, go see it in person! Lauren with Single Barrel Soaps recommends looking at the booths there, talking to vendors, talking to the organizers and buying products. Take note of how busy the market is. She also recommends paying close attention to booths that sell handmade soap and cosmetics. If you find your products are similar, you may want to reconsider what to bring. That way you don't step on any toes, and you also stand out from other vendors.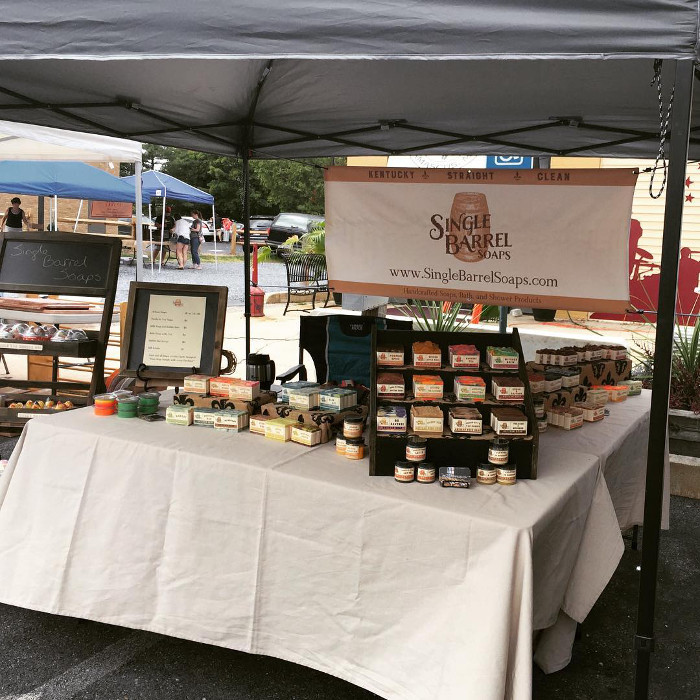 One of Single Barrel Soaps' beautiful market displays.
April with Old Whaling Company said event fees are something else to research. If they're expensive and you're just starting out, you may want to find a different event. Once you have a few markets under your belt and a loyal customer base, you can re-examine the larger and more expensive events.
Once you decide on a market, the next step is figuring out what to bring. While you're visiting the market, see if there's a theme. Do you notice a lot of products with neon colors and fragrance, or do the products contain natural colors and essential oils? Is there a lot of soap, or are the vendors selling other products like lotion and scrubs? Don't be afraid to take notes to help you remember. Tailoring your products to the shoppers can be really beneficial. For instance, when Lauren sold her products in Kentucky, the customers preferred fragrance oils. However, when she moved to Maryland, she found they preferred essential oils. She adjusted her product line to cater to those preferences.
There is also something to be said for trial and error. When Jamie with Whitetail Lane Farm started going to events, she registered at local places and didn't research each one.
"After that first show season we really started 'vetting' shows to see if it was a good fit for us," she said. "If people from our target audience attended and there was significant attendance, we usually attend."
Over time, Jamie learned that fall shows are better for them than spring or summer shows, so she focused on those. You may find the opposite once you have a few markets under your belt.
While you're at the event, don't be afraid to ask the shoppers plenty of questions. Do they prefer soap, or would they like to see bath bombs? What skin concerns do they have? What draws their eye? They can give you helpful tips so you know what to adjust or add for your next show. The more shows you do, the more you learn. That experience is extremely valuable and will help you be successful.
Tips for success
Shopping is a psychological process. People tend to buy with their emotions and rationalize the choices later. That means attitude is incredibly important. A big smile and positive answers to questions can go a long way. If the event isn't going like you planned, try to put a positive spin on it. For instance, if people aren't loving your products, you can say, "I've been getting great feedback on my products." If the weather is too hot, rainy, etc., you can say, "It's so awesome that people are here supporting small businesses even in this weather! I'm really thankful you're here." The positive answers really make a difference about how shoppers feel toward you and your products. Get more tips in this post.
Lauren likes to stand for the entire event because it's more inviting.
"I love talking about soap and getting their opinions. I think that enthusiasm carries though," she said. "If you wake up and you're not in a good mood, put it aside."
Little details like what you're wearing can also help you be successful. A clean and comfortable outfit is ideal for events. If you're not sure what to wear, ask yourself if you're comfortable going to a casual dinner in your outfit. If not, consider other options. The Selling Success at Fairs and Public Markets post has more helpful tips. April recommends bringing snacks and tons of water with you as well. Staying full and hydrated will keep your attitude and energy up.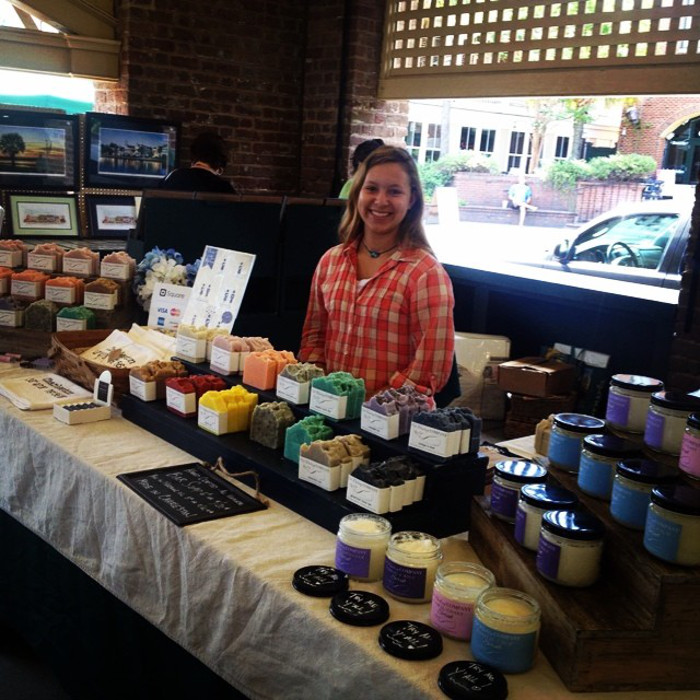 Hannah helping Old Whaling Company at the Charleston City Market. Notice the big smile and clean, comfortable outfit!
Passion and knowledge about your products is important as well. Make sure to highlight all the wonderful qualities of your handmade products and have answers ready when people ask about them. It's also helpful to prepare answers for questions you may not feel comfortable answering. Some common topics include why handmade soap costs more than store bought bars, how you make your products, why they only use store bought soap, etc. This post has some common questions and suggested answers that still keep it positive.
It also helps to emphasize your niche. Learn how to find your niche here. When shoppers ask about your products, focus on what makes your products stand out. For instance, Jamie with Whitetail Lane Farm makes moisturizing soap with milk from her own herd of Nigerian Dwarf Goats. Her display features plenty of goat milk branding. She is able to talk about the benefits of creamy goat milk soap, as well as the goats themselves.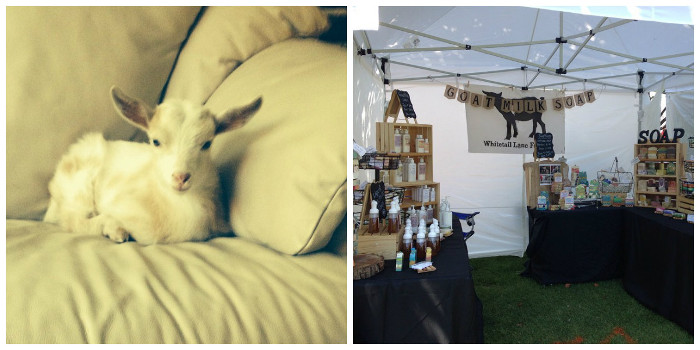 Jamie with Whitetail Lane Farm makes soap with milk from Nigerian Dwarf Goats.
What are other selling options if markets aren't for you?
If selling at markets isn't right for you, there are plenty of other options including selling online and in stores. The Where to Sell Products post has more information. Markets can be something you avoid altogether, or revisit at a later date. The most important thing is doing what's right for you, your schedule and your business.
What are your tips for selling at markets? Check back later this month for a post on how to set up your display.
Find Single Barrel Soaps
Shop
Facebook
Instagram
Find Old Whaling Company
Shop
Facebook
Instagram