This post was written by the always talented and creative Amanda from Lovin' Soap. If you can't get enough of her creative outlook on soap projects, click here to pick up a couple of her soap E'Zines. They're practically instant gratification since you'll be able to download them within a day of purchasing.  ~Anne-Marie
The magic of this realistic soap rock tutorial is all in the layering and the mica/oxide lines.  You can play around with different shades for the rock using gray, brown or even black and different shades of mica/oxides for the lines.  For the mica/oxides lines you can use bright colors such as pink, blue and green to get amazing looks.  So let's get to it!  If you are new to cold process soapmaking START HERE  (and pay extra attention to the lye safety video). This is probably one of my all time favorite palm free recipes. This recipe is high in olive oil. Olive oil makes for a softer soap upon unmolding but cures into a bar that is as hard as a rock! (pun intended!)  The "softer soap upon unmolding" characteristic of this recipe is what gives us the perfect base for squishing, forming and creating our rock shapes.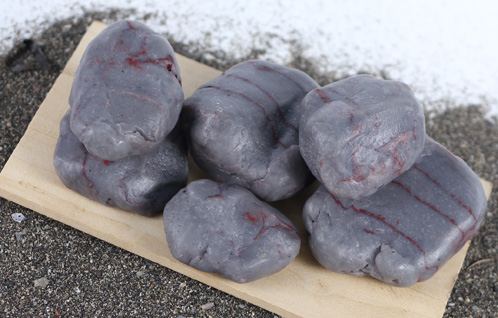 Ingredients
Olive Oil – 12 oz
Coconut Oil – 8 oz
Rice Bran Oil – 6 oz
Cocoa Butter – 4 oz
Castor Oil – 2 oz
Water – 9 oz
Sodium Hydroxide – 4.4 oz
You'll also need
2 teaspoons Vintage Gray Mica (since we are out-of-stock of this, you can just use a pinch of the Luster Black Mica)
1 tablespoon Brick Red Oxide
1.5 oz Plum Tea Fragrance Oil
Small Tea Strainer (or jar covered with pantyhose to dust mica)
10″ Silicone Loaf Mold
Buy everything you need in the click of a button! 

[Read more…]