Advanced Swirling Part 2: Getting Brave with Color
Guest post by Kat from Otion (Bramble Berry's retail store)

Welcome back to my four-part swirling tutorial! If you missed part one on Understanding Color Theory Terminology, make sure to check it out here.
I'd like to start out today's topic by reiterating what my professors told me in painting classes that helped build my confidence with color and technique.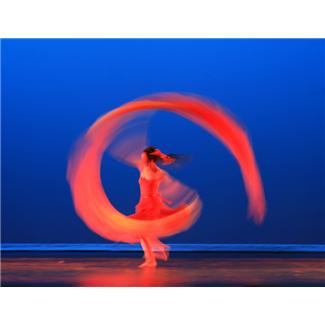 1. Don't get too attached. This means a couple of things; don't get too attached to a plan (expecting the swirls/colors to look a specific way) because it limits your spontaneity and creative flow. Allow things to happen. Also, don't get too attached to the finished product or you will have a hard time trying new things, and you will most likely get stuck repeating yourself. Remember, what makes an interesting product line is variety.
2. Practice! Make a lot of soap, keep good notes, and try many color combinations. The more you know what happens when you use certain colors together, the more confidence you will gain. Specifically, know your pigments because some of them morph (or change color) in cold process.
3. Let Go. Worrying or having built up expectations adds unnecessary pressure to the process. It's supposed to be fun, after all! What's the worst thing that can happen? You get an ugly bar of soap. Trust me, someone will love it and it's still a great working soap. One memorable professor told his class on the first day, "We're not making Mona Lisa's here, now let go and paint!"
When it comes to picking colors, experiment with colors that are opposites. I recommend trying a safe batch and a scary batch for comparison. Use colors that you feel really comfortable with in your safe batch (ex. blue and violet in a lavender batch), and pick colors that you wouldn't normally go toward in your scary batch (ex. brown and pink in a sandalwood batch). You'll be surprised how interesting the scary batch is compared to the safe one.
"A thimbleful of red is redder than a bucketful" –Henri Matisse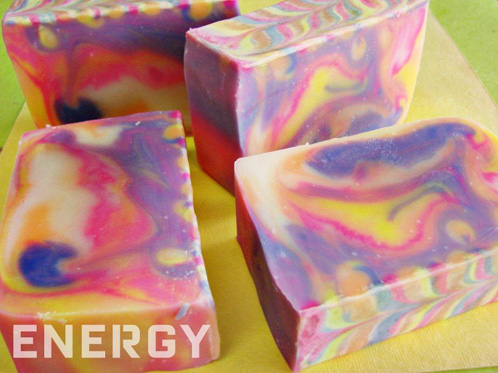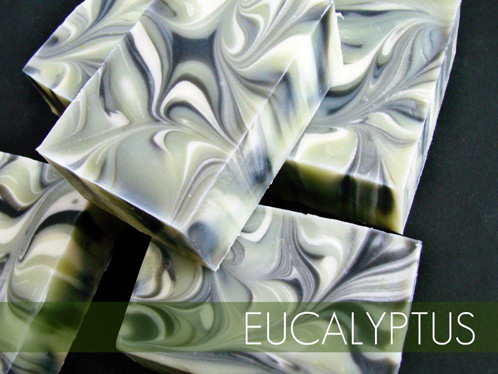 As a soap artist, you have a lot of power over people's moods. Well, in a way. Your soap provides an experience and color is one of the many sensory elements that influences that experience. Check out the different moods that are created simply by the color choices in the Energy bars and the Eucalyptus bars above. The vibrant, saturated neon pigments in the Energy soap give that great burst of colorful excitement. The unsaturated, muted color palette in the Eucalyptus soap is simple and elegant, resulting in a very calming experience.
Stay tuned! I have more coloring tips to share next week. In the mean time tell me about your "safe" and "scary" soap batches.