When the weather heats up, nothing is better than a refreshing glass of iced tea. And what is more refreshing than ginger, mint and a bit of citrus? This easy way of making flavorful iced tea is my go-to method. All you need to do is throw the ingredients into a pitcher, let the flavors combine and add ice! Simple and delicious.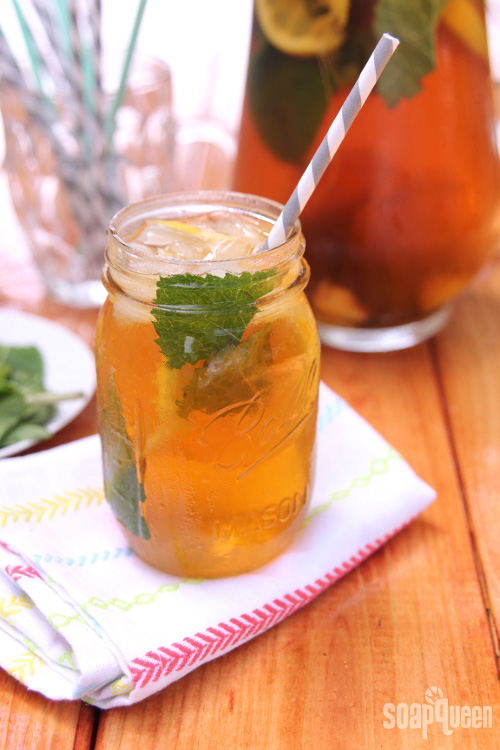 Depending on your personal taste, you can adjust the ingredients. You could also add a bit of honey or sugar if you prefer a sweet glass of iced tea. This flavor combination would also make an amazing glass of lemonade!
Lemon, Mint & Ginger Iced Tea
2-3 Lipton Black Tea Bags
5-6 Large Mint Leaves
1/2 Lemon, sliced
Fresh Ginger, sliced
Water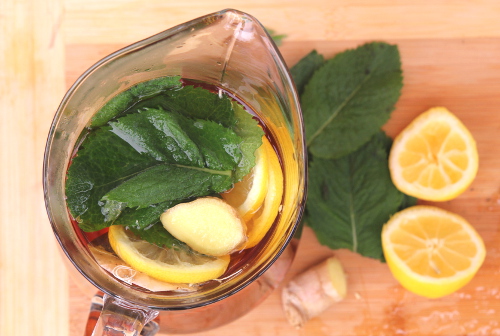 ONE: Add tea bags to your pitcher, and fill with hot water. Add ginger, lemon and mint. Stir to combine, and gently press against the mint with a spoon to release the flavor.
TWO: Once the water has reached room temperature, place the tea into the fridge and let cool for several hours, up to overnight. Add ice and enjoy!
Note: If you do not plan on drinking the tea in a day or two, remove the leaves and fruit from the tea to discourage mold growth.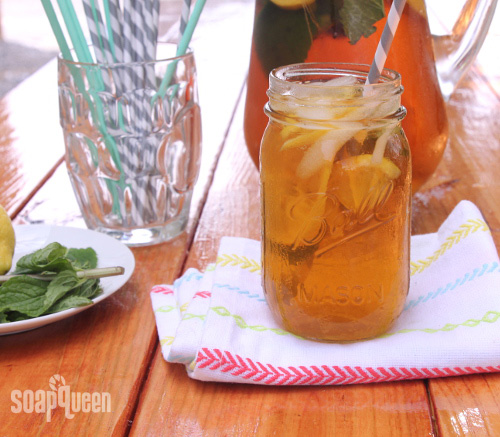 Looking for more summer tea combinations? Try these:
Refreshing Green Tea:
2 – 3 green tea bags, 1/2 sliced cucumber, 5- 6 mint leaves, water
Tropical Fruit Tea:
2 – 3 pomegranate tea bags, 3 – 5 orange slices, sweeten with Stevia to taste, water
Spicy Summer Chai Tea:
  2 – 3 chai tea bags or Oregon Chai tea mix, 1/8 tsp. cinnamon, sweeten with honey to taste, milk
Lavender Tea:
2 – 3 Lipton Black Tea Bags, 3 tbsp. food grade Lavender, 2 – 3 lemon slices, sweeten with simple syrup to taste, water
These are just a few ideas, and there are a ridiculous amount of combinations to make a delicious tea. Feel free to tweak any of these recipes to suit your tastes!
What is your favorite summer beverage?