Back in April we challenged you to show us your creations made with Sunny Herb Garden and Carnation Fragrance Oils. We were blown away by the creativity and overall excellence of the projects we saw! Participants made projects using April's Sample of the Month, Carnation, or May's Sample of the Month, Sunny Herb Garden. Then, they posted them on our Facebook wall with the hashtag '#BrambleGarden.' Our four favorites are below: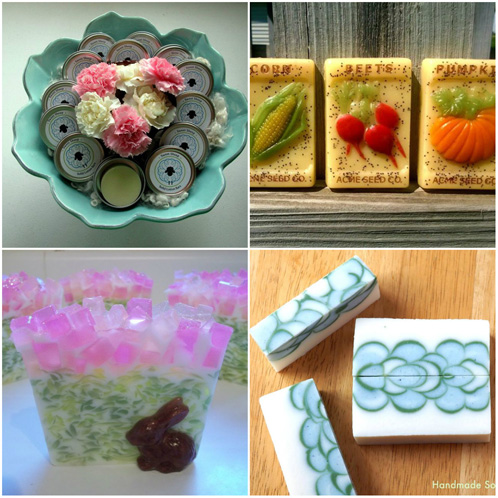 Top left, clockwise: Lotion tins by Alicia, Seed Packet Melt & Pour by Mandy, Garden Visitor by Sandra, Sliced Cucumber Cold Process by Yurie
We loved the diversity of these projects — from the beautiful packaging of the lotion tins to the crisp and clean lines of both melt and pour projects to the unique pattern of the cold process soap. Congrats to our favorites — you've earned some serious bragging rights!
The rest of the entries were outstanding as well, and you can see them all below. They make for great spring and summer soapy inspiration: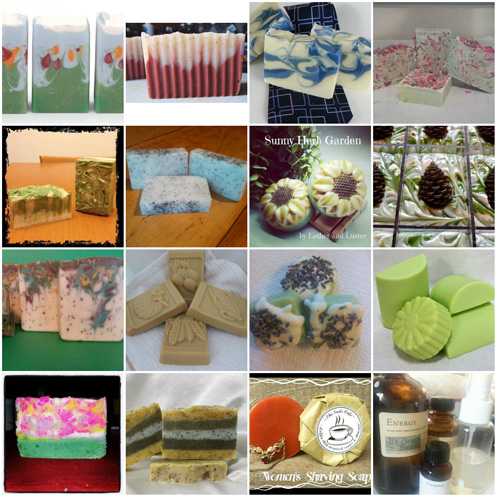 Top row: Garden Soap by Jolyn, Strawberry Fields by Megan, Blue Breeze by Carla, Carnation Confetti by Brooke
Second row: Cold process by Morgan, poppy seeds by Gail, sunflowers by Lath and Luster, pine cones by The Village Soapsmith
Third row: Cold process swirls by Janet, Father's Day soap by Elizabeth, Spring Garden Bath Petite Fours by Shelly, salt bars by Stacie
Fourth row:  Spring flowers by Audra, Ultimate Gardener's Soap by Meadowlark Soaps, shaving soap by Amy, perfume by Mcts
Thanks to everyone who entered our Make It Month contest. If you missed out on this round, have no fear. We host Make It Month contests several times a year, and the idea behind them is to inspire creative projects using that month's free 0.5 oz. fragrance oil sample. This month's sample is Cucumber & Kiwi, which features sweet top notes grounded by a fresh & clean cucumber scent. Learn how to make a Sea Clay mask featuring the scent here.
Do you have a go-to summer fragrance oil? What is it?