If your projects need a little spring color, take a look at the new Spring Fever Colorant set from our friend Debbie Chialtas. It's part of her Soapy Love line, which is known for its sugary sweet fragrances and eye-popping colorants. Read the rest of this guest post about the hot color of the moment (it may surprise you!), and then learn how to use a fun new colorant set in a cute bicycle melt and pour project — A.M.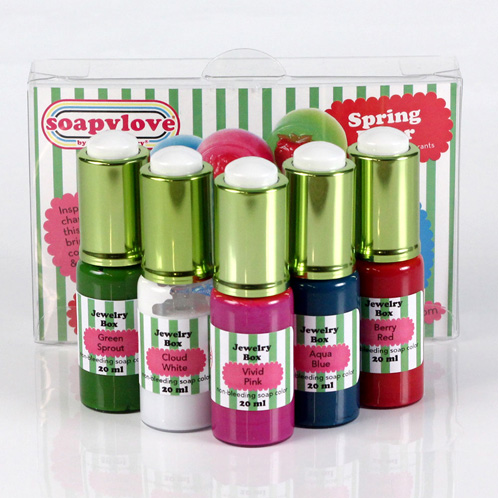 Yes, the name of the color could use some work, but have you noticed lately how mustard yellow seems to make any color it's paired with seem sophisticated and modern?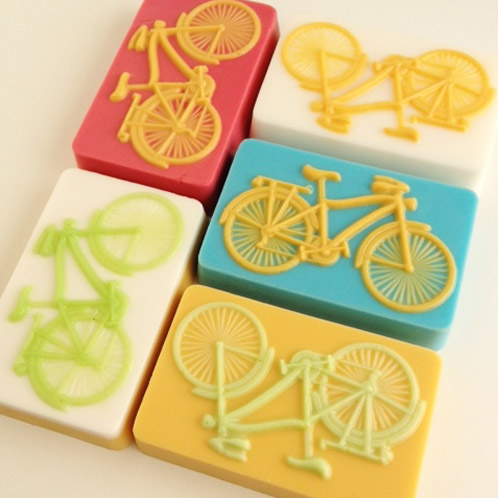 In fashion and interiors, Mustard really pops paired with neutrals like grey and navy.  In art and crafty projects, it looks amazing with deep hues like pomegranate, teal, and purple (but also beautiful with pastels like mint and dusty rose!).  For such an unusual shade of yellow, it plays very well with others.
I thought The Bicycle Mold would be the perfect vehicle (har har) to show how beautiful this color looks in soap.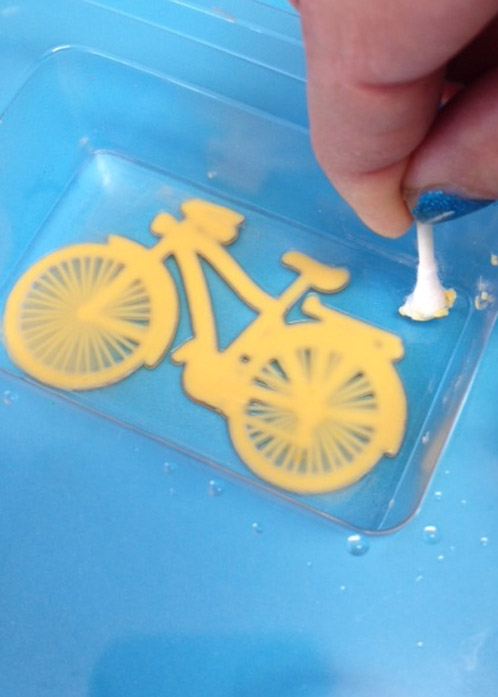 Achieving this shade is as easy – it's yellow oxide!  If you don't have this great staple color yet (a non-bleeding pigment), try it from Bramble Berry in your favorite form: color block, powder, or liquid.  The liquid is my favorite since I can add it drop by drop to my melted glycerin soap base.  I used white soap base to make sure it was on the brighter side (in clear base it can seem a little murky).
If you are wondering how I got the bike's details so perfectly filled in, I used my husband's credit card trick to scrape off excess soap.  Just pour in your bike color, not worrying about it overfilling.  Allow soap to harden until room temperature, then use a plastic card to scrape off soap gradually until you have taken away all excess.  A cotton swab is handy for removing any soap left in corners.  Then spray with alcohol and pour your bar color as usual. (You can also use the Clean Up Tool, which has a sharp pointed end perfected for getting into little nooks and crannies.)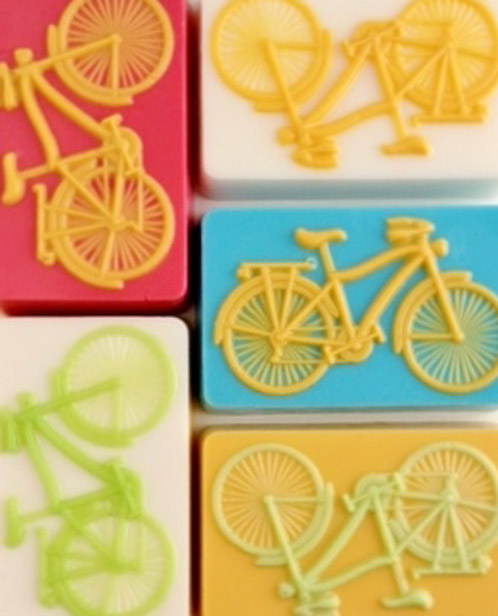 The aqua, berry, and minty green colors are all from my Spring Fever Colorant set.  There is also a white and light pink colorant to complete this fresh and fashionable palette.  All the colorants are also non-bleeding. Yay! Please keep in mind that because these colorants are dispersed in glycerin, they are not suitable for cold process soaping.
P.S. To create these bicycle soaps yourself, check out the tutorial we did last summer. – A.M.