If you're anything like me, your pants are feeling a wee bit tight after the holidays. After one too many breakfasts of solely cookies or fudge, I am ready to clean up my act (that is, right after New Years, of course!). I've convinced quite a few of the team at Bramble Berry to join me in a 21 day cleanse. Are you interested in joining us? We'd love the (virtual) company!  We're starting on January 16th and could use the support (they do say that misery loves company or in this case, joyful jump-started systems love company!). We've chosen the "Crazy Sexy Diet" cleanse (we know it'll be crazy; as for the sexy, one can always hope).
Learn more about the Crazy Sexy Diet by clicking on the link. But, in a nutshell? No coffee, no alcohol, no sugar, no meat and no white flour. Think lots of fresh fruits and veggies, fresh juices and healthy, home-prepared food – read more in her 'Manifesto' here. You can buy the book here or check it out at your library to see what we're getting into and, most importantly, to see if you'd like to join us!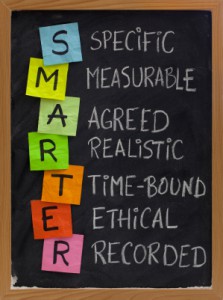 Tell us your SMARTER goal (see above photo for explanation) in the comments below for  a chance to win the Crazy Sexy Diet Book. We'll pick THREE winners to receive a copy of the Crazy Sexy Diet Book. And if you don't win the book you can still do the 21 day cleanse with us (read about it here). C'mon, it's only 21 days! We can do ANYTHING for 21 days! =)
You'll have until January 4th to submit your SMARTER goals in the comments section of the blog.
Do you need to read more on SMART goals? Check out the post HERE. But, here's a cheat sheet:
Not a SMART goal: "I want to lose weight"
SMART goal: "I will lose 6 pounds by April 30th, 2011 by working out 3 times per week, limiting alcohol to 3 glasses per week and by cutting out all refined sugars."
Ready? C'mon, get crazy 'n' sexy with the Bramble Berry Team!