Sqeeeeeeeee! The holidays have come and gone and hopefully, they've taken all of your holiday inventory along with it. But just in case you over made a few items, here are some ideas for getting rid of that extra inventory:
(1) Sale – Yes, I know, you could have thought of that on your own but I'm trying to be thorough.  Sales are the most obvious and time-honored way of getting rid of holiday inventory. While it may be painful to take less money for the product than you'd like, it's better than waiting a year for the season to come around and have fully spoiled products. Some money is better than no money! And, inventory sitting in your closet? That's MONEY. Think of those bottles of lotions and soaps staring at you as what they really are, CASH. Cash now beats cash later.
(2) Buy One, Get One Free – This is similar to doing a sale but everyone does love the word 'FREE!' Also, with this method, you are able to sell two items (for the price of one), freeing up more space in your closet.
(3) Gift with Purchase – The make up counters love to do this promotion (and, I'll admit, it gets me almost every time). Put together a cute little promo, toss in an adorable photo of "Here's what you get when you purchase X in product!" and you've got yourself a promotion. If you're wondering how much to suggest people purchase, make sure it's your average sale price or more. For example, if your average Etsy store purchase is $16, suggest that for $20, your customers will get a gift with purchase.
(4) Repurpose – Many soap and toiletry products can be chopped and remelted to put into other products. For example, the adorable Peppermint Candy Cane soap could be repurposed to make many, many soaps. For example, here are a few fun ones I made on the fly today (using Violet Fragrance oil because I think Violet + Peppermint is a unique and interesting mix) from the Peppermint Loaf Tutorial.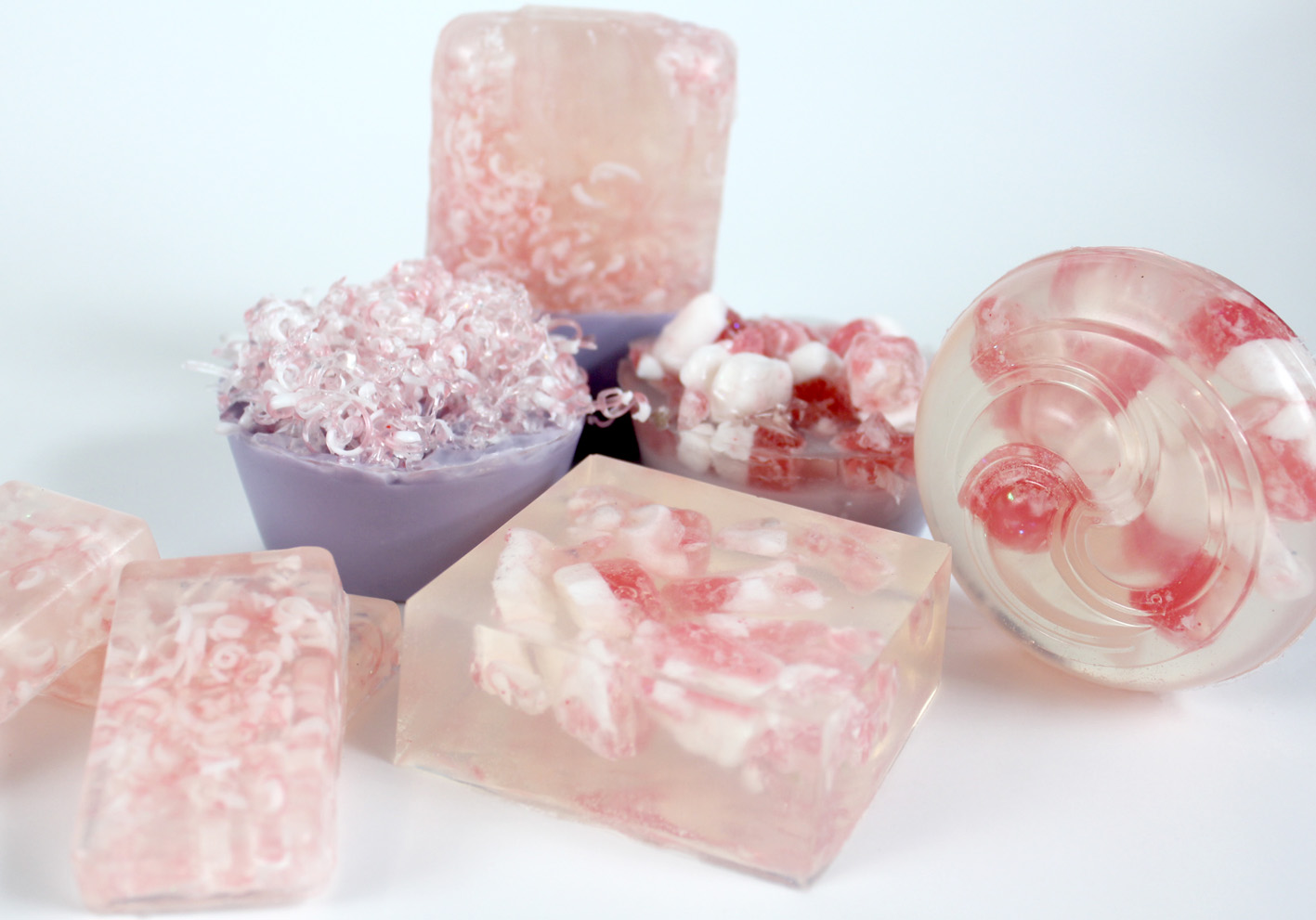 (5) Gifts for Referrals – Offer referral gifts to websites or individuals that drive sales to your site. Or, if you do home parties, up the hostess prize ante with extra gifts!
(6) Thank You Packages – Everyone loves to be acknowledged and appreciated. Write ten 'Thank You' cards to your ten best clients or stores and pop 'em in the mail with extra goodies leftover from the holidays.
(7) Bundle, Bundle, Bundle – Use holiday inventory to beef up your bundles, selling new products and holiday products together. You can offer a small discount to make the bundles extra appealing.
(8) Donate to Your Favorite Charity – Women's Shelters always need soap. A gift basket of soap products is always appreciated at the numerous silent auctions many non-profits run throughout the year. Clean the World is a great organization to donate soap to if you don't have a local Women's Shelter.
(9) Show the Press Some Love – Send reporters that were kind to you in 2011 soap. Send reporters that you'd like to be friends with soap. Hand written notes, low key pitches, and genuine desire for connection is the key to making these soft pitches successful.
(10) Swap Your Heart Out – Find five or ten other soapers in the same position as you are and organize a swap. You'll get to see other soapers' wares and mix up your own collection.
Got any other great ideas? I'd love to hear them or hear what ideas you've used from the above 10 and how they worked for you!