We have baby news! Anne-Marie is in the hospital and ready to give birth to her first born son- and not a second too soon with her attendance and speech at the Small Business Awards last night in Seattle (see post here).  She's truly amazing and always seems able to fit everything in seamlessly – even labor and delivery! We are so thrilled to announce that all is going well thus far. We'll update you on Monday with pictures of the new Bramble Baby!
In Anne-Marie's absence, we want to assure you that your soapmaking questions will be taken care of on Facebook, Twitter and the Soap Queen Blog while she's enjoying the first thrills and challenges of mommyhood. Who are we you ask? Meet Amber and Courtney (that's us), Anne-Marie's right hand girls. We're both Bramble Berry veterans and know the ropes around the warehouse.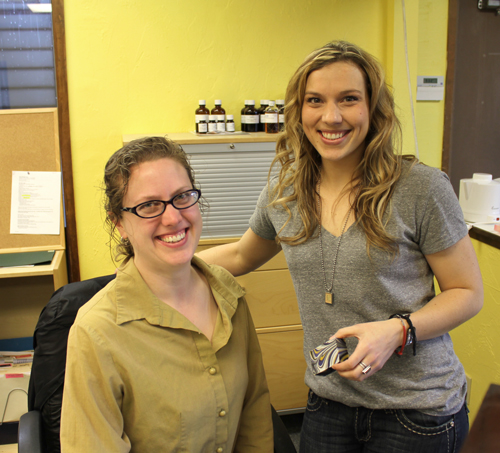 Amber (left) and Courtney (right)
Meet Amber… "Hi everyone. I'm the Chief Marketing Officer here at Bramble Berry. You may know me from the Soap Swap or some guest blog posts I did last year (Making Pasta, Screen Printing, Crafty Wonderland). I love managing our high energy and fun loving marketing team. I also design our homepages, newsletters and e-books. When I'm not at BB I'm probably at Yoga. If I'm not at yoga (rare) then I'm in my kitchen cooking something delicious or crafting in my home studio."
As for me?  My name is Courtney and I've been with Bramble Berry for 3 blissful years. I'm the (official) Customer Service Team Captain and Marketing Assistant. You may know me from the recent Fair Ivy Contest or the S.O.A.P. Panel (I'm sure I've emailed many of you at one time or another). I also work hands-on with product testing and also assist Anne-Marie when she busts out the Soap Queen Thursday Tutorials. When I'm not at work you'll find me at the gym, the mountain or the lake.
Amber and I are also both behind the scenes on the Soap Queen TV set. Have you ever heard a really loud cackle during some of the out-takes? Yep, that's our Amber! She has an infectious laugh that makes our work environment so much fun. Between Anne-Marie, Amber and myself, we create the energy of three happy, hyper chipmunks (Anne-Marie's enthusiasm and positive outlook is quite contagious)!
Now that Amber and I have been officially introduced to the Soap Queen readers, it's up to you to let us know how we can help. We're here for ya! And we promise to keep you updated on Anne-Marie and family. We're wishing her the best of luck with her new bundle of joy and can't wait to meet him in person.