Remember the Fair Ivy contest that just wrapped up? If not, read about the contest here and drool over some fabulous soap here and here.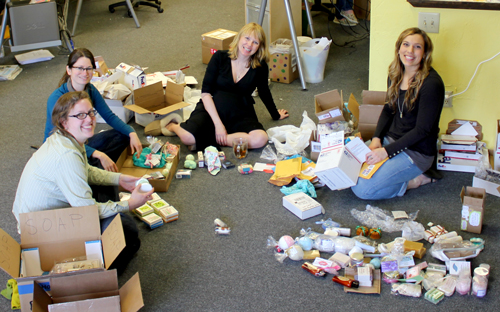 The BB crew hard at work going through each and every entry. From the left: Amber, Simona, Myself (and baby) and Courtney. It was a fun afternoon but a lot of work!
The Fair Ivy contest was a chance to win a wholesale account with Fair Ivy, Surprise Package Subscriptions. Contestants sent in their soaps, lotions, scrubs and other toiletry products to jump at the opportunity. This contest was WAY bigger than we anticipated. We had 54+  people send in their products which meant we had to go through each and every product to pick only 11 finalists to send on to Fairy Ivy, who will ultimately pick the final winner(s).
So Here's the Question: What are we going to do with the rest of the products? That's where you come in. We want to give it away to loving homes.
How to Win: Comment below and tell us what your favorite soapy/crafty blog is. OR tell us what your favorite Etsy shop is. The comment MUST include a link! We'll randomly pick SIX winners to receive a goodie bag including 13-14 bath and body products that may include soap, lotion, scrubs or bathbombs. This is our own version of a surprise package! Thanks for the inspiration, Fair Ivy!
Contest ends next Wednesday the 20th so you have a week to hunt down a new favorite blog or Etsy shop!