There's a reason mom ran you an oatmeal bath when you had childhood skin issues: time and again oats have been proven as gentle and effective for soothing irritated skin.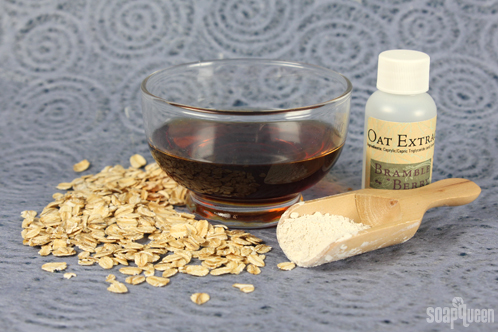 Left to right: rolled oats, Hydrolyzed Oats, Oat Extract, Colloidal Oatmeal
According to CosmeticsInfo.org, an information resource that includes factual, scientific information on ingredients most commonly used in cosmetics and personal care products in the United States, oats can "temporarily protect injured or exposed skin from harmful or annoying stimuli, and may therefore provide relief to the skin."
Bramble Berry carries several oat related products that can impart nutrients and moisturizing properties to bath & body products. The three main ones are:
Hydrolyzed Oats – This is viscous, dark brown liquid that comes from whole oats. Hydrolyzed oats help skin feel velvety soft, and it's commonly used in skin or haircare products between 1 – 5%. It is a fantastic addition to lotion recipes.
Oat Extract – This clear liquid  is soothing, moisturizing, and ideal for mature skin. It's also great for baby products too! Use it in lip balms, skincare or hair care products between .5 – 3%.
Colloidal Oatmeal – Colloidal oatmeal is simply super finely-ground whole oats. It's often used in lotions to create a barrier, making it ideal for super dry skin. It's also excellent in face masks, milk baths and soaps. Usage rates vary from product to product, so visit the product's page for exact rates.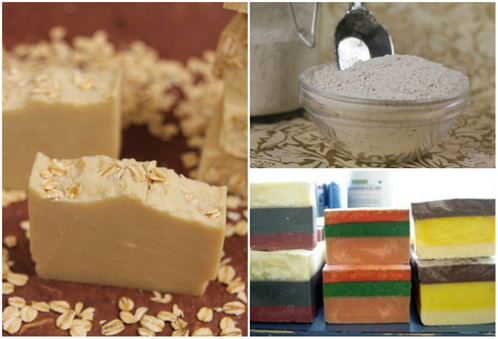 Left: Soothing Baking Soda Oatmeal Bar with Oat Extract and Colloidal Oatmeal. Top: Oatmeal Facial Scrub and Mask with Oat Extract. Bottom: Winter Dry Skin Lotion with Hydrolyzed Oats.
You can also add colloidal oatmeal, rolled oats and oat extract to cold process soaps. The Oatmeal Layers recipe in the Soap Crafting book is a soothing bar featuring lots of oat-y goodness. Oats are typically added when the soap batter reaches a thin to medium trace.
 Add rolled oats or colloidal oatmeal to melt and pour soap when the soap has cooled to around 120 – 125 degrees F. You want the base to be cool enough that it can "suspend" the oats, otherwise they'll simply sink or float to the bottom! You can find a variety of melt & pour and cold process recipes featuring oats below:
 What are you favorite additives to soothe dry, irritated skin?