For the ultimate skin-soothing bar of soap, you can't get much better than this Baking Soda Oatmeal Bar. Made with Castile Rebatch, Oat Extract, Colloidal Oatmeal and baking soda, it has some serious nourishing power. Baking soda provides gentle all-over exfoliation, and oatmeal is renowned for its ability to calm irritate skin. Some customers may prefer this bar unscented so they can enjoy the gentle exfoliation of the baking soda and soothing effect of the oatmeal, but you can certainly add Lavender or Chamomile Essential Oil to give it a mild scent.
Regular soap has a pH anywhere from 8.5 – 10, and this soap is definitely on the low end of the spectrum with a pH of 8. It's gentle enough for sensitive skin but strong enough to provide plenty of exfoliating cleanliness.
This is also a great recipe for beginning cold process soapers. It uses a rebatch base, which means the soap arrives pre-made and pre-cured; no dealing with lye!  This tutorial uses the double-boiler method, but you can experiment with the plastic baggie technique too. For more on making rebatch soap, check out this Soap Queen TV video.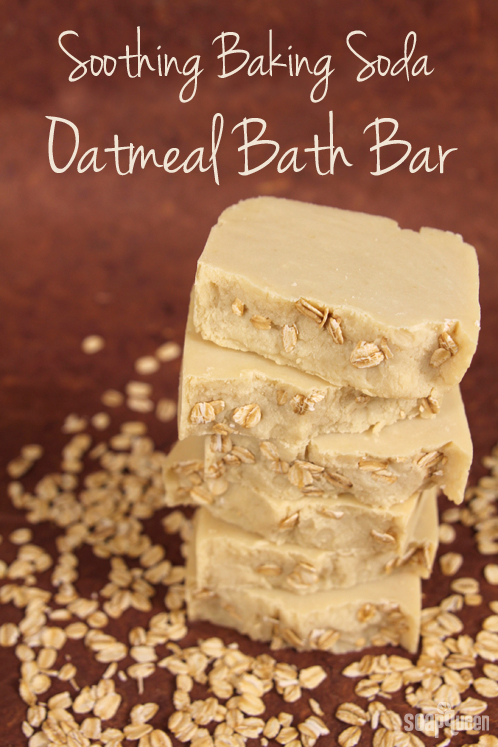 What You'll Need:
16 oz. Castile Rebatch
16 oz. Sodium Bicarbonate
3.2 oz  distilled water
.2 oz. Oat Extract
.5 oz. Colloidal Oatmeal
.2 oz. Rolled Oats
.8 oz fragrance or essential oil (optional)
2 lb. Wood Loaf Mold with Liner

Click here to add everything you need for this project to your Bramble Berry shopping cart!
ONE: The rebatch you order from Bramble Berry comes pre-shredded, so you won't need to worry about that. Set your double boiler on medium heat and add the rebatch. Let the rebatch sit and move on to step 2.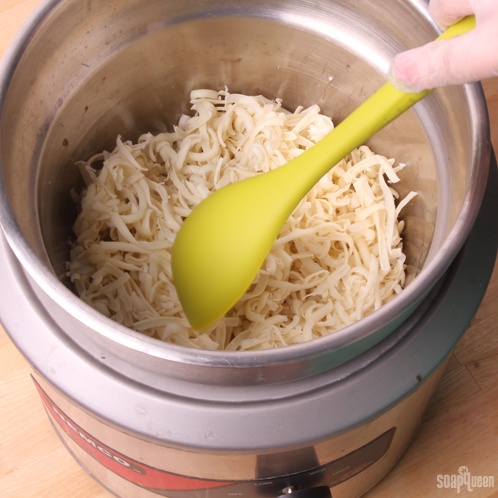 TWO: Mix the baking soda with 3 oz. of distilled water. Stir with a whisk or spoon to combine.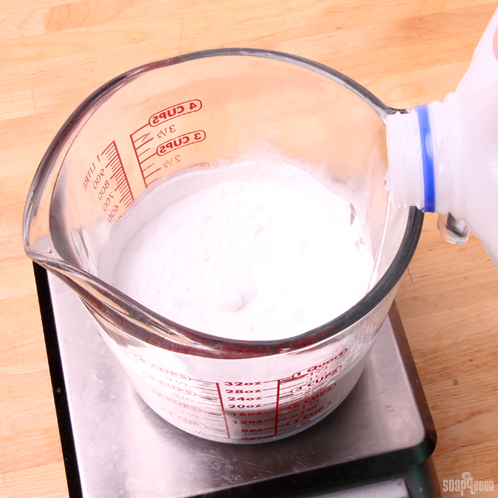 THREE: Add the entirety of the baking soda/water mixture to the rebtach and stir.
FOUR: Add the Colloidal Oatmeal. At this point, the rebatch should start to melt down into more of a paste. If it hasn't, keep stirring and turn up the heat slightly on the double-boiler.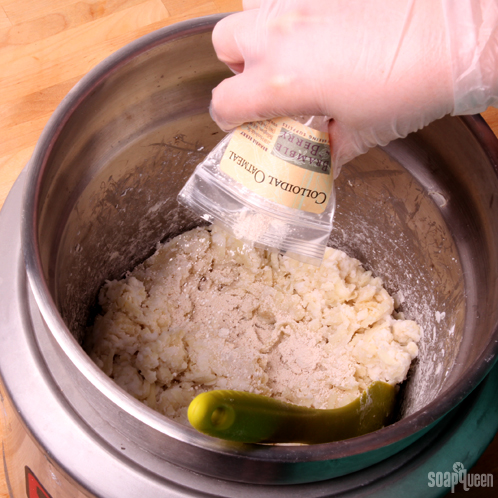 FIVE: At the Oat Extract and stir.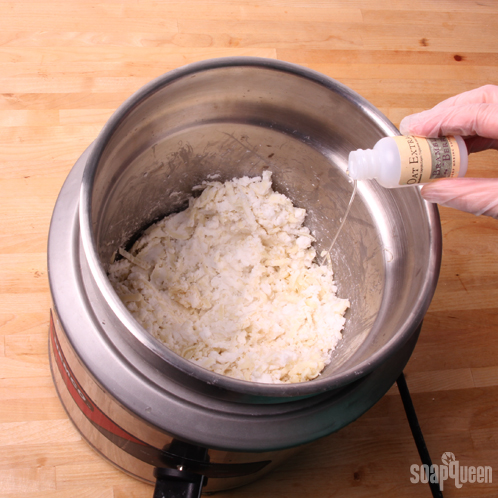 SIX: Now play the waiting game! After about 20 minutes, the rebatch will start to thicken into a gloppy oatmeal-like texture. That's what you want. You want to keep your rebatch hydrated, so you may need to add a little extra water if you notice any cracking or if the mixture turns to a clay-like consistency. Keep in mind that the more liquid you add, the softer the soap will be, and the more difficult to pop out of the mold.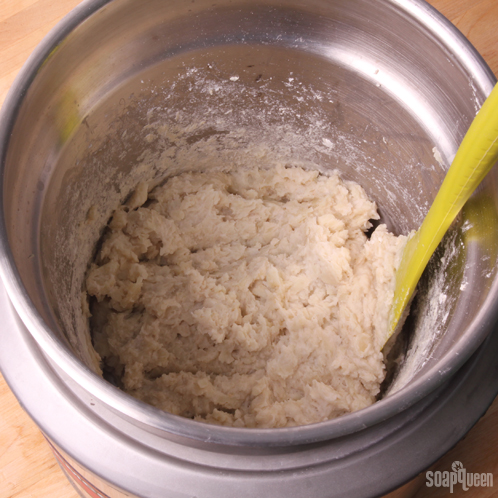 We added a tiny (.2 oz) of extra water to keep the soap from getting too dry.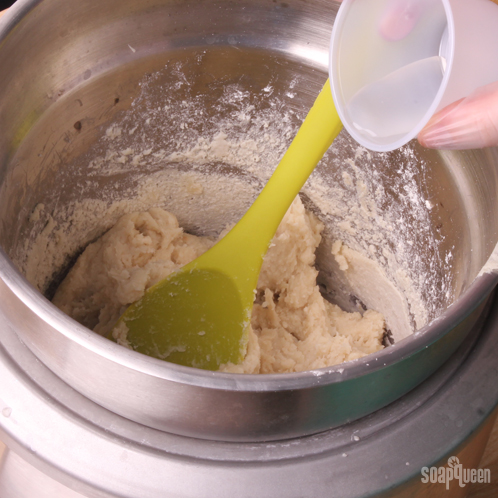 SEVEN: As you can see below, the ideal texture is that of mashed potatoes. At this point you're ready to spoon it into the mold.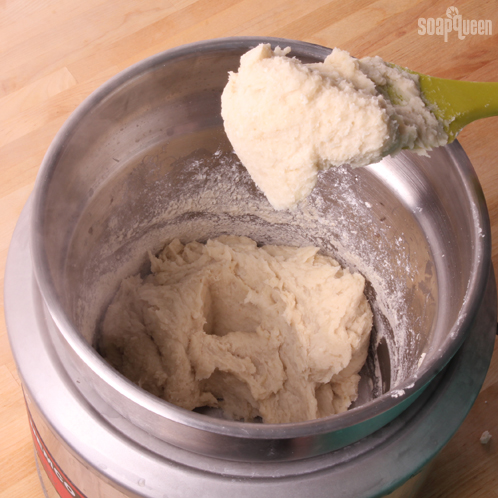 EIGHT: We used a Round Silicone Spoon to scoop the soap into the mold. Because it's so thick, remember to tamp the mold on the table to eliminate any trapped air bubbles. Garnish with rolled oats.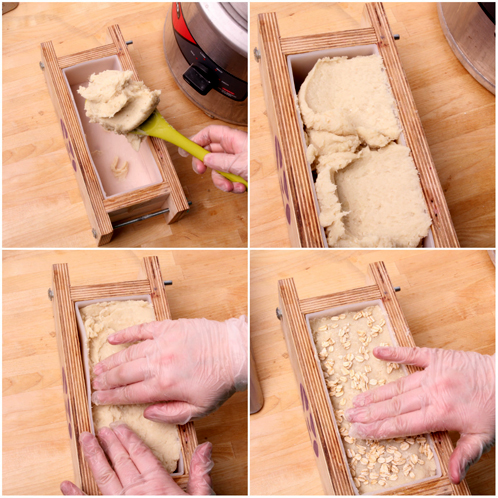 Wait 2 to 4 days before unmolding. When send our rebatch already cured, so as soon as you cut it's ready to use right away. Enjoy!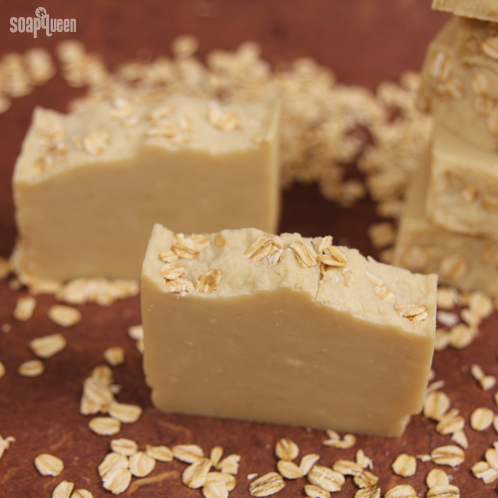 UPDATE:
Many of you have been asking about adding baking soda to regular cold process batter. Our research and development team tested a batch using the same amounts of water and baking soda we used in this recipe, and the results are below: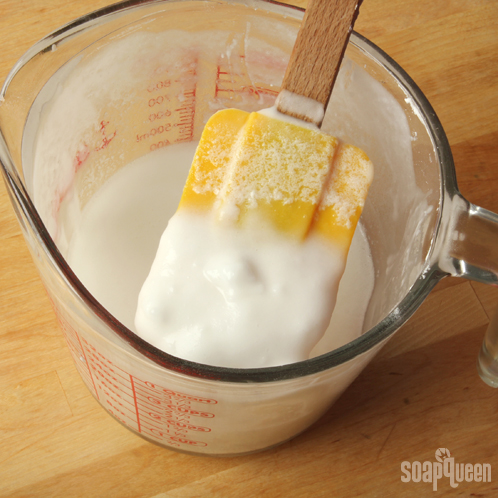 Lye water and baking soda. Those are chunks are undissolved lye!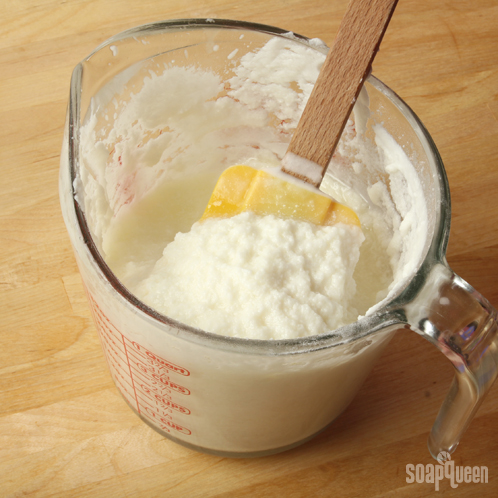 Lye water, baking soda and oil. Even after vigorous stick blending, the mixture still wouldn't combine.
So there you have it! These photos definitely speak for themselves. While we don't know exactly why baking soda reacts so poorly with lye and soap batter, our guess it has something to do with the baking soda and lye neutralizing each other, thereby interrupting the saponification process. When it comes to baking soda and soap, stick to rebatch!