Instagram has quickly become one of my favorite social media platforms. It's the perfect way for crafters and artists to share inspiring photos of their creations. It's also a great platform to get to know users on a personal level, with photos from their everyday lives. On my Instagram account, I like to share a little bit of both. If you're looking for some tips on using Instagram, check out this blog post.
Earlier this year, I created the #SoapShare hashtag as a way to help bath and body crafters share their creations. Each week, I feature one "winner" on my account. I am constantly blown away with all the beautiful soapy pictures that get posted everyday. Seriously, you guys are amazingly talented. Below are the gorgeous photos that have been featured this year. I can't wait to see what you all make in 2016!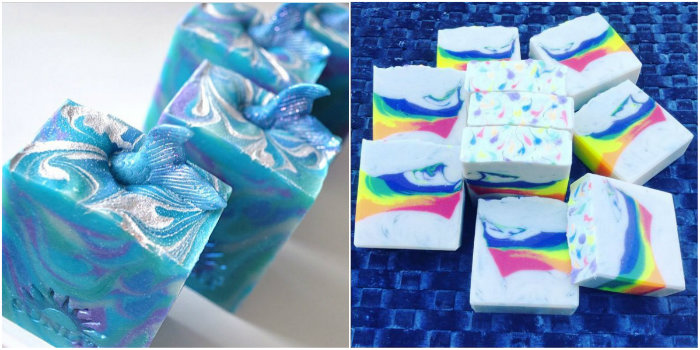 Left to right: sunlit_soap, earthsrawbeauty
The very first #SoapShare winner was sunlit_soap (shown above, left) for this amazing mermaid-inspired soap. The moment the team and I saw it, we just knew it was the winner. The swirls are stunning, and the mermaid embeds are so unique! On the left is the very last featured soap of 2015 by earthsrawbeauty. I'm a sucker for rainbow soap, and that rainbow dandelion zebra swirl is amazing! Below, are all the winners from the rest of the year. Can you believe how gorgeous each and every project is?
I'm thrilled the hashtag has taken off (more than 26,000 posts to date!) and that it has helped crafters connect with each other. I love seeing all the supportive and encouraging comments. I try my best to comment on each and every picture, but I gotta admit…it's getting hard to keep up! With so many photos posted everyday (sometimes hundreds, which is so awesome!), you may notice fewer comments from me this year. Believe me, I'm still "oohing" and "ahhing" over each photo. But, Instagram's spam filters make it impossible to leave lots of comments at one time. This is smart way to avoid spammers, but also a bummer when you're trying to comment on more than 100 super awesome soap photos! Keep sharing your photos with me, and I will comment on as many as I can. =)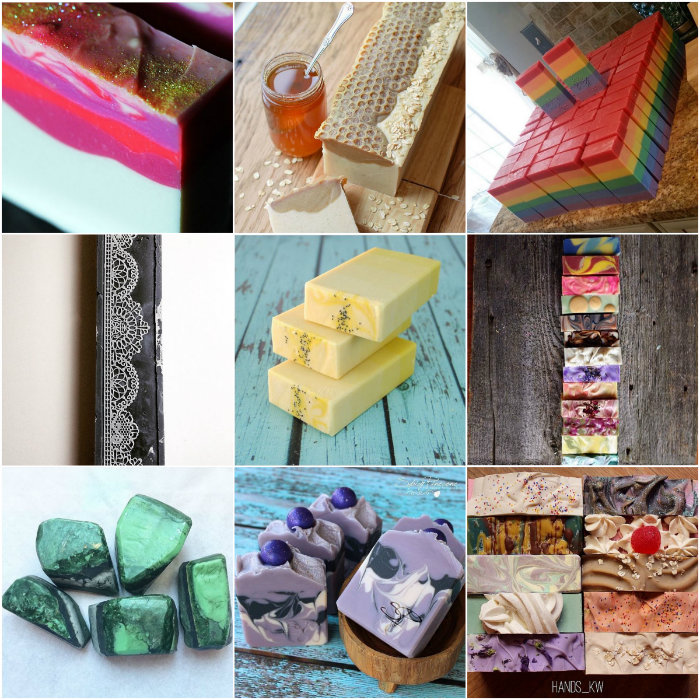 Top row, left to right: veronicafoale, positiveattractionsoaps, soapwithhope
Middle row, left to right: mimi_and_boo, cleanlinessoapcompany, hallowellsoapworks
Bottom row, left to right: whiteapartmentstudios, spicypinecone, hands_kw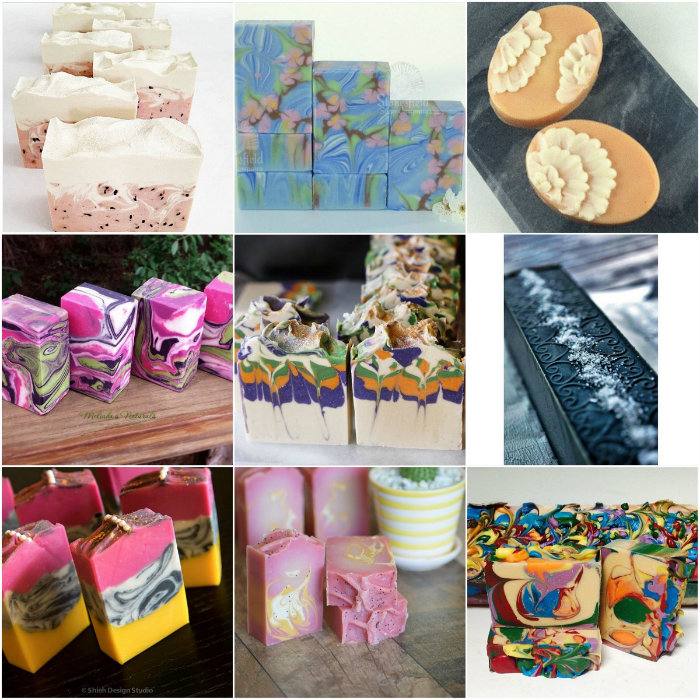 Top row, left to right: renklisabunlar, stonesfieldsoap, thesoapingsoprano
Middle row, left to right: melindasnaturals, vanluvender, auntieclaras
Bottom row, left to right: shiehdesignstudio, benewsoapssf, majesticblisssoaps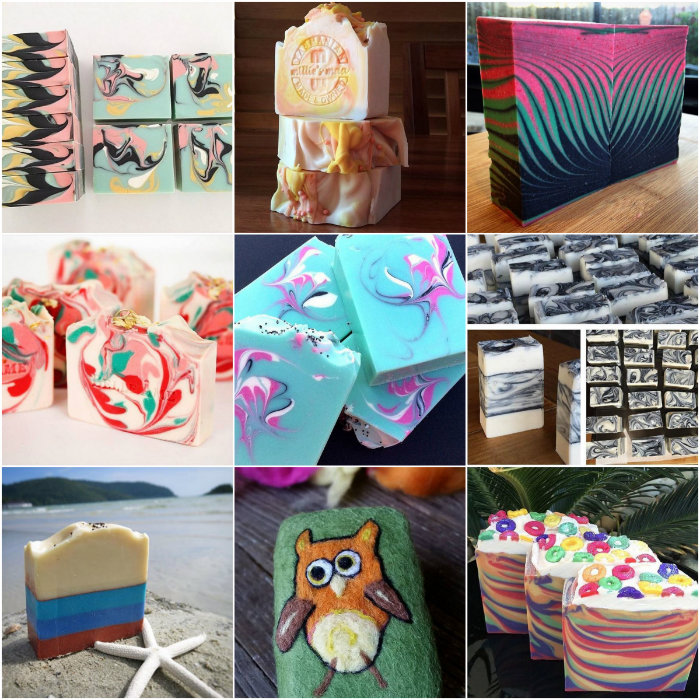 Top row, left to right: soap.ish, millies_maa_soaps, sassenach_australis
Middle row, left to right: belleame.bath.candle, sensuallysoaps, renaissancesoaps
Bottom row, left to right: meowcyber, scentandsensibilitynyc, witchywomansoap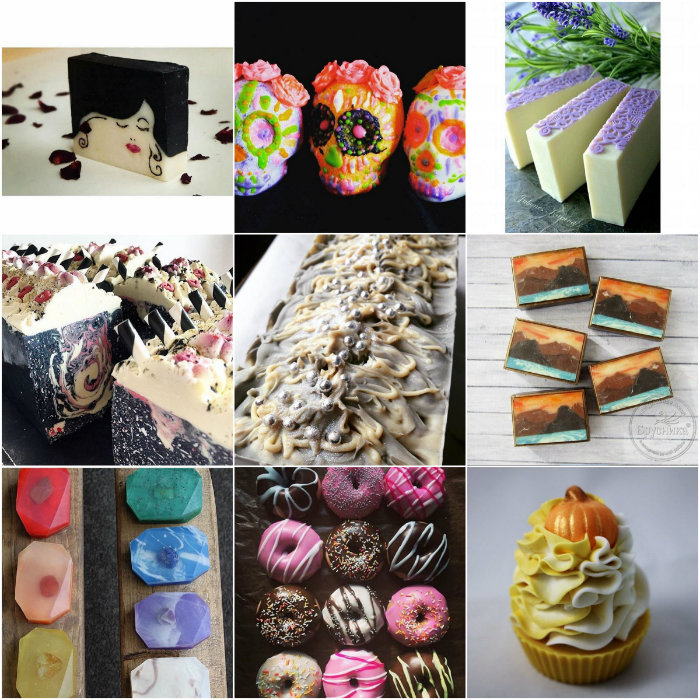 Top row, left to right: naturellebynatalia, sylviasoapstudio, jabones_karuna
Middle row, left to right: sweetescapenz, stvdio5, probrusnikusoap
Bottom row, left to right: crystalbarsoap, plushki, adivasoapandluxuries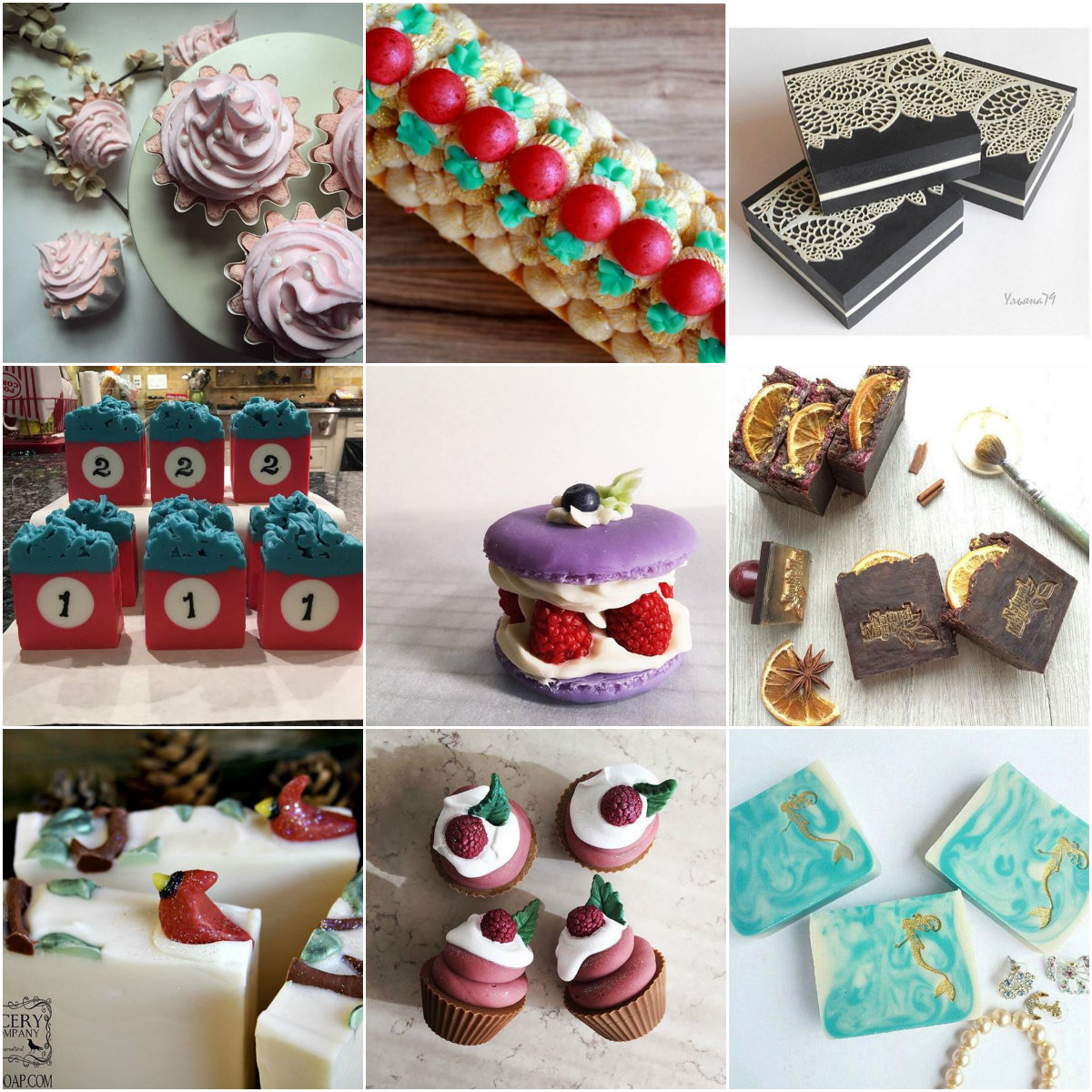 Top row, left to right: lillianvioletco, royaltysoaps, ulyana_79
Middle row, left to right: lucky7heaven, biteme_co, natural_magic_by_olga
Bottom row, left to right: sorcerysoap, soapyangels, soapaddict_id
Do you have a favorite #SoapShare winner this year? I know it's hard to pick, they are each so gorgeous! If you don't have an Instagram, you can still share your photos on the Bramble Berry Facebook page. Facebook Photo of the Week winners get featured on the blog as well. =) Can't wait to see what you make this year!