I know many of you have been on pins and needles all weekend waiting for us to announce the finalists for the Fair Ivy 2013 contest, and you only have to wait a few moments more. Thank you everyone who participated. We had so much fun seeing all the fun products that came in! Did you miss the sneak peek of all the entries? Check it out here. We chose winners based on the quality of the product that came in (example: lather, smell, overall look for soap), the labeling and how the product arrived to us. Since Fair Ivy ships individual packages to consumers, it was important that items arrive intact and unscathed to us.
I'm happy to announce the 2013 Fair Ivy finalists. Go check them out and let me know what you think!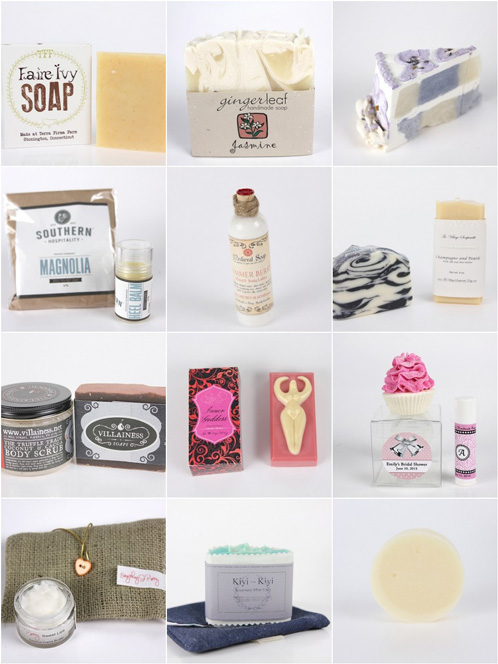 First Row: Faire Ivy Soap, Gingerleaf Creative, Tea Time Creations
Second Row: Southern Hospitality, Medieval Soap, Village Soapsmith (Zebra Stripe)
Third Row: Villainess Soaps,  Sudsie Q Soaps, Jennifer's Handmade Soap (lip balm)
Fourth Row: Everything So Pretty, KiyiKiyi, A Wing &  A Prayer Farm
With so many different products coming in, it was so incredibly hard to choose only 12 finalists. Every single person who participated in this contest had such great products! One thing that particularly stood out to me was the great use of packaging. Ones like KiyiKiyi's, Everything So Pretty, A Wing &  A Prayer Farm  (packaging not shown, but it was totes adorbs), and Sudsie Q Soaps really stood out to me as sturdy packaging that really fit the guidelines of the contest. I absolutely adored the branding in all the products and loved the dual products that both Villainess Soaps and Southern Hospitality with their fabulous branding. I also thought the unique products from Tea Time Creations (loved the tea cake), Medieval Soap and Jennifer's Handmade Soap were great to enter in the contest, because they were different then the usual M&P and CP soaps. And just by coincidence, we had a soap come in from Faire Ivy Soap that just fit the fancy packaging and women's products perfectly. Thank you again to everyone who participated and all our our finalists. We won't be announcing Fair Ivy's pick(s), as it will be a surprise in her subscription boxes. Be sure to subscribe to the Fair Ivy blog to find out!