Monday was the deadline for the Fair Ivy 2013 Contest and we are energized by all of the creative bath and body products that came in. I've had so much fun opening up the packages and being able to smell, feel and try out all the fabulous handmade items. We're in the middle of choosing which items we'll be sending along to Fair Ivy (and we're announcing them next week!) but we didn't think it was fair to keep all of this eye candy to ourselves.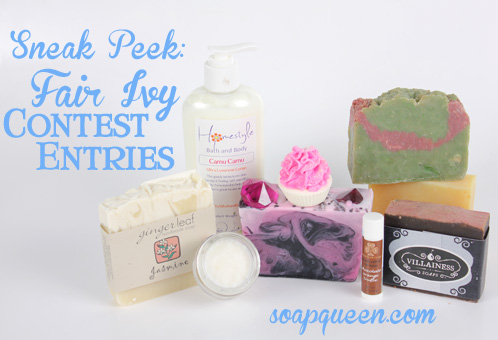 As you can see below, the task of choosing finalists is NOT going to be easy. I know, I know, my job is so hard… =)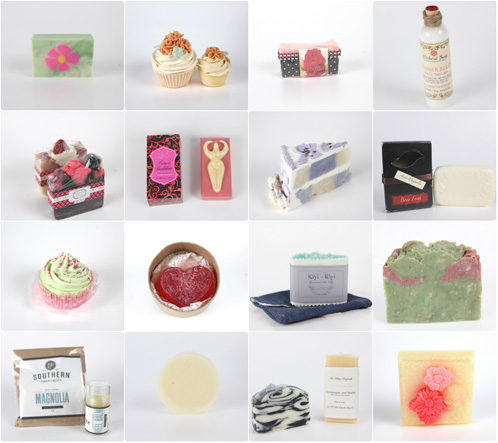 First Row: Calise Soapworks & Such, Soapy Confections & More, Love Soaps, Medieval Soap
Second Row: Royalty Soaps, Sudsie Q Soaps, Tea Time Creations, Recherche Organics
Third Row: Do Me a Favor Designs, Bubblina's Soap Boutique , KiyiKiyi, Salud Soap
Fourth Row: Southern Hospitality, A Wing &  A Prayer Farm, Village Soapsmith, Next to Godliness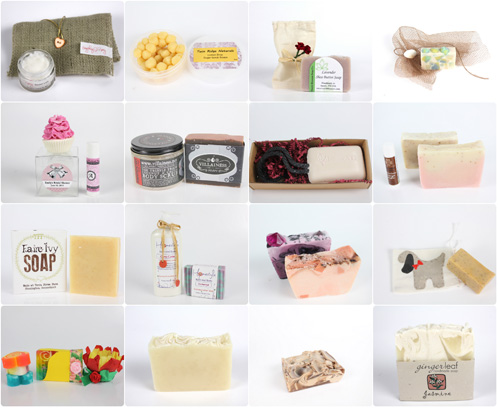 First Row: Everything So Pretty, Twin Ridge Naturals, Hatch Blossom Soap Co., Handmade By Cladar
Second Row:  Jennifer's Handmade Soap, Villainess Soaps, blissbain , Shamrock Soaps
Third Row: Faire Ivy Soap,  Homestyle Bath and Body, Sweet Soap Bakery, Floppy Ear Farm
Fourth Row: Alive Soap, Sudsy Chick, AvieMarie Body Care Products, Gingerleaf Creative
Not pictured: Brown Bag Soap Company and Soap & Enzyme Lover
Thank you to everyone who participated. It was so much fun to come into work every day and see all the packages that had arrived the night before. You guys really outdid yourselves! Don't forget to stop by next week to see the winners that we'll be passing along to Fair Ivy to make their wholesale account(s) choices from.