This week had a popular blog post on finishing touches. Between pouring your soap in a mold and giving it away or selling it, a lot can happen. Corners can get dinged or soda ash can form. Luckily, there are steps to make your soap look its best. Check them out in the 5 Tips to Create Professional Looking Soap blog post.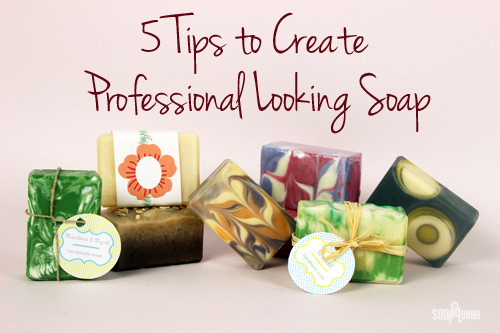 Cute packaging can really grab someone's eye. So can bright color and detail. Debbie of Soapylove definitely has that aspect covered – her melt and pour soaps are colorful and creative. Sadly, the Soapylove line is now on clearance to make room for new products in our warehouse. Read more in this Soaplove Sale + Project Roundup post.
Debbie's food inspired soaps are incredibly cute. If you're in the mood for more sweet treats, check out this Homemade Pumpkin Puree. Roasted and pureed pumpkin is great to add to your breads, soups, soaps and of course – pie!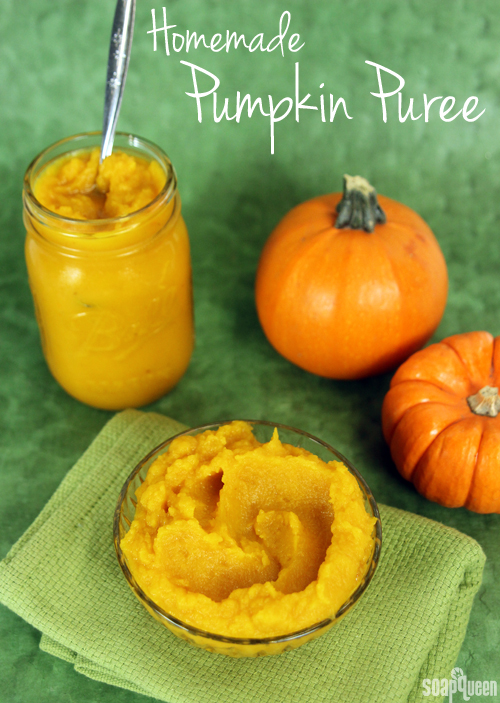 If you want more fall inspiration, look no further than this Shimmer Fall Layers Melt and Pour project. Created by layering various shades of gold, burgundy and green, and scented with Spiced Amber Ale Fragrance Oil, this project is a great way to welcome autumn.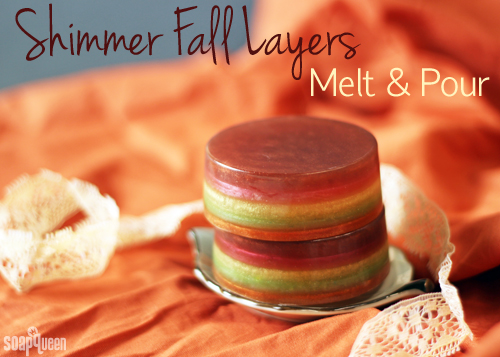 In between adding finishing touches to soap, creating fall layers and roasting pumpkins, the Like and Win Contest Winners were chosen. Congratulations to the winners, and thank you to everyone who participated in the contest. =)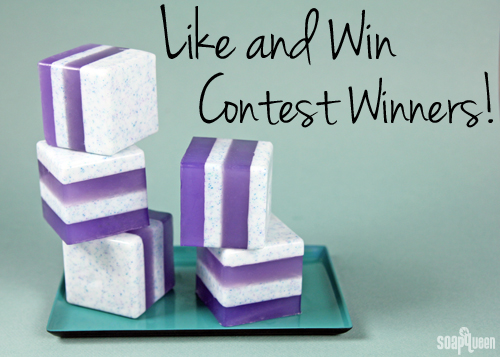 In another fun Bramble Berry contest, Facebook Photo of the Week, Patrice with Melange Jolie LLC took home this week's prize. Her creative and unique Maple and Brown Sugar Carrot Cake Soap definitely made an impression, and, make me hungry!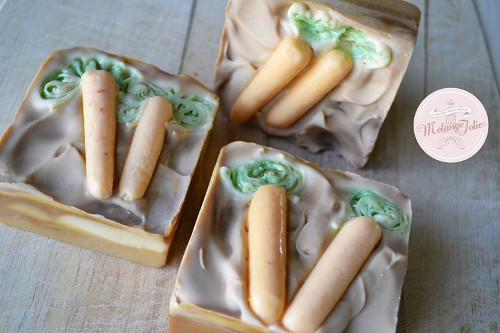 Cute orange carrots sit on top of a warm brown and white cold process base. Adding a realistic fruit or vegetable to your soap is so cute and easy to do, as seen in this Red Apple Cold Process Soap Tutorial. You can also add real fruit on top of your soap for an elegant and fresh touch. This Juicy Orange and Sweet Rose Cold Process Tutorial is piled high with orange peels and rose petals.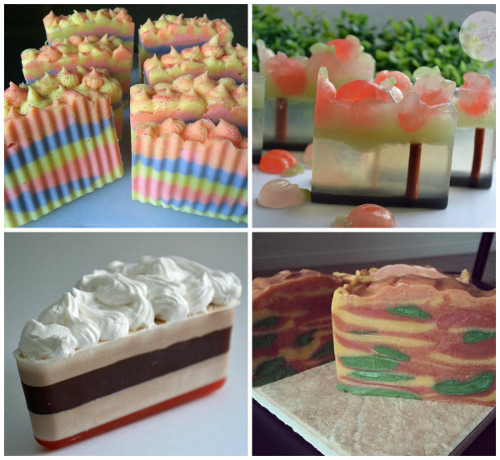 Above (top, left) are Patrice's Whipped Soap Cake, Peach Orchard Soap, green and yellow cold process soap and Soapy Cake Slice. If you can't get enough of the fluffy frosting on Patrice's soap cake, you'll love this Birthday Cake Soap. Frosting also looks great on cold process soap, as seen in this Whipped Cold Process Soap Frosting episode of Soap Queen TV.
Find Melange Jolie LLC
On the web
On Facebook
Post pictures of your crafty creations on the Facebook page each week for a chance to be featured on the Soap Queen blog and receive a sweet soapy package from Bramble Berry. Photos are chosen based on consensus from the Bramble Berry staff, so the best way to increase your chances of winning is to show us lots of photos!