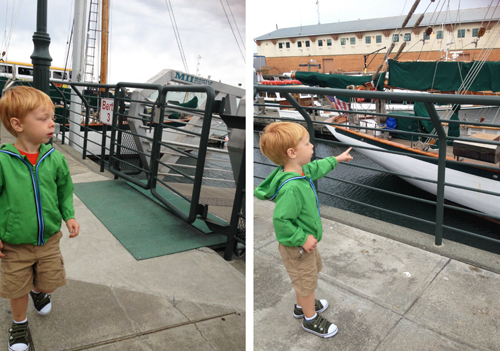 Happy Weekend all! We're already off to a busy start with a 16 mile run for Chris and Farmer's Market for the rest of us. Bellingham is located on the water, up in the tippy top point of Washington state. We have a gorgeous marina that Jamisen loves to explore. This last time, we got lucky and met a boat just coming back from Alaska and the boat captain (Hi Captain Dwight!) shared some fresh Alaska salmon that he had smoked on the boat. What a treat! We are going to go back with a care package of handmade soap for him tomorrow.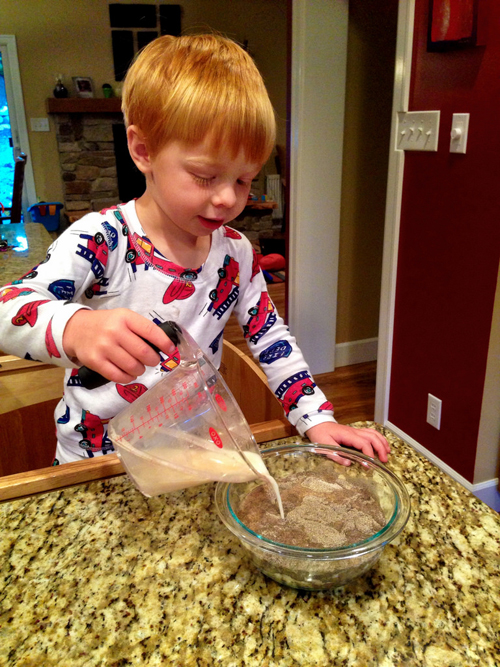 Jamisen remains a happy, ebullient kitchen helper. Here he's helping to make buckwheat pancakes for breakfast but is helpful with everything that we cook. He especially was thrilled to talk me into chocolate cupcakes on Friday for after he ate his breakfast. He's such a little skinny guy that I don't mind giving him extra calories but I wish it was in the form of something besides simple sugars and carbs.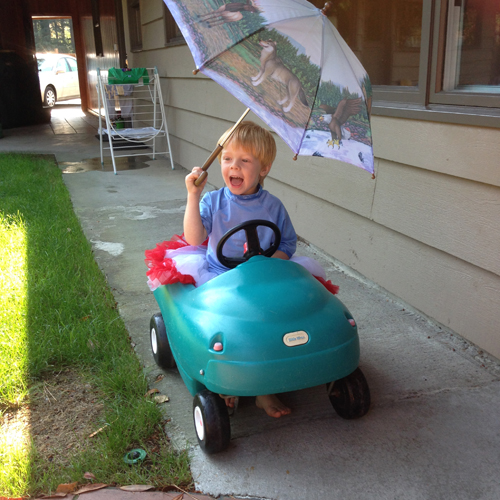 He is also finding his creative voice and making up adorable stories every day. They're generally an amalgamation of true plus a little bit of his storyboooks coming to light. In the photo above, he's wearing a tutu and has proclaimed himself a 'Princess Race Car Driver.' With all the books in our house, there is only one book that talks about princesses but he clearly likes and remembers the concept.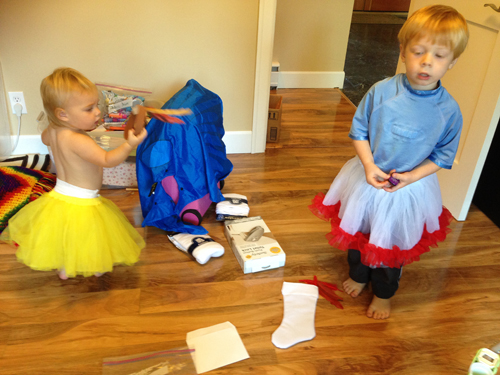 Lily is happy to share her tutus. She was very blessed with hand-me-downs and generous gifts (thanks Dimi and Kayla! PS  If you're into essential oils, Kayla's take on the FDA letter to DoTerra and Young Living Essential Oils is a must-read). Lily and Jamisen have been playing much much better lately. The jealousy that Jamisen exhibited early on seems to be waning and he views her more as a partner in crime and also someone to protect. I'm getting a glimpse into what our family life can be – less chaos, more love.
Lily now has a whopping 5 teeth and remains ridiculously happy and easy going. She has dropped her morning nap and is down to 1 long nap per day. The words she can say now are "Mama", "Apple", "Blueberry", "Fish" and she really tries to say "More" but typically ends up signing it.
Workwise, things have been amazingly busy (thank you for all the pre-holiday business! I love that you're planning ahead!). My Mastermind Group (which includes Erin Baker, Sarah Rothenbuhler, Lynn Guiliani, Heather Othmer, and Jody Bergsma) did an all-day business retreat where we focused on topics around work-life balance and the art of thriving (we're using these masterclass notes to guide our discussion and reading). It's almost time to do our vision boards for the year so we're being intentional about our priorities and goals. Several of us in the group have young children and are asking the question: "How much is enough?" "What really matters?" in relation to growing a business while strengthening our families.
I've also been making a ton (!) of soap as I test new products, keep up on the latest trends and techniques and try to pioneer a few new ideas. I've been playing a lot more with essential oils and experimenting with palm free recipes – though I will say that my current favorite recipe  does contain palm. It will eventually hit the blog; it's a recipe made with Meadowfoam Oil. I've been experimenting with the same recipe, just changing the ratios of Meadowfoam in percentages from 3% all the way up to 23% and then doing "lather-off" tests. I've also been playing a lot with shaving balms and potassium cocoate in the hopes of coming up with a rich shaving balm. Keep your eyes peeled on the blog over the next few months for those recipes and more.
Now, I'm off to a birthday party with the kiddos and a car full of balloons =) Bring on the sugar!