Looking to to get your soap in tip-top shape to sell?  Of course having a quality product is crucial, but it also must please the eye. This quick video shows you how to put together our cute and sturdy cardboard soap boxes that give your products a professional look.
Looking for more packaging inspiration? Check out the Make it Monday: #Packaging album on Bramble Berry's Facebook, and scroll through our packaging products! After you've packaged your creations, it's time to learn how to properly label them. This guest post is full of valuable information regarding how to label botanical ingredients in your products according to government regulations.
This week we also announced our Winter 2014 S.O.A.P panel search. Eight lucky soapy fans will be chosen to help us decide on new fragrances for our Spring 2014 line. Sound like fun? Head over to this post, enter to be a part of the team by tweeting, pinning or blogging about your favorite Bramble Berry product, and you might be chosen to help us test the mystery fragrances.
As for our Facebook Photo of the Week, there's no mystery here: this soap is simply stunning!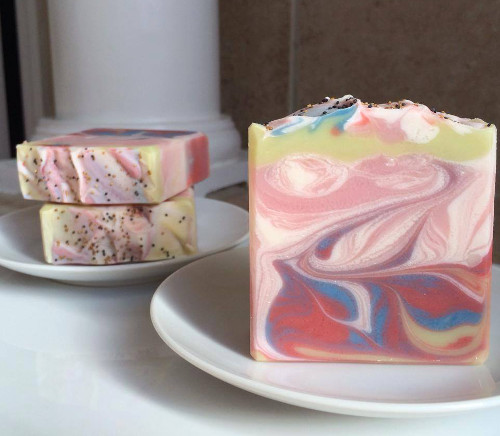 This week's Facebook Photo of the Week comes to us from Sarah of  Spicy Pinecone. Sarah's soaps are consistently beautiful, with intricate swirls and stunning presentation. Scented with Pearberry Fragrance Oil, this particular soap stood out to me with its fun use of primary colors and texture on top. This soap's beautiful swirl appears to be a combination of a hanger swirl technique and an in-the-pot swirl. Interested in trying these techniques? Check out these fun tutorials below: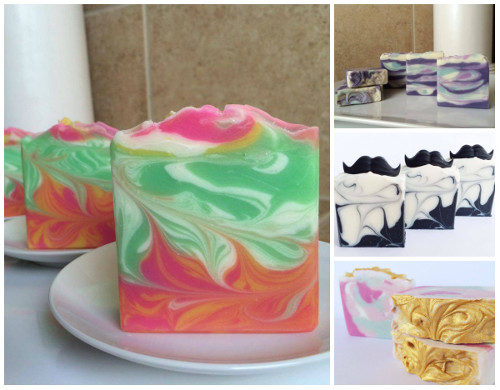 Aren't Sarah's soaps gorgeous? Pictured above (left to right, clockwise) are Sarah's "Summer Lovin'" soap,  "Sweet Dreams" soap scented with lavender,  Mustache soap scented with Shave and a Haircut Fragrance Oil,  and a beautiful Asian Pear and Lily soap. Not only does Sarah make lovely soap, she also sells candles, baby onesies and baby blankets. She is a crafter extraordinaire, and we are happy to have her in our soaping community. Expect a soapy package coming your way, Sarah!
Spicy Pinecone's Facebook Page

Post pictures of your crafty creations on the Facebook page each week for a chance to be featured on the Soap Queen blog and receive a sweet soapy package from Bramble Berry!