I can hardly believe it — we're already headed into the last week of August! The Fall leaves are already appearing in Bellingham and Jamisen is starting in a new preschool class next week. I'll admit; I'm sad about official end of summer.  We've been making the best of summer's end though; on Sunday we started the week off early by announcing the Soap Crafting release party for any and all soapy enthusiasts who live in the Bellingham, Seattle or Vancouver B.C. area. I'll be giving a presentation about the book, answering questions and signing (!!!) copies of the book too! There have also been two fun tutorials on the Soap Queen blog, including an absolutely stunning guest post on lip balm wedding favors from Jen at Something Turquoise and a fun bicycle-themed melt-and-pour project. Speaking of melt and pour, check out this week's Facebook Photo of the Week. It's melt & pour at its finest!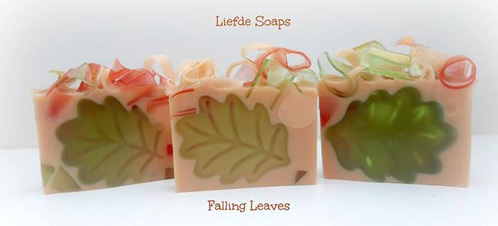 This week's photo comes to us from Amie Van Devender, owner of Liefde Soaps & Gifts. This soap immediately caught my eye because of the crisp and clean leaf embeds. In addition to the soap shavings on top, this soap reminded me of all the fall soaps that I plan to make in the coming weeks to get ready for the colder days and holidays.  Amie told us she used the Red Apple Fragrance Oil sample she received from Bramble Berry in one of her last orders to make this soap truly festive for fall. Amie, watch out for a special soapy package being sent your way. Thanks to everyone for posting photos and interacting with us each week on our Facebook page, keep'em coming!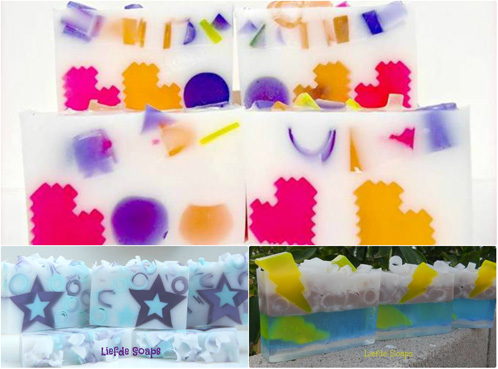 Amie's Facebook Page: Liefde Soaps & Gifts
Post pictures of your soap creations on the Facebook page each week for a chance to be featured on the Soap Queen blog (as well as get a sweet soapy package from Bramble Berry).