What an exciting week we've had here at Bramble Berry! I've enjoyed watching the hundreds of photos coming in from our newest Make it Monday contest and awed and inspired by your creativity. We still have another week to go and I can't wait to see what you have in store for us. We've also released another new SQTV episode featuring Jeanee from Dirty Laundry — check it out here. Are you ready for this weeks winner? Check below…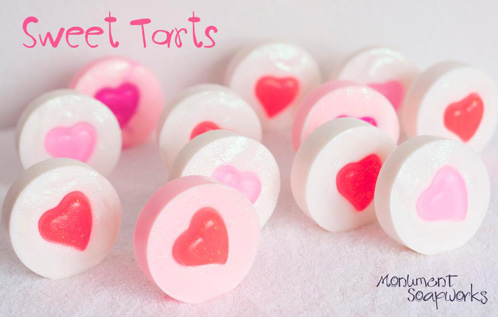 This week's photo comes to us from Roseanne of Monument Soapworks. We are featuring her 'Sweet Tart' Valentine's soap that uses the 12 Bar Round Silicone Mold to make the cold process bars which are then embedded with the most adorable little M&P hearts (reminds us of this Valentine's soap tutorial from last year using the Tiny Hearts mold). I thought it was just totally adorable and couldn't get enough of all the pretty pink. Thank you so much for sharing your soap with us, Roseanne. Watch for that special little package being sent your way!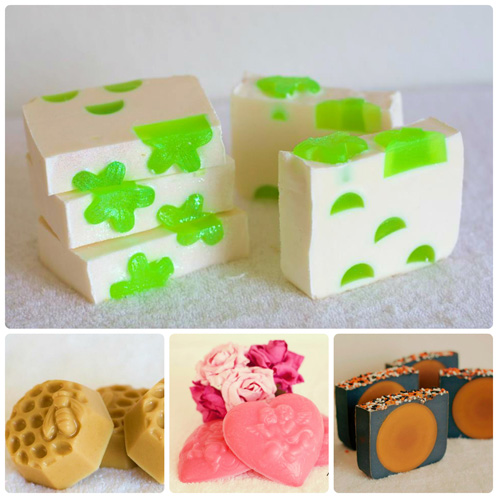 Roseanne's Facebook Page: Monument Soapworks
Would you like your photo or project to be featured in a blog post? Come join us for soap talk, contests and lots of crafting inspiration at Bramble Berry's Facebook page and share a photo with us of your latest project and your handmade soap might be next weeks feature!
You still have a chance for your soapy recipe to get featured on the Teach Soap website (and a chance to get a $10 Bramble Berry Gift Certificate)! Send us an e-mail with a full tutorial, including pictures at [email protected]. For more details, check out this blog post and some of our featured recipes: Soothing Avocado Foot Balm, Peach Pie Soap, Rose Garden Bath Tea, Café Latte Soap and Refreshing Tangerine Melt and Pour Soap.