This week was all about warm fall colors, and featured projects made with Copper Sparkle Mica. The Caramelized Copper Brown Sugar Scrub has Copper Sparkle and King's Gold Mica to leave a light shimmer on the skin. To exfoliate the skin, it has brown and white sugar. The scrub contains avocado butter to help moisturize skin, and Burnt Sugar Fragrance Oil for a sweet and smoky scent.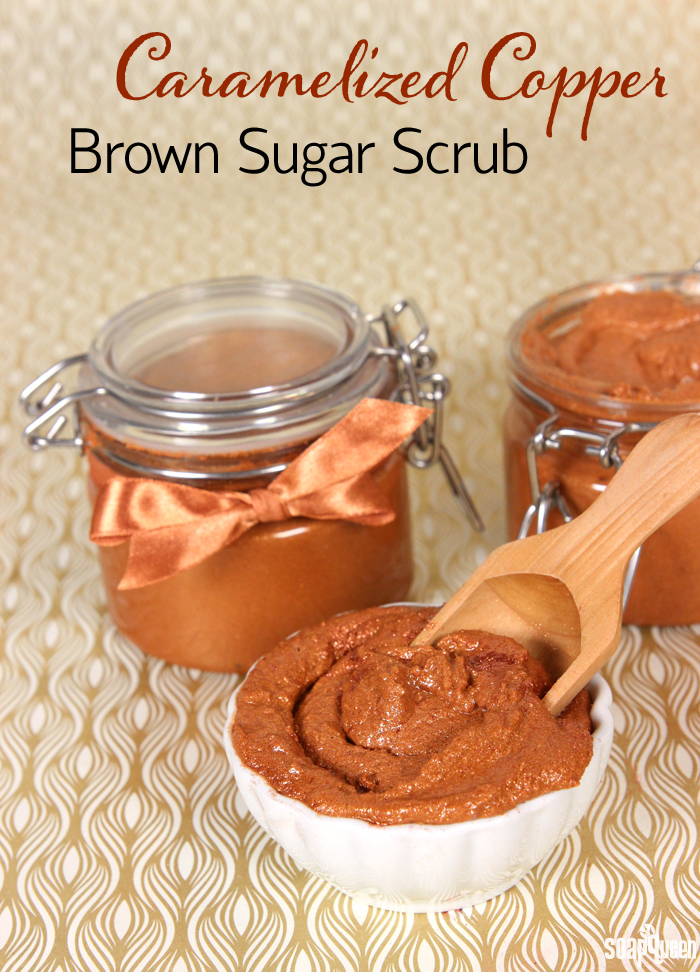 In the Spiced Copper Cold Process Soap Tutorial, mica is used to create bold lines in-between the soap layers. Copper Sparkle Mica is also dusted on the top for more sparkle and shine. It's a simple design that really stands out. To accent the color, the soap is fragranced Spiced Amber Ale Fragrance Oil.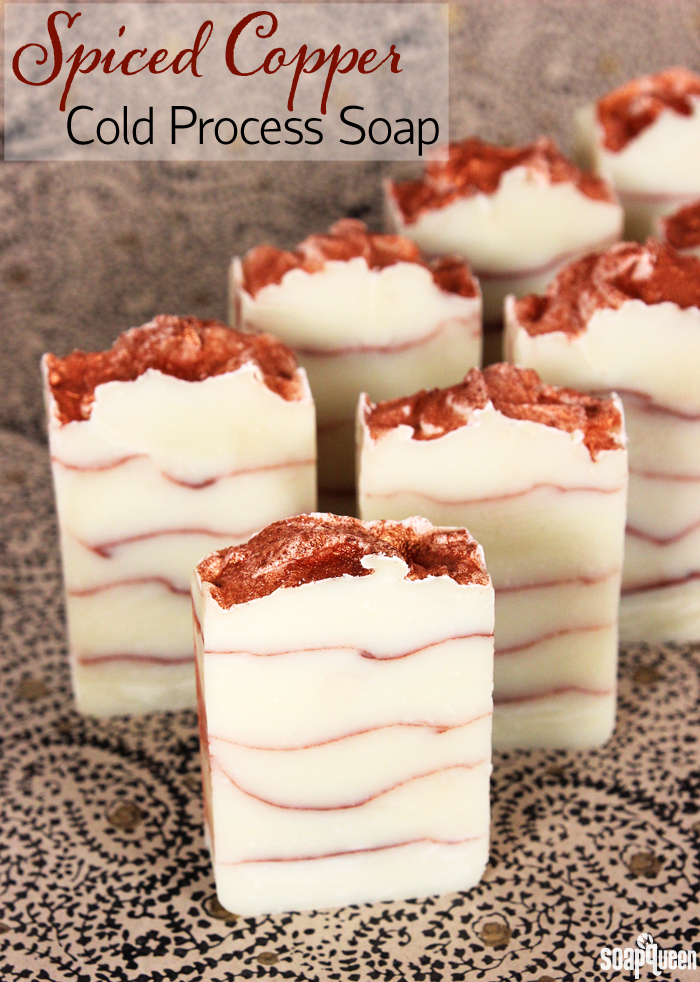 For more fall color inspiration, check out the Fall Project Ideas & Inspiration post. The roundup features several projects, like the sweet and spicy Pumpkin Pie Melt and Pour Bars. It also includes the Bramble Beer Soap. That recipe is made with blonde ale rather than water. Check out more ideas here.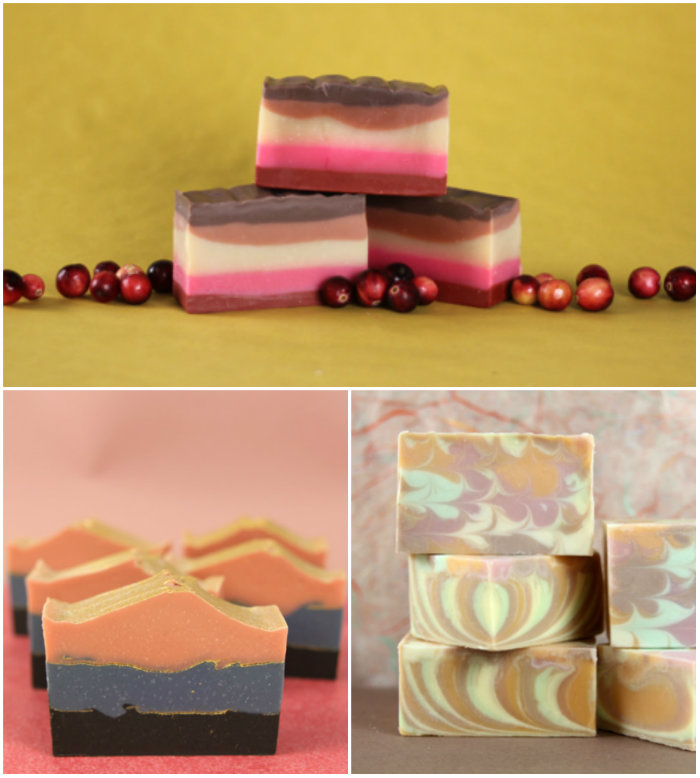 For inspiration on the go, you can use the Bramble Berry App. The app allows you to see all things Bramble Berry in one place. You can access all our social media channels, including Twitter, Instagram and Facebook. You can also shop on the app at Bramble Berry for an easier phone shopping experience. Click through the Bramble Berry App How-To post to learn how to use it.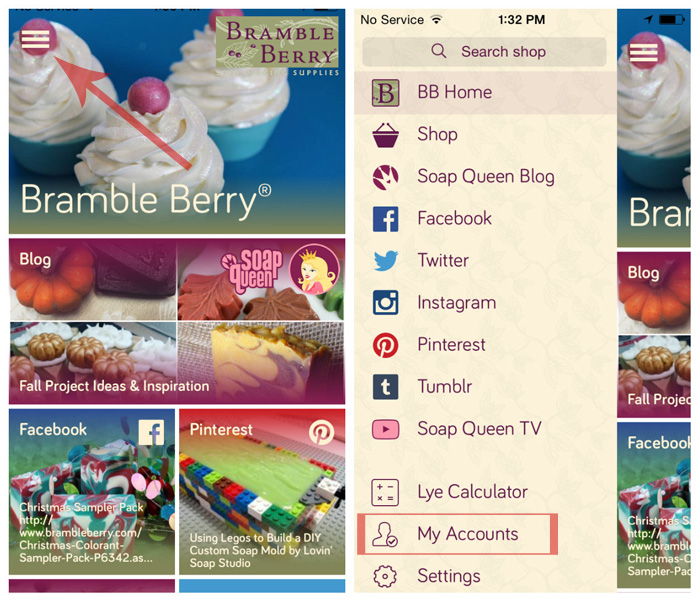 This week's Facebook Photo of the Week by Amanda with Adam's Garden of Eden is full of fall inspiration. Her Space Bogey Halloween Soap is so gorgeous!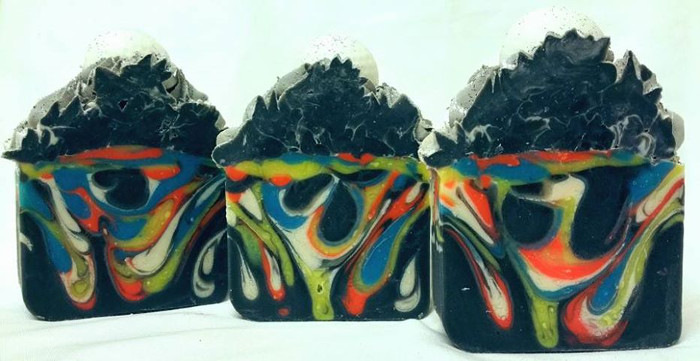 The black soap provides plenty of contrast for the bright colors in the middle, and the frosting and sphere add a nice finishing touch on top. The colorful drop swirl pattern totally screams Halloween. For more Halloween themed soap, click through the Cold Process Spider Webs Tutorial. The Caramel Apple Soaps are another fun holiday project.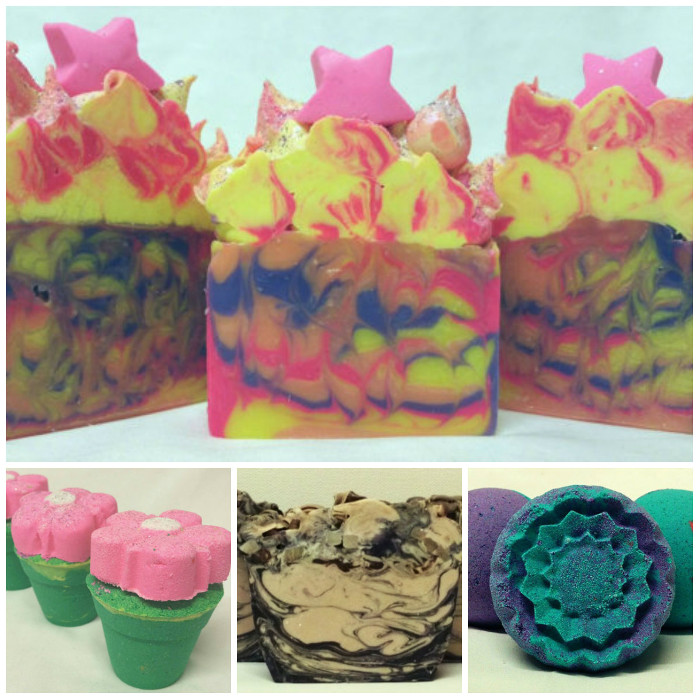 Above (top, clockwise) are Amanda's Rock Star Princess Soap, Dragon's Blood XXL Bath Bombs, Lavender Silk Soap and Flower Pot Bath Bomb. Her bath bombs are so amazing. For a fun fizzy tutorial, click through the Sparkle Power Bath Bomb Tutorial. The French Macaron Bath Bombs are a unique tutorial as well.
Find Adam's Garden of Eden
On Etsy
On Facebook
This week's Instagram Photo of the Week is a gorgeous Christmas soap made by Stvdio5. The soap is made with charcoal and geranium essential oil, and features lots of stunning detail. The swirl looks great topped with frosting, embeds and an adorable straw. See more beautiful work on their Instagram page.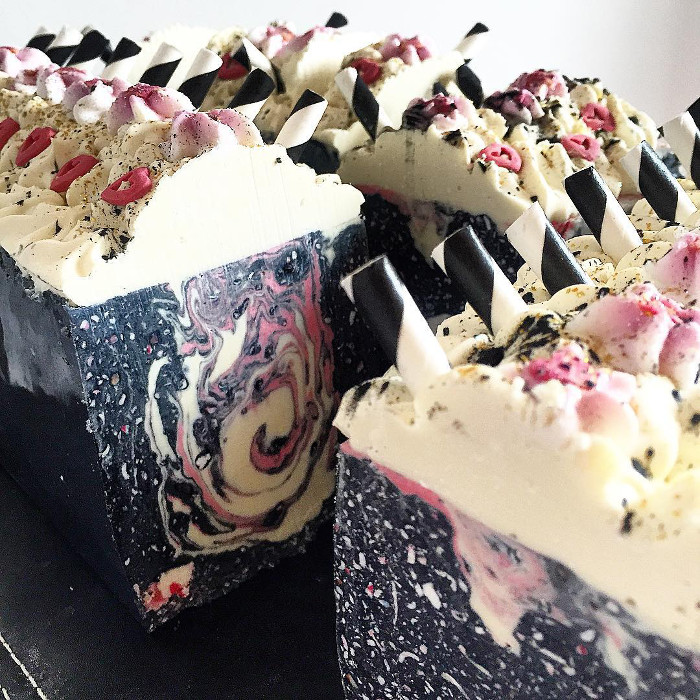 Post pictures of your crafty creations on the Facebook page each week for a chance to be featured on the Soap Queen blog and receive a sweet soapy package from Bramble Berry. Photos are chosen based on consensus from the Bramble Berry staff, so the best way to increase your chances of winning is to show us lots of photos!
To participate in the Instagram contest, hashtag your pictures with #soapshare. Each Friday, I will pick a photo on Instagram to be featured on the Bramble Berry Instagram account.
For those of you who have been featured on the blog, we now have an official "Featured on the Soap Queen" badge! You can include that badge on your website, blog, pictures, etc. To save the badge, click here. =)