Handmade soap is fun to make – and, to give and receive. If you make soap , it's inspirational to see what techniques other soapers are creating. The Bramble Berry Soap Swap gives you a chance to share your soap with others, while receiving a variety of bars for yourself! Sound fun? Read on to learn all the details, including how to sign up (and, hurry, spaces are limited!). Sorry! We are all filled up for this Swap. If you sent an email we will reply to let you know for sure whether you are in the swap or not. Thanks for your enthusiasm and excitement!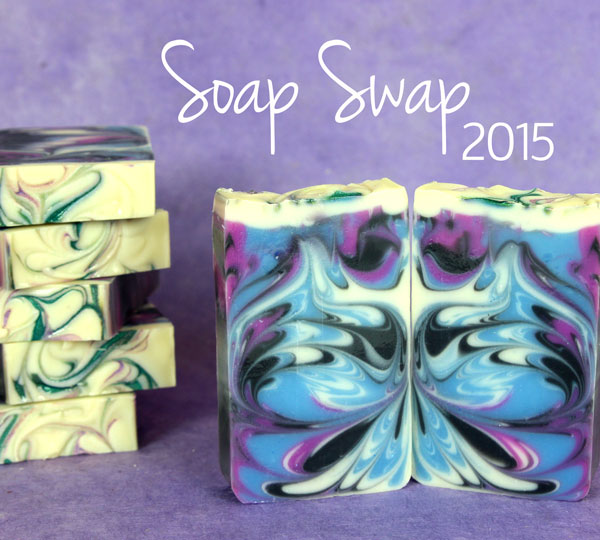 The basic idea of the Soap Swap is you create ten 4 oz. bars of cold process soap using a Bramble Berry fragrance or essential oil. You then send these bars to us, and we swap the bars and send 10 unique bars from other soapers back to you! The swap is free; the only thing you pay for is shipping to get your box of unique soaps back to your doorstep. It's a great way to smell new fragrances, get fun packaging ideas and be inspired by new design techniques.
The Soap Swap is one of our favorite events at Bramble Berry, and we know how much you love it too. The Spring 2015 swap is limited to 75 swappers. If you would like to participate, don't wait to sign up as spots will fill up fast. If you try to order the item (see step 1 below) and the swap is full, don't fret. We may have another Soap Swap later on during the year if demand is high.
Ready to get swapping? More specific details are below:
1. To sign up, pay for the return shipping of your soap by purchasing the 'Magical Soap Swap Express' on the Bramble Berry website. Unfortunately, this swap is not open to international residents. Once all the spots are full, the shipping will no longer be available for purchase.
2. Then, email with the fragrance or essential oil you would like to use. You must use a fragrance or essential oil that Bramble Berry currently sells. Because somebody may have already chosen your top fragrance choice, please include two other fragrance or essential oil selections.
NOTE: Blending fragrance or essential oils counts as a completely new fragrance, and does not count as two.
3. This Soap Swap is for cold process, or hot process soap only. There is no melt and pour soap option for this swap. You need to produce ten 4 oz. bars. It's no fun sending full-sized bars and getting tiny ones in return!
4. Your soap must arrive to us by Monday, April 13th. Please plan in advance to make sure your soaps arrive to our warehouse by that date. You can send Swap boxes to:
Bramble Berry Inc.
C/O Soap Swap
2138 Humboldt Street
Bellingham, WA 98225
5. We will start packing boxes on April 14 and send out your Swap boxes by April 17th.  You will receive a tracking number so you can track your box.
In addition, here are a few tips when packaging and sending your soap:
Include contact info along with your soap on your packaging. This will help soapers who receive your soap to order from you in the future, or ask questions.
Label your soap with the ingredients and fragrance used.
Have fun!
 We can't wait to see your gorgeous soap! Happy Swapping!