What's better than crafting? Crafting with family and friends of course! A few weeks ago, I invited a couple girlfriends to eat, drink, chat and make sugar scrub and nail polish. Both projects are great for parties because they are fun, easy, and attendees can take home their creations the same day.
You can have two DIY stations like I did (nail polish + sugar scrub), or focus on one project. In this post, I'll show you how to setup a DIY sugar scrub station for your next party…look out for a "How to Throw a DIY Nail Polish Party," post in a few weeks! =)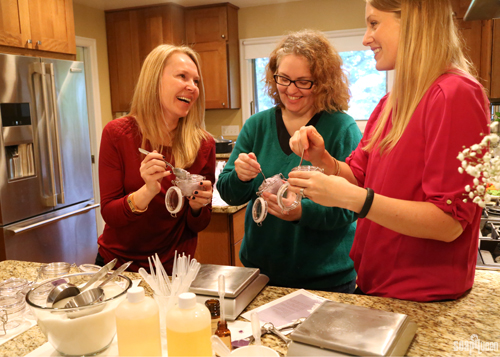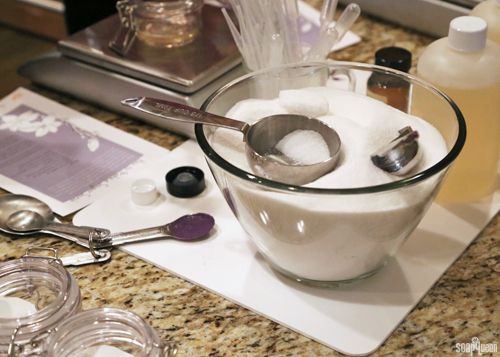 During this party, we created a Winter Gardenia Sugar Scrub. The scrub can be created directly in the 4 oz. plastic bail jar, so cleanup is easy. If you have a few scales, you can create the recipe using weight. If not, the volume amounts are listed in the recipe below as well. If measuring in volume, simply fill the jar to the top with sugar and stir. While this recipe features a specific fragrance oil and jojoba bead, you can use any fragrance or color of jojoba bead you'd like!
Created with moisturizing meadowfoam oil and potassium cocoate, this sugar scrub leaves hands feeling soft and silky. The Jasmine Jojoba Beads add non-scratchy, gentle exfoliation and a pop of elegant color. Don't forget to add preservative! While this recipe does not contain water, this scrub may be stored in the shower and come in contact with water. To be on the safe side, Optiphen is added to the scrub to keep the scrub mold and bacteria free.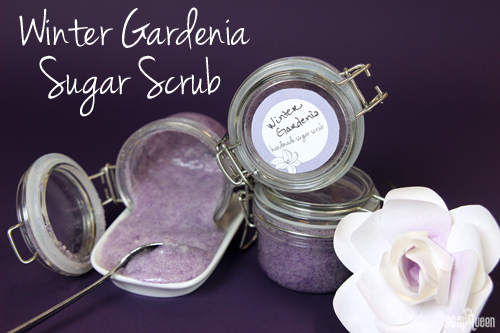 Winter Gardenia Sugar Scrub Recipe:
1 Four Ounce Jar
.5 oz . (6 tsp) Meadowfoam Oil
.3 oz. (2 tsp) Potassium Cocoate
2 mL Optiphen
2 mL Winter Gardenia Fragrance Oil
3.5 ounces Granulated Sugar
.2 oz. (2 tsp) Jasmine Jojoba Beads
ONE: Place meadowfoam oil and potassium cocoate in the jar and stir until well blended.
TWO: Add 2 mL optiphen and 2 mL fragrance oil. Stir well to thoroughly combine.
THREE: Add 2 tsp. of jojoba beads and the sugar into your jar. Carefully mix all ingredients together. Label your scrub and enjoy!
If you'd like to purchase enough ingredients to host a party, the kit below includes enough to create ten scrubs. This kit also includes labels, instruction cards and cards to label the DIY station. Simply download and print! The only ingredient you need to provide is granulated sugar.
Kit Includes:
Ten 4 oz. Plastic Bail Jars
4 oz. Meadowfoam Oil
16 oz. Potassium Cocoate
1 oz. Optiphen
2 oz. Winter Gardenia Fragrance Oil
2 oz. Jasmine Jojoba Beads
20 Droppers with Suction Bulb
Sugar Scrub How-To Digital Template + Labels

Click here to add everything you need for this project to your Bramble Berry shopping cart!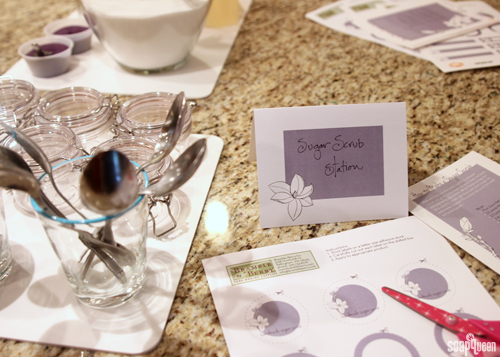 When setting up your scrub making area, keep in mind some containers and tools will be necessary. For the jojoba beads, small sample cups allowed the jojoba beads to be easily passed around the station. One large bowl of sugar with several measuring cups allowed multiple people access to the sugar at one time. One pound of sugar was plenty!
One large bowl of sugar
Measuring cups to scoop sugar
Several sample cups of jojoba beads
Teaspoons and tablespoons to scoop jojoba beads, oils, potassium cocoate
Cup of droppers to add fragrance oil and preservative
Plenty of spoons to stir the scrub together (at least one for each guest)
Scissors and pens to cut out scrub labels and write the name
If you are worried about your counters, you may want to lay a protective surface on top. The great thing about this recipe is there are no colorants that could possibly stain clothing or counters. The only ingredient to be careful with is the fragrance oil, as fragrance oils can cause irritation if directly applied to the skin.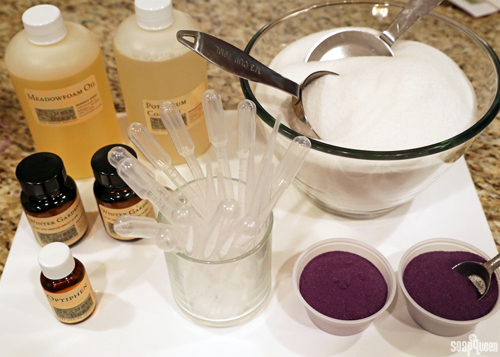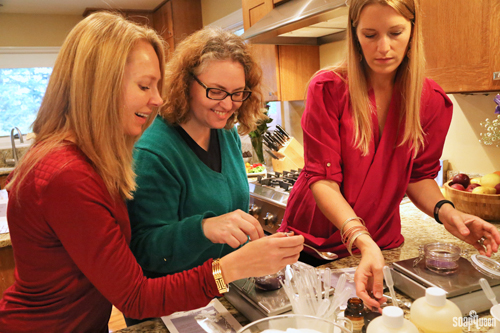 To help my party-goers feel confident in creating the scrub, I first demonstrated how to make the scrub. Then, I passed out the recipe cards so each person had the measurements and directions to easily reference. It was so fun to see the non-DIYers get excited about their homemade scrub!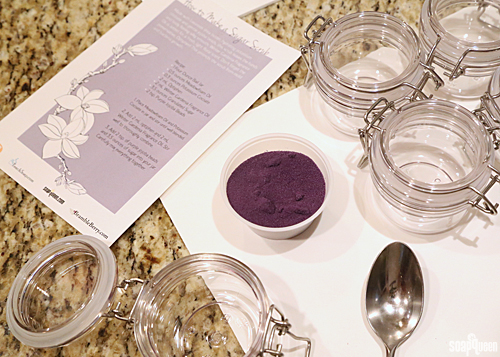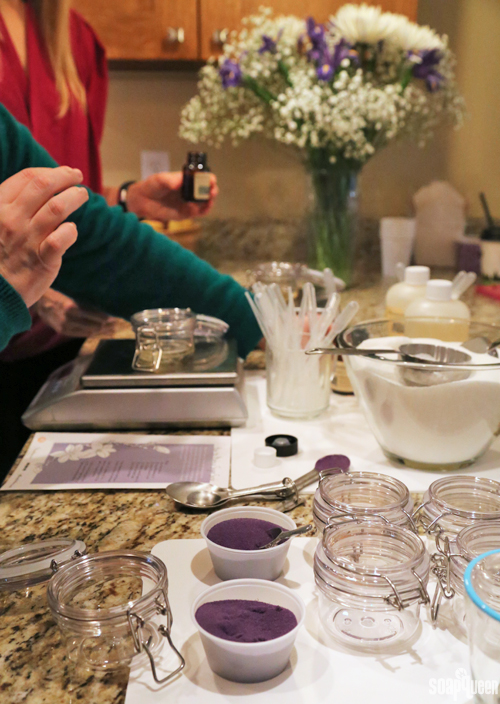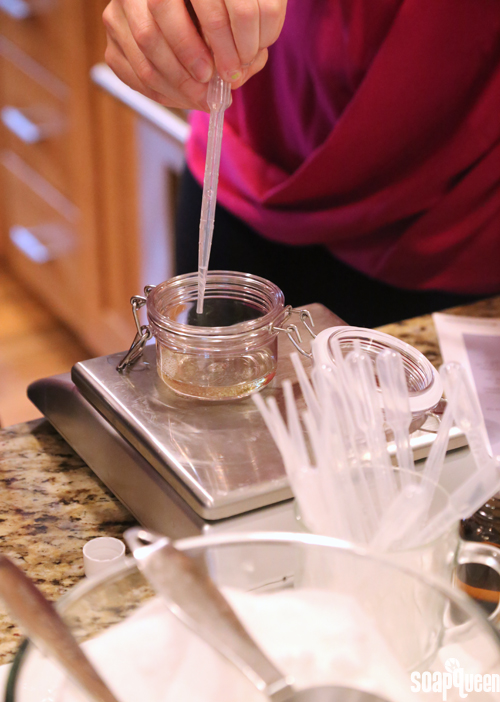 Adding the jojoba beads into the liquid ingredients first helps the jojoba beads distribute throughout the scrub easily. Remember to have plenty of spoons on hand to ensure all the party-goers can thoroughly mix their scrubs.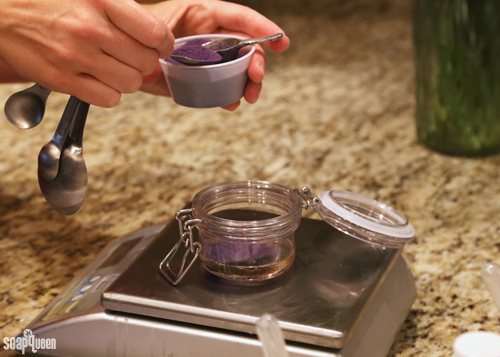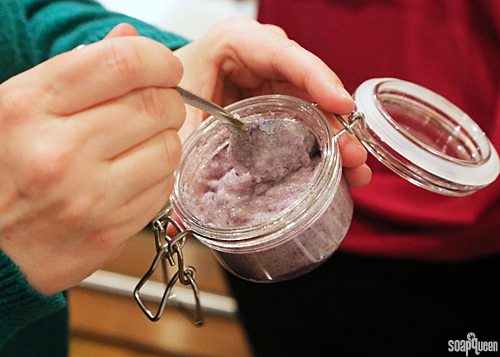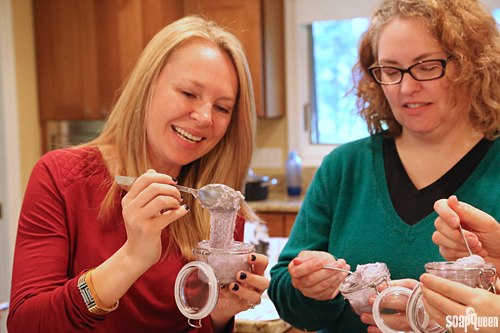 Of course in addition to DIY, there was plenty of food and beverages to enjoy. See that cheese plate in the corner? So delicious! If serving food, I recommend having it in a separate area from the scrub ingredients to avoid any food/beauty ingredient cross contamination =)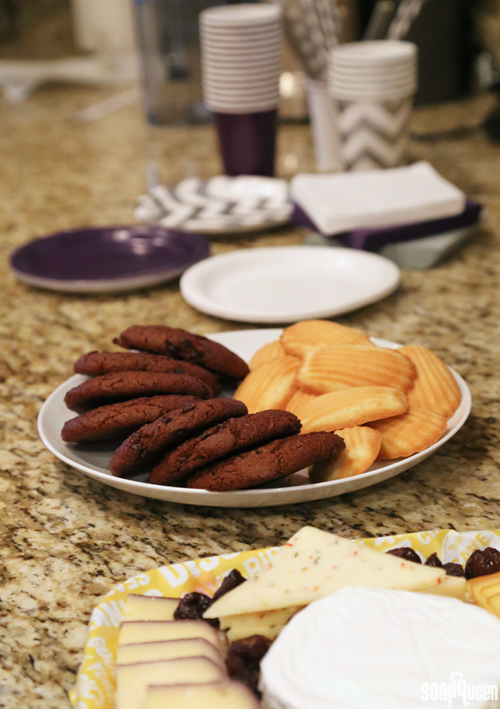 Once the scrub is thoroughly mixed and complete, it's time to add a label. The sugar scrub labels were specifically designed to allow the party attendees to name their own scrub. You can write the name of the fragrance oil, or get creative and come up with a unique personalized name!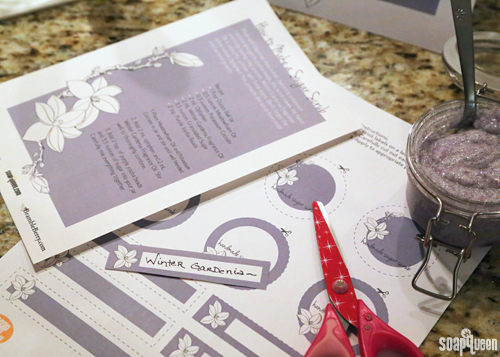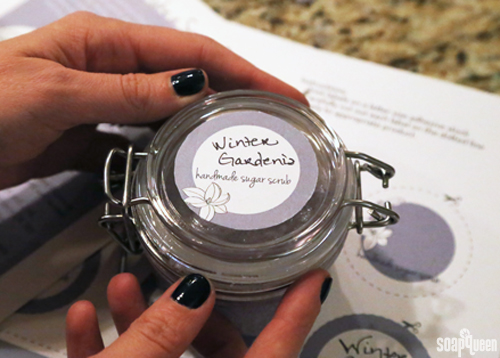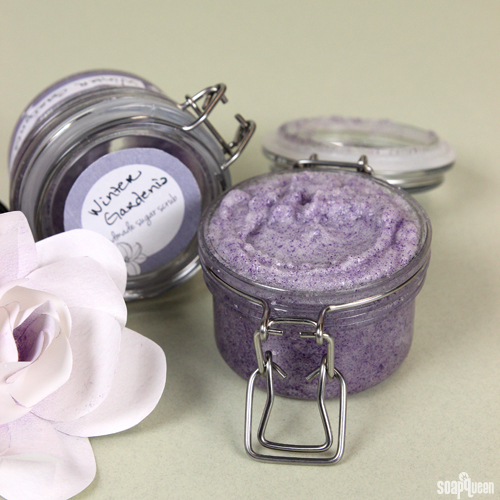 Have you ever thrown a DIY crafting party? I would love to hear what you made, and if you have any tips on making the party run smoothly!