Valentine's Day may be over, but there is no reason to abandon heart-themed projects quite yet. This tutorial features the watertight Mini Heart Silicone Column Mold, which works wonderfully for both melt & pour and cold process projects. Spread the love with this fun project!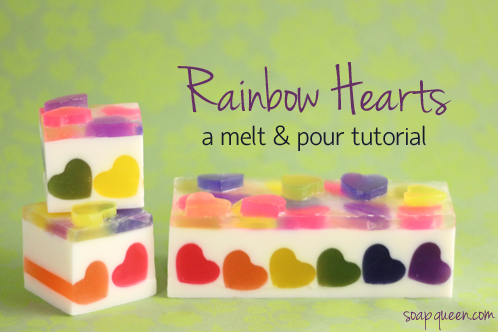 What You'll Need:
20 oz. Clear Melt & Pour Base
20 oz. Goat Milk Melt & Pour Base
.4 oz. Pink Grapefruit Fragrance Oil
6 Mini Heart Silicone Column Molds

Click here to add everything you need for this project to your Bramble Berry shopping cart!
ONE: Chop 15 oz of Clear Melt & Pour base into small chunks and melt on 30 second bursts in the microwave. Use 6 different heatsafe containers (we used coffee mugs) and pour 2.5 oz. of soap into each container.
TWO: You will then create a different color in each container. Add shavings of the color blocks as follows:
Ultramarine Blue to the first container
Tangerine Wow! to the second
Fizzy Lemonade to the third
2 parts Electric Bubblegum to 1 part Ultramarine Blue to make purple in the fourth
3 parts Fizzy Lemonade to 2 parts Ultramarine Blue to make green in the fifth
Equal parts Fired Up Fuchsia and Electric Bubblegum to make the perfect pink in the last container
NOTE: The Fizzy Lemonade Color Block looks orange when you first add it to your soap. Be sure to stir it until it's completely melted to see the true color before you add more.
TIP: Color blocks are what-you-see-is-what-you-get, so add as much or as little color as you like!
THREE: Each silicone heart mold will be used to create only one color of heart, so pour each color into its own single mold. If you are working with fewer than 6 molds, you can always wait 30 minutes for the soap to set-up, unmold, and then pour the next color. The silicone molds are watertight, but be sure to carefully snap the seal together. You wouldn't want to end up with a soapy mess.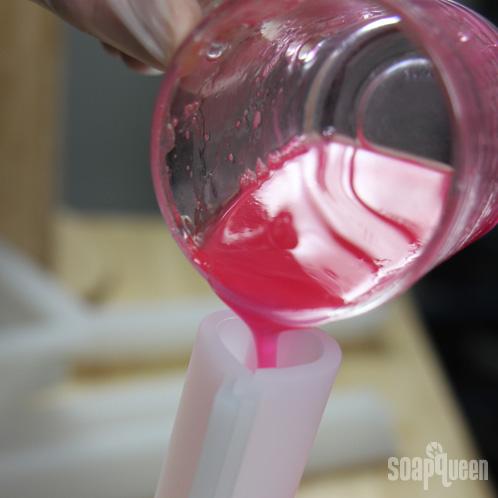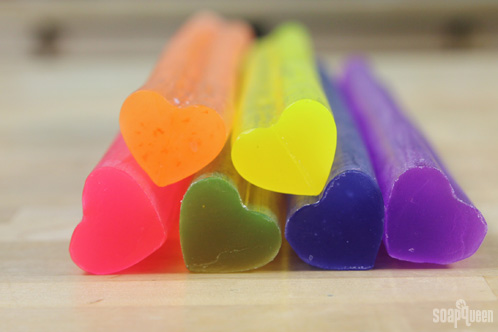 FOUR: Once all of the embeds are made, cut them to fit the 6" slab mold. You should have a little bit leftover. Make sure to save this for the end.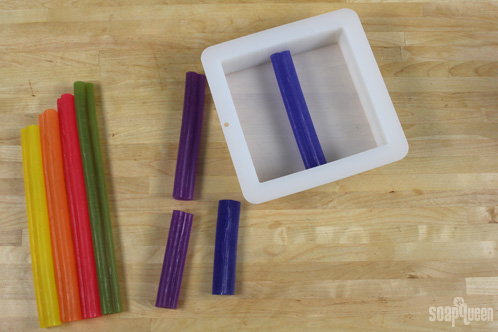 FIVE: Cut and melt 20 oz. of the Goat Milk base. Add 0.4 oz. of Pink Grapefruit fragrance oil. Pour a thin layer into the 6" slab mold. Pour just enough to completely cover the bottom of the mold. Spray with isopropyl alcohol to disperse bubbles.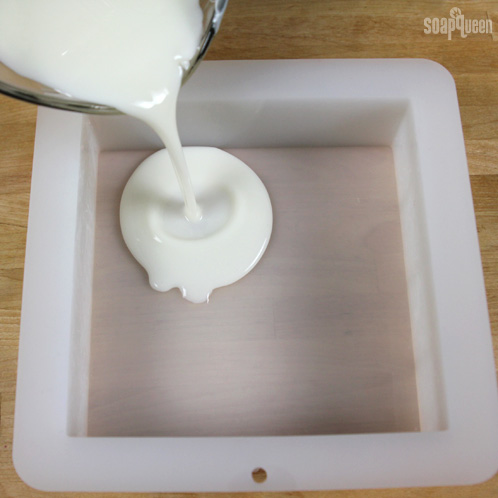 SIX: Wait 5 – 10  minutes for the layer to dry, and then spray it with alcohol. Pour a little more soap in. While the soap is still liquid, immediately spray the embeds with alcohol and place them in the mold. We arranged ours in rainbow color order and angled them to the side so they would all fit.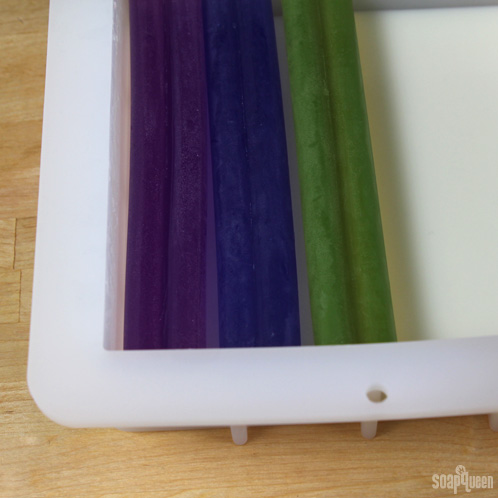 SEVEN: Spray the hearts with alcohol and pour the remaining Goat Milk soap so it completely covers the hearts. Spray with alcohol again to disperse bubbles.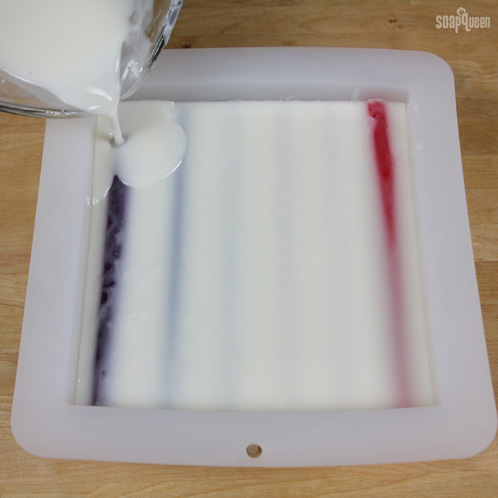 EIGHT: Wait 1 – 2 hours for the Goat Milk soap to harden. While you're waiting, use a soap cutter to cut the leftover heart embeds into mini hearts that are about ½ centimeter wide.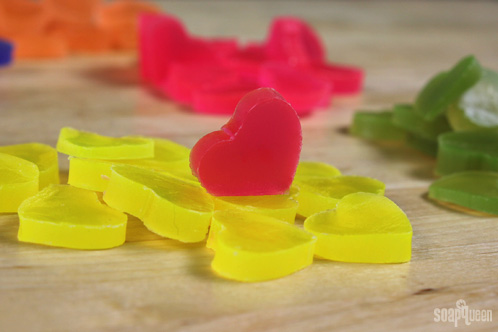 NINE: When the Goat Milk soap is firm to the touch, arrange your cut heart soaps on top. We randomly arranged ours but you can try a fun pattern!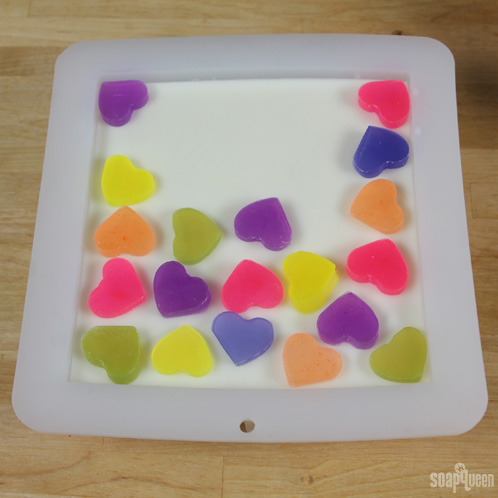 TEN: Cut 4 oz. of Clear Melt and Pour base. Melt it  in a heat-safe container on 10 second bursts. Once it has cooled to 125°F, spray the hearts liberally with alcohol and then pour the melted soap over the hearts. Spray with isopropyl alcohol to disperse bubbles.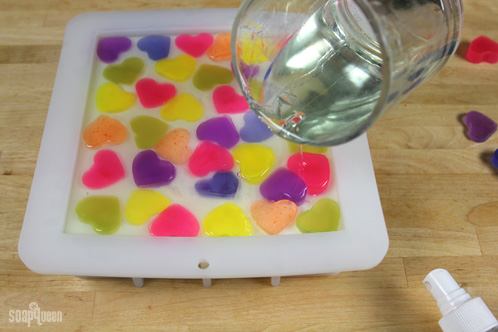 Allow the soap to harden for 30 – 60 minutes. Cut into bars with a sharp knife and enjoy!