Do you know some one who will be getting a Lump of Coal Soap in their stocking this year (with good humor intended)? This is the perfect soap project to sneak into someone's stocking. The fragrance oil blend of Cranberry Sweet and Patchouli is a holiday mix that's musky and tart, perfect for the "sour" people receiving the coal soap (who will actually be getting a very nice gift of handmade soap). And of course I had to add a little bit of glitter, just to make it festive! Why not?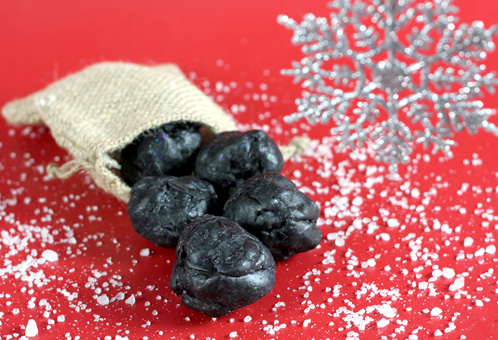 Ingredients
8 ounces Clear Melt and Pour
.8 ounces Liquid Glycerin
Silicone Tray Mold
Activated Charcoal
Iridescent Glitter
1 mL Patchouli Fragrance Oil
3 mL Cranberry Sweet Fragrance Oil
Mini scoops (not included in kit)
Buy everything you need to make this project in the click of a button!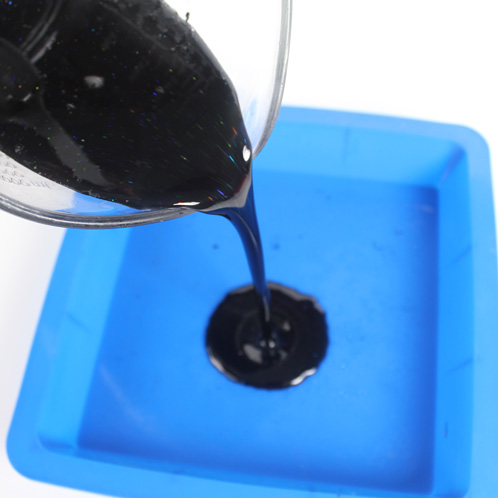 ONE: Melt 8 ounce of clear melt and pour soap in a heat safe container (30 second bursts in the microwave). Mix in .8 ounces of Liquid Glycerin, 6 level mini scoops of Activated Charcoal, 4 mini scoops of Iridescent Glitter, 1 ml of Patchouli fragrance oil and 3 ml of Cranberry Realistic fragrance oil. Mix well and pour the soap into the loaf tray mold.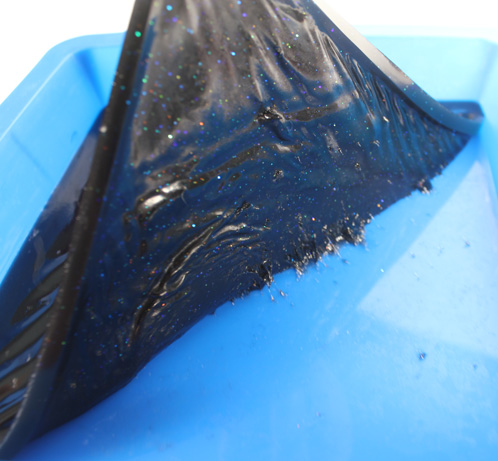 TWO: Let the soap cool for about 10 minutes and unmold when the soap is still warm. Then use a craft knife to cut the soap into 4 pieces and quickly roll them into balls with your hands. Move as quickly as you can (I would say you have about 2 minutes to manipulate the warm soap)! Try to rip the soap so the "smooth" corners are tucked inside of the soap ball. We want these rustic and messy looking.
Tip: See in the picture above that it's still a little "wet" when I unmolded. that's exactly what you want.
Note: You'll need to wash your hands after rolling the soap. It's a sticky mess. I'm all about the messy projects lately =)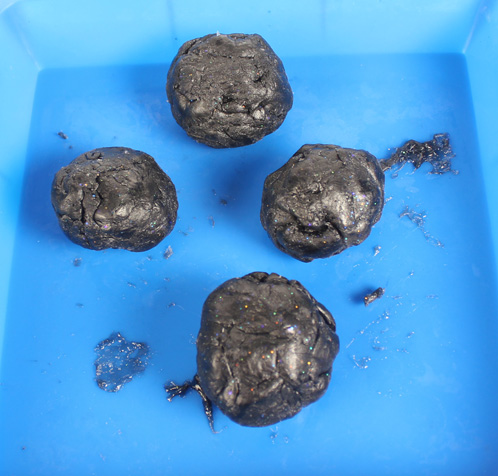 Slip a few lumps into a drawstring bag and you have the perfect gift for those not so nice people on your list (or the ones with a great sense of humor!).