Some of you may have already noticed that we've recently upgraded our website. Thank you again for your patience while we've been ironing out the kinks. There are some new and exciting changes. You should find both searching and ordering easier than ever (woot! woot!).
Here are some notable updates to the overall website:
Current warehouse turnaround times are now listed and updated daily on the top of every page so you know when your order will ship.
A more refined search engine allows search on both full and partial words. Can't remember how to spell Cyclomethicone in its entirety? No worries! The new search engine can pick up the term simply by typing "cyclo".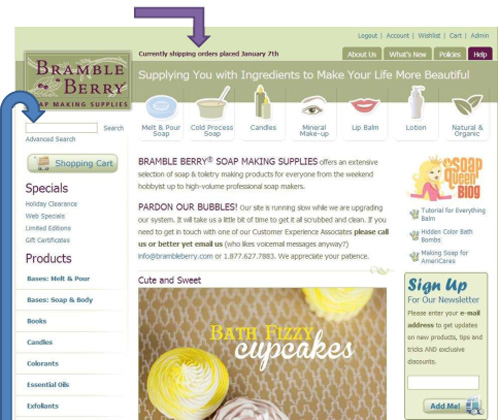 If you'd like to place an order, we think there's bonuses to logging into your account. But, if you would rather not create an account, you can purchase items without it. Creating an account saves you from having to re-enter your info each time you order. Please keep in mind that if you are purchasing a Digital E-Book or Getting a Free Template you must have an account to access those files. You can add items to your cart as you browse by clicking the 'Add to Cart' button from either the main search page or inside the product details. If you'd like to save a list of items for purchase later, click on 'More Details' for a product and then click 'Add to Wishlist'. As long as you are logged into your Bramble Berry account, all items you choose to 'Add to Wishlist' will save in your Wishlist until they are purchased.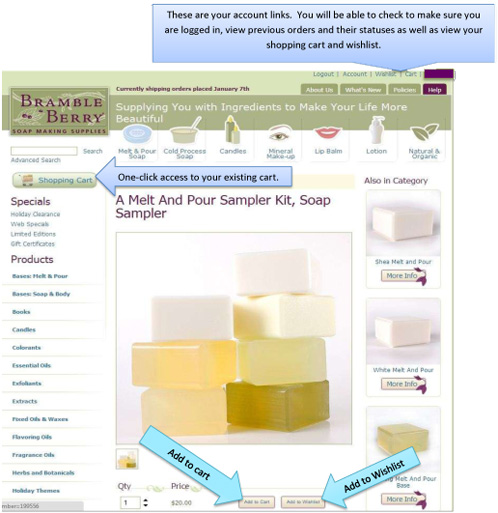 While shopping, you'll want to make sure you check out the updated product descriptions for items that have shipping restrictions or known issues. In the product descriptions, you'll find information regarding (where applicable):
Shipping restrictions for fragrance and essential oils
Whether the item is known to be lip-safe
INCIs
Usage rates, notes on product performance in specific items
COMING SOON: Downloadable MSDS information
NOTE: If you order an item with a shipping restriction that technically you can't ship (say, you live in Guam and want a low flashpoint item to ship air), your order could be delayed as we attempt to contact you and make changes to the shipping method.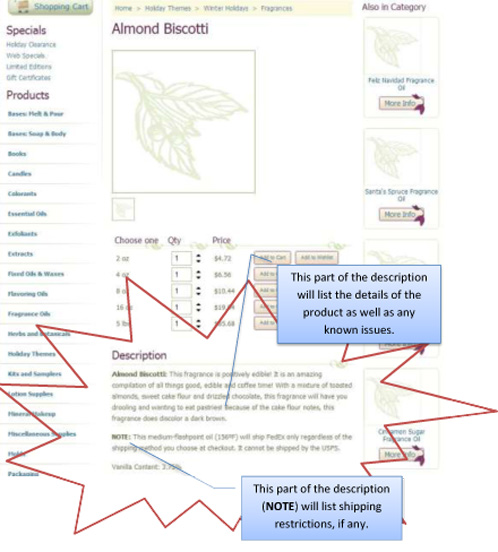 Once you've done all your shopping and you are ready to checkout, access your shopping cart and review the items you've added. If you've forgotten something, just click 'Keep Shopping' to return to the web store and add additional items. If you make adjustments to the quantities of items, be sure to click 'Update' to record the changes. If all items are as you'd like them, you are now ready to complete the order process. You can continue by clicking 'Checkout'.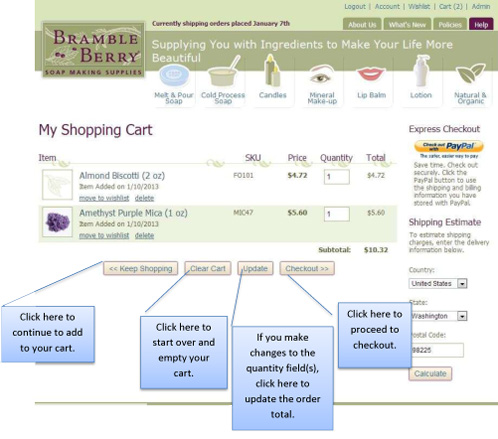 A new tool that we're really excited about is the Shipping Estimate feature. With a new way to estimate shipping costs, you no longer have to complete the order process to see your shipping options and rates! Just enter the postal code you will be shipping to and click 'Calculate'. The system will give you your shipping options and prices for items currently in your cart. You can continue to add/change items in your cart and update your order until you click 'Checkout'. Pretty neat, huh?
NOTE: if you enter the 4 digit extension to the postal code, our system will not offer you all shipping options (only USPS). Be sure to enter just the standard 5 digits.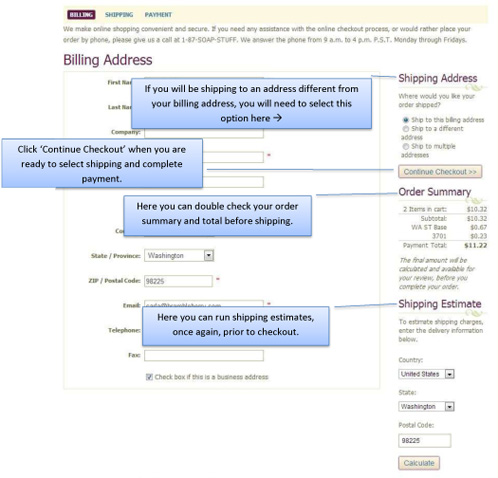 Another new update is the Express Checkout with PayPal. This saves you time by auto filling your order billing and shipping information with billing and shipping information stored in your PayPal account AND completing payment all in one stop. If you use this option, please be sure your addresses are correct in your PayPal account, and be sure to continue through to the PayPal site to complete payment.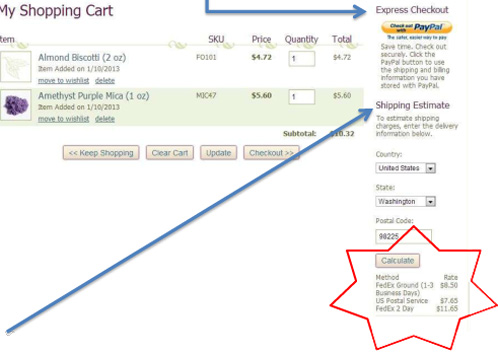 Once you've clicked 'Checkout' and you're paying with a credit card or money order, it is time to enter your billing and shipping information. If this is your first order and you've created an account, you will only need to enter this information once as our system will save address information in your account for future use under 'Address Book'. The next step will be confirming billing/shipping addresses, order summary and selecting shipping method. For your safety, your billing address must match EXACTLY the address that your credit card's statements are sent to, or your card will decline. Our system is strict about this to help prevent fraud!
If you don't see a shipping method you'd like to use, please feel free to select any method, finish placing your order and contact customer service to make changes within one hour of the order being placed. We are always happy to offer you any and all shipping options available for your order.
NOTE: If you are not seeing FedEx Ground shipping service, check your postal code. If you've added the 4 digit extension, your shipping options will be limited.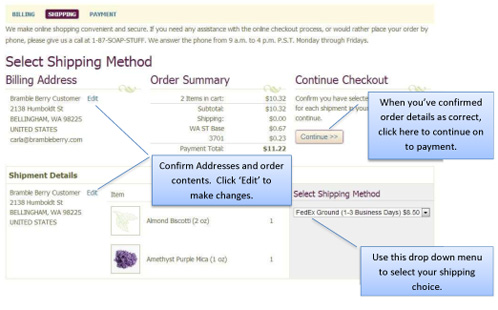 Now, it's time to enter any coupon codes/discounts you may have, confirm your order for the last time and enter payment information. If you think you may need to make changes or want to add a $10 RUSH fee to expedite your order, you can select 'Pay by Phone' and contact customer service to have changes made and provide payment information over the phone. NOTE: By selecting "Pay by Phone", you will need to contact Customer Service info(at)brambleberry(dot)com or 1-877-627-7883 to complete your order. The order will not ship until you contact us and pay for your order.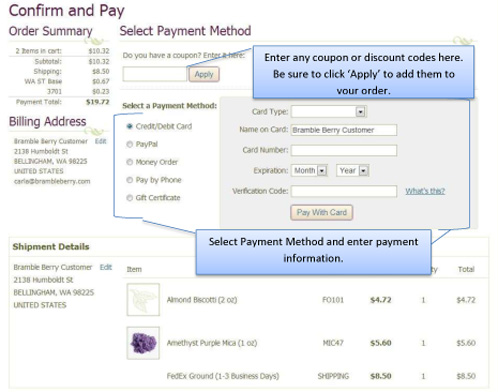 Once you filled in the payment information, you will click the confirmation button and your order will be placed. Your order is now in our system! You will receive an automatic order confirmation to the email address on your account. If you'd like to request a specific sample or have delivery instructions or order questions, leave an order note by using the comment box at the bottom of your order. You have up to one hour after the order is placed to make these requests. If you need to make a special request, make an order change, or add delivery instructions to your order and it's been longer than one hour, every once in a while we can make an exception based on how long it's been and your order's status. Contact Customer Service and we will do our best to accommodate you!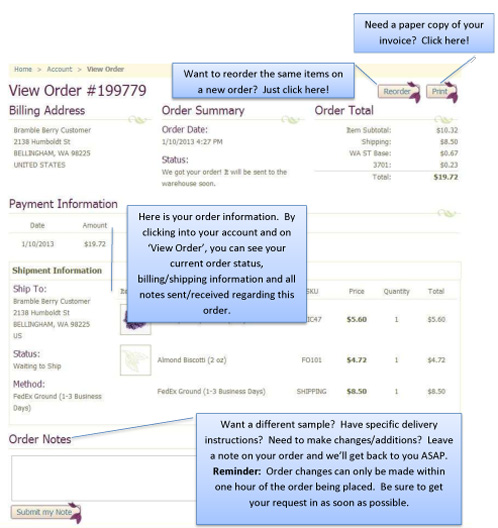 If, for some reason, there is a problem with your payment, you will get an error message telling you so. You can either re-enter corrected payment information or select a different method. Most errors involve the billing address for the credit card. For your safety, our system requires the billing address you enter to be an exact match to the billing address on record with your bank for your card. If you've moved recently (or even within the last year) contact your bank to see which address they have on file. It's usually a quick fix.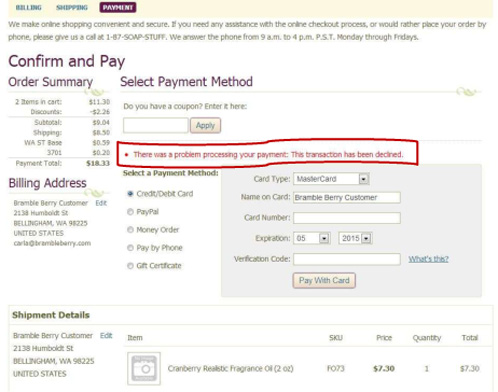 Now that you have an order in the system, you can log in anytime and check the status of your order by clicking on 'Account'. Here is where all of your orders will be listed along with their status information. You can:
Access/Download digital goods purchased
View/Update your profile information (login and password)
View/Update your address book. Here is where billing and shipping addresses have been saved for you.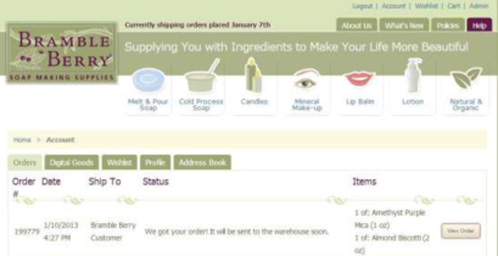 Need to make an order change? Once you click 'View Order' you will be able to add notes for your order. This is a great place for order questions, concerns, additions and changes.

Reminder: Order changes must be received within one hour of placing your order. Our customer service representative will respond to your note as soon as possible. You can check for responses both on the order and in your email. Customer service is in the office from 9-5 PST and we answer phones from 9 a.m. to 4 p.m. PST (we use that last hour to really focus on getting all the emails answered). We do not have customer service working on the weekends typically so if you write us or call us at 7 p.m. on a Friday night, we'll get back to you first thing Monday morning.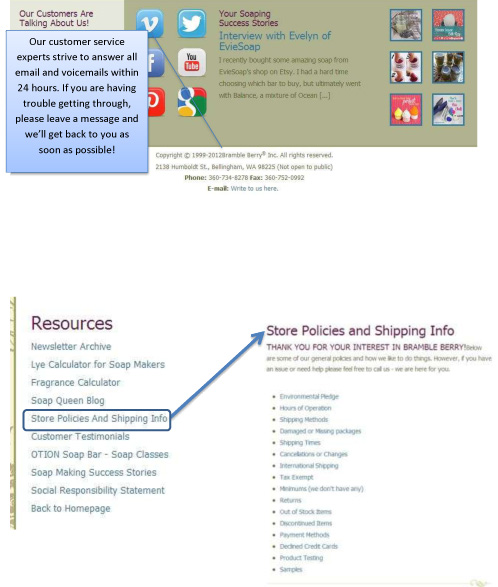 Whew! That's a lot of information. We're happy to help you with questions about the new website features in addition to troubleshooting recipes, order issues, product questions and shipment inquiries. Please feel free to contact us by phone or email. Our contact information/links are at the bottom of every page. Store Policies and Shipping Info is a great resource for some commonly asked questions about the Bramble Berry store. You will find information on shipping restrictions, returns, and what to do if you have a damaged or missing package.
We're excited about this upgrade and hope you are too!