Cocoa butter is a hard vegetable fat with a distinct, chocolate-y aroma that is extracted from the cocoa bean. A major ingredient in chocolate, cocoa butter is commonly used in bath and body products due to its skin-loving properties. Because of its hard texture and warm smell, cocoa butter makes a fabulous addition to soap, lip products, body butters and more.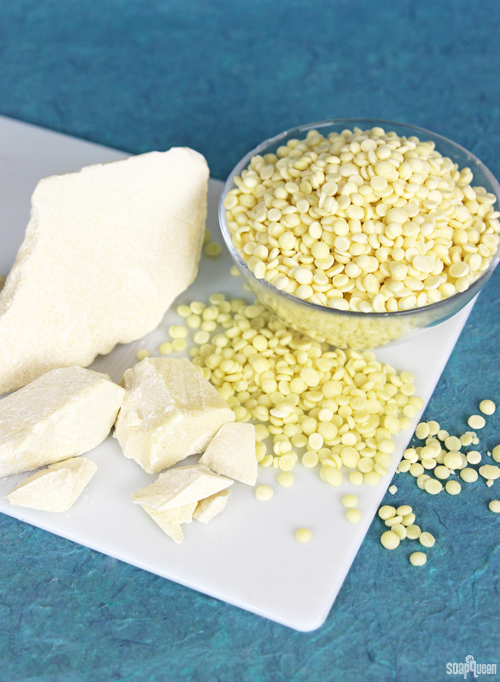 Cocoa butter is available in two varieties: deodorized cocoa butter and non-deodorized. Naturally, cocoa butter has a deep eggshell color and a warm, chocolate smell. Deodorized cocoa butter is deodorized via steam injected into the melted cocoa butter to "drive off" the components which contribute to the odor. The product is then treated with diatomaceous earth (clays) which remove the color agents. The result is a butter that is lighter in smell and color. When deciding between the two, consider how your project will be affected by the color and smell of cocoa butter. Because of its naturally chocolatey scent, cocoa butter can hide some delicate fragrances, so keep that in mind when working with more faint fragrances.

Cocoa butter has a high melting point of approximately 95.0–97.7 °F which makes it brittle at room temperature. When melting cocoa butter for beauty recipes, it's best to temper it (as you do with chocolate) to prevent crystallization. Cocoa butter tends to crystallize due to its fatty acid profile. Simply put, the fats in cocoa butter melt and solidify at different temperatures, which can lead to fatty acids forming large clumps. To read more about why cocoa butter crystallizes, click here. Tempering the cocoa butter helps ensure your final product (lip butters in particular) is smooth, not grainy. However, in cold process soap, no tempering is needed.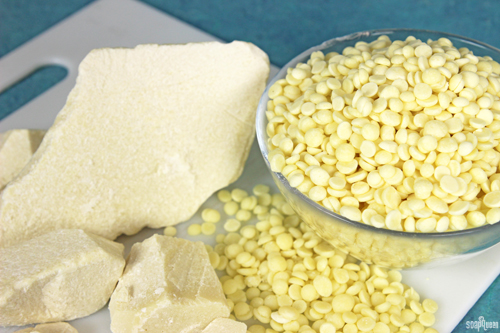 In cold process soap, cocoa butter adds firmness and moisture to the bar. We recommend using cocoa butter at 15% or less; any higher may lead to cracking in the final product. Both palm-free recipes, the Queen of Hearts and Layered Lilac Loofah Cold Process soaps contain cocoa butter to give the bars hardness. In the Espresso Shot Cold Process and Natural Colorant Taiwan Swirl tutorials, cocoa butter is used for moisture and firming abilities.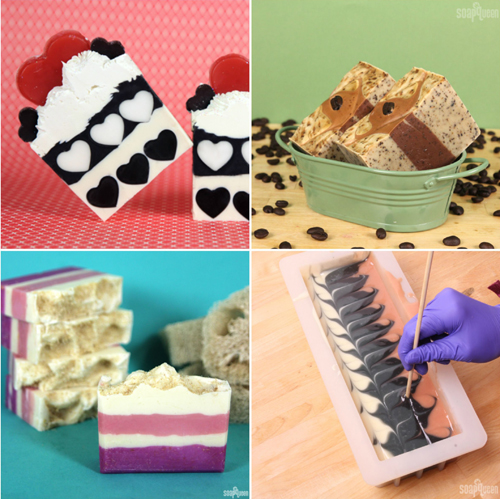 Top row: Queen of Hearts Cold Process, Espresso Shot Cold Process
Bottom row: Layered Lilac Loofah Cold Process, Natural Colorant Taiwan Swirl Cold Process
Due to its moisturizing abilities, cocoa butter makes a great addition to leave-on body products. Because of its hard texture, cocoa butter is perfect for creating thick-textured body butters and creams. In the Moisturizing Heel Butter, cocoa butter is used to help create a firm yet spreadable texture that's perfect for cracked, dry heels. Cocoa butter is also used in the Bramble Baby Belly Butter and Everything Balm, two leave-on creams that are both hydrating.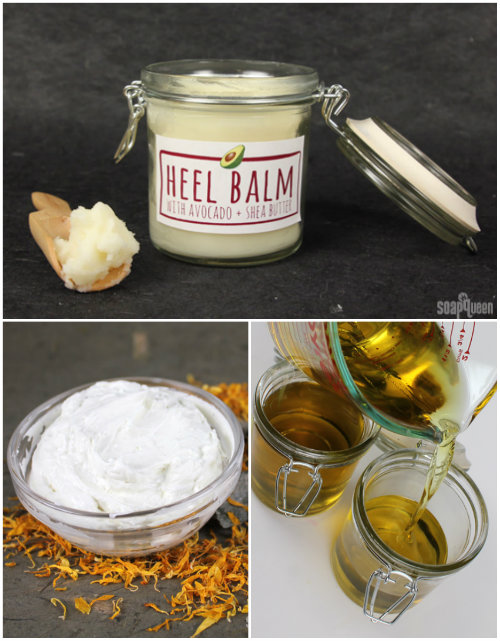 Top Row: Moisturizing Heel Butter
Bottom Row: Bramble Baby Belly Butter, Everything Balm
Looking for even more leave-on body products featuring cocoa butter? We've got you covered! The Mango Avocado Balmy Salve uses a combination of both hard butters like cocoa butter, and luxurious soft oils such as jojoba oil to create a creamy and skin-loving product. The Soothing Lavender Breast Balm has a similar texture to petroleum jelly, and is scented with soothing Hungarian Lavender Essential Oil. In the Lotion Bar Love tutorial, micas and Summer Fling Fragrance Oil are used to create a lotion bar that's both colorful and fruity.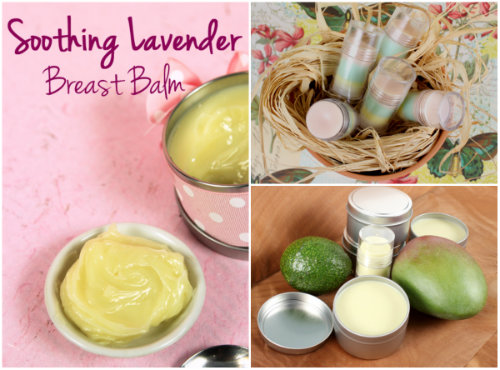 Left to right, clockwise: Soothing Lavender Breast Balm, Lotion Bar Love, Mango Avocado Balmy Salve
If lips are feeling dry and cracked, cocoa butter gives lip balms a firm and luxurious texture. In the Vanilla Latte Lip Balm tutorial, cocoa butter and coffee butter come together to create a silky texture and naturally delicious smelling lip product. It smells like a mocha!
What is your favorite way to use cocoa butter? Personally, I love using it in my cold process soap recipes for firmness and moisturizing abilities!