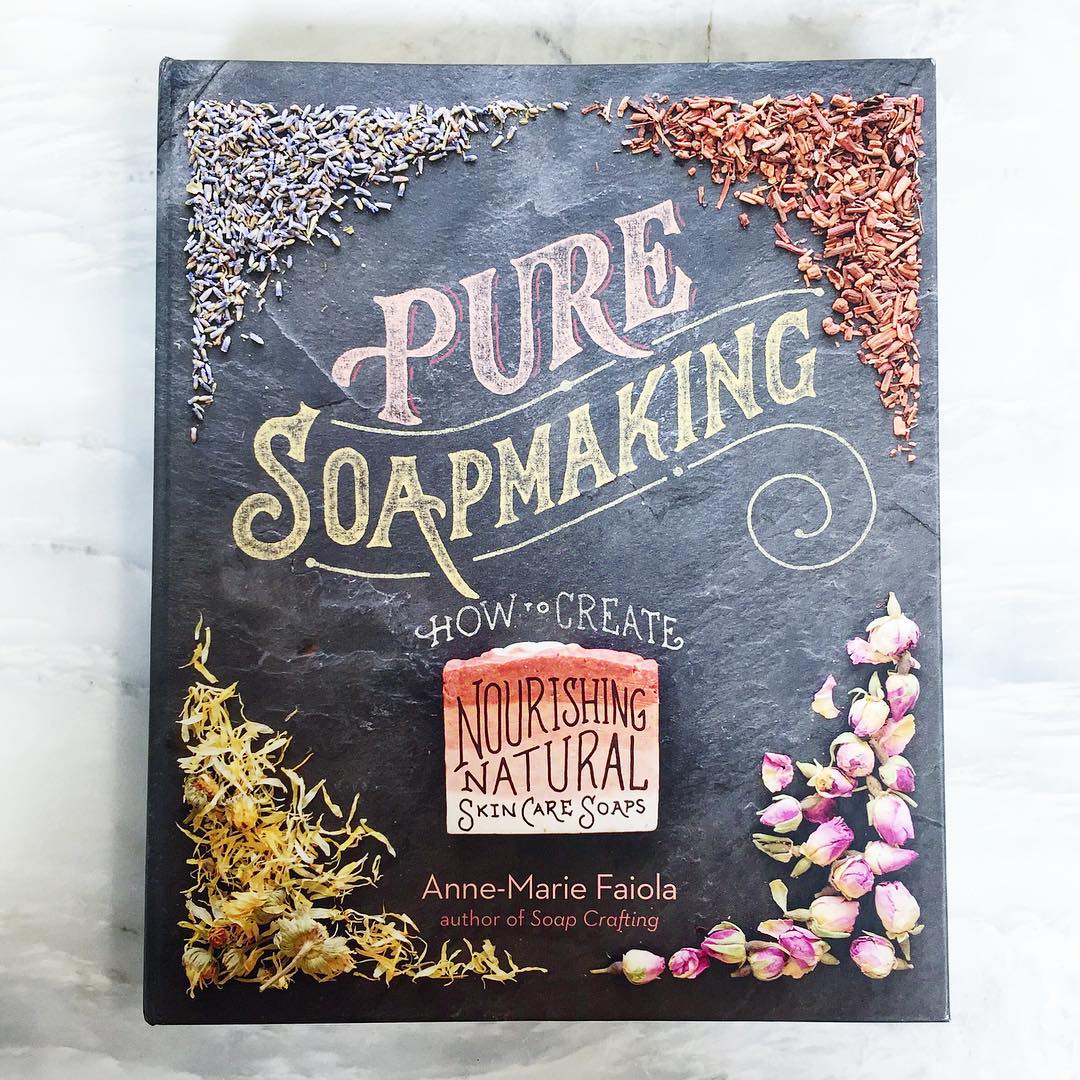 It has been so exciting to see my new book, Pure Soapmaking, in the hands of the soaping community. I'm blown away with the response and enthusiasm (thank you thank you thank you!). The book is already in its second printing! It's amazing to think about how much the soaping community has grown since I started soaping over 20 years ago.
If you have received your book, there is still time to enter the #PureSoapmaking contest on Instagram and Twitter to win one of ten $25 Bramble Berry gift certificates! Simply post a selfie with the book and use the hashtag #PureSoapmaking. Contest ends Wednesday, February 15th. If you're feeling shy, feel free to post a photo of the book in a creative way. Check out some of the adorable selfies below; even furry friends are getting in on the fun. =)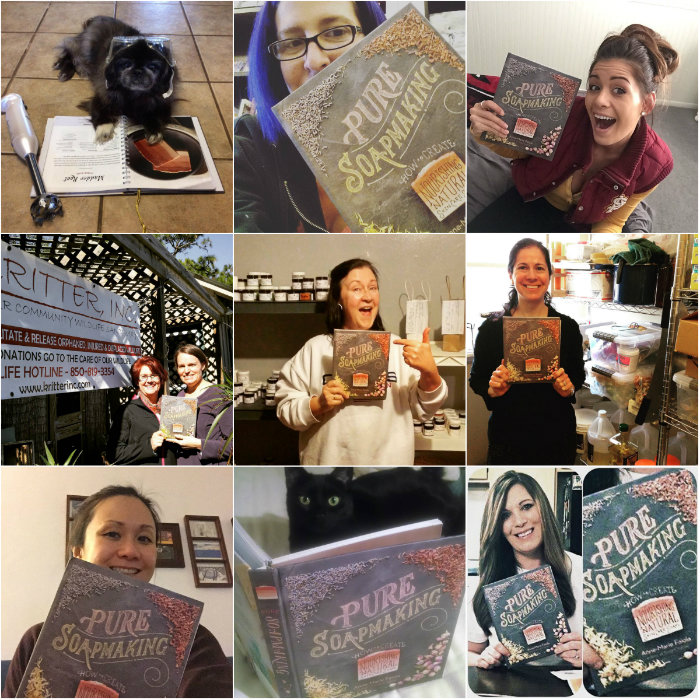 Top row: wildgardencreations, kennacote, ashley_thomas
Middle row: kritterinc, sudzylove, sweetsophiallc
Bottom row: winn_martinez, avitals_aspiaries, sevenseassoap
In addition to the selfies, the #PureSoapmaking hashtag is filling up with photos of handmade soap. If you've made soap from the book (or inspired by the recipes), tag your projects with #PureSoapmaking so that I can see them. Below are some projects that soapers are creating; can't wait to see more. =) In the top left corner is the Baby Oatmeal Cold Process Soap, made by Shelly of Lion & Rose Soap. You can see her full blog post on the project here. Side note: I met Shelly in person (squeeee!) on Indie Business Cruise and she was delightful, authentic and hard-working. I hope I get more chances to hang out with her in person.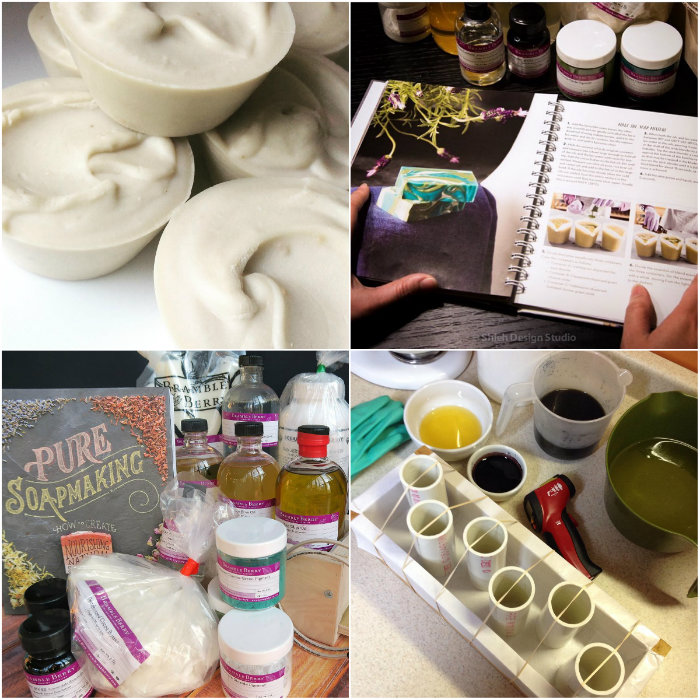 Top left, clockwise: lionandrosesoap, shiehdesignstudio, sweetrevengesoapery, spicypinecone
Below on the right, you can see the final cut of Sweet Revenge Soapery's Indigo-Annatto Negative Space Funnel Pour. They turned out great! This technique is a two-part process that involves filling negative space with soap. If you'd like to see this process in action, check out the Misty Maritime Moon Cold Process Tutorial. Below on the left is the Annatto and Yarrow Cold Process project made by Amy Warden of Great Cakes Soapworks. It's one of my favorite projects from the book, so I can't wait to see her bars cut.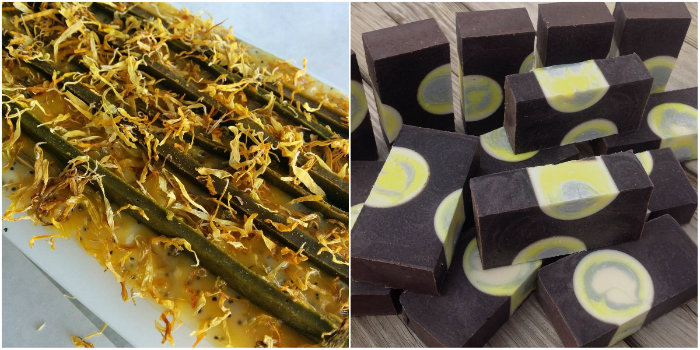 Left to right: greatcakesoap, sweetrevengesoapery
Several bloggers were sent a kit from the book. It has been fun to see the finished photos and videos of the projects. In particular, it's so interesting to see how soapers put their own unique spin on the projects. For example, several bloggers received the Aloe Vera Hanger Swirl Kit. Emily of Soap & Restless and Shieh Design Studio created a wonderful textured top, and accented the top with small white soap balls. It looks amazing! See Emily's full post on the project here. Kevin of Devinely Designed also created the Aloe Vera Hanger Swirl, and came up with a completely different look using a drop swirl, check it out here.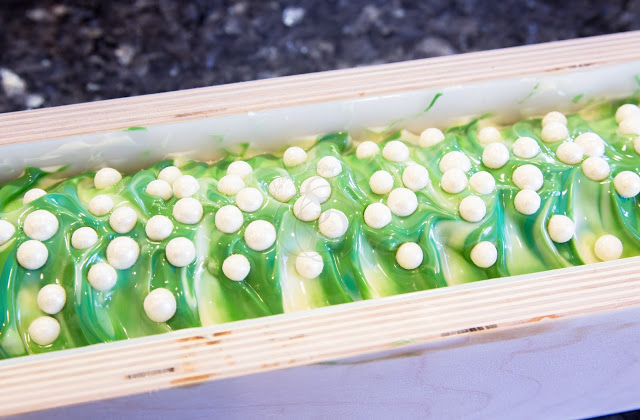 Emily of Shieh Design Studio and Soap & Restless created a beautiful version of the Aloe Hanger Swirl Soap. See her project here.
Zahida of Handmade in Florida also made the Aloe Vera Hanger Swirl and created a look that's completely her own. The recipe calls for aloe vera plant puree, so Zahida used fresh aloe from her garden. Check out Zahida's video of this project here. Holly of Missouri River Soap created the same project and made a video tutorial. Rather than the spoon plop technique, Holly used a drop swirl and her soap came out beautifully. Watch the full video here.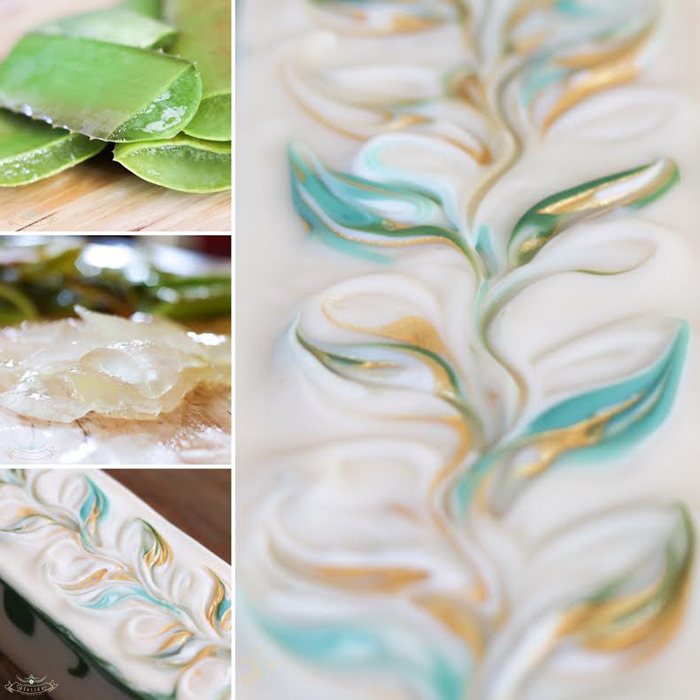 I'm in love with Zahida's rendition of the Aloe Hanger Swirl Cold Process! Watch her video here. 
Thank you all again for the support and enthusiasm over Pure Soapmaking. It means so much to me. If you live in Bellingham or the surrounding area, I would love to meet you at my book signing at Village Books this Friday, February 12th at 7 p.m. Find out more about the signing here. If you can't make it to the signing, I will be Periscoping my talk and Q&A session so everyone all over the world can be there. If you can't tune in to the live stream, you can watch it later on Katch. Check out my Katch channel here.
Don't forget to enter the contest on Instagram and Twitter! Simply upload a selfie with the book and use the hashtag #PureSoapmaking. The last day to enter is Monday, February 15th, so there is still plenty of time. I can't wait to see your lovely faces and soapy projects!