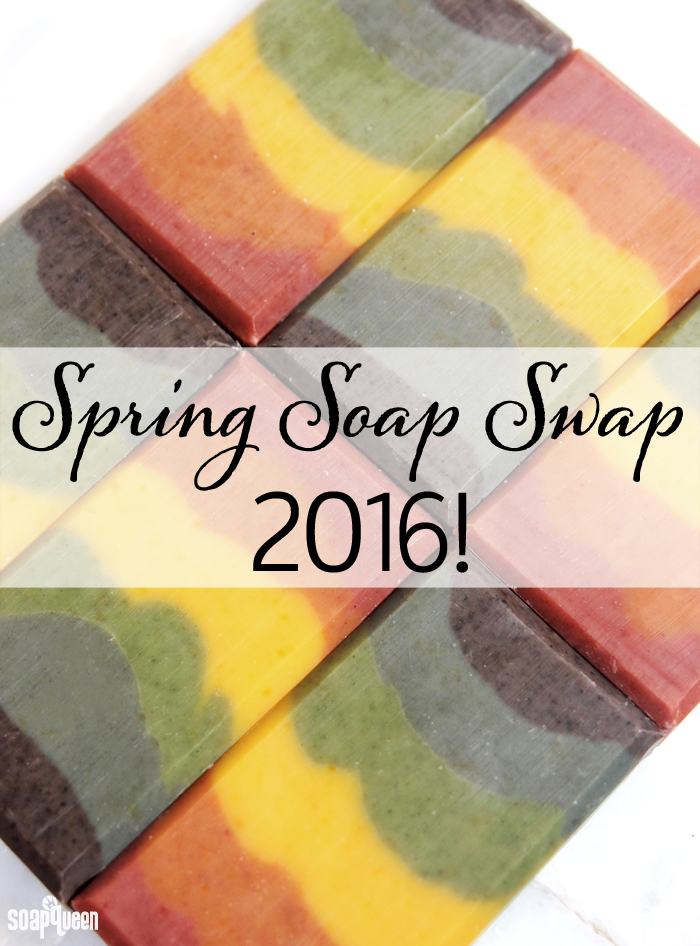 Nobody appreciates handmade soap quite like a soapmaker. When you know how much work and care goes into each batch, every bar of handmade soap is something to be admired. The Bramble Berry Soap Swap was created to give soapers a chance to ooh-and-ahh over each others work. It's a great way to smell new fragrances, get fun packaging ideas and be inspired by new design techniques.
The basic idea of the swap is you create ten 4 ounce bars of cold process soap made with a Bramble Berry fragrance oil. Then, send us your soap. We then swap the bars and send ten new bars back to you, each made by a different soaper. The swap is free; the only thing you pay for is shipping to get your box of unique soaps back to your doorstep.
The Spring 2016 Soap Swap is limited to 100 soapers. We wish we could include everybody, but the process of swapping 100 boxes is quite time consuming! =) If you'd like to participate, the swap is NOW OPEN. Don't wait to sign up, these spots will fill up very fast. The swap is full! Thanks so much to everyone who signed up. For those who weren't able to, we will have another swap in the fall. =)
For this swap, Anne-Marie will be participant #101! Ten random soapers will receive a bar of soap made by Anne-Marie. In addition, Anne-Marie will be opening her box of soaps on camera. If your soap is in the swap box, we would love to mention your business and information about your soap, so be sure to label your bars and include business information!
Follow the steps below to sign up.

1. To sign up, pay for the return shipping of your soap by purchasing the 'Magical Soap Swap Express' on the Bramble Berry website. Once all the spots are full, the shipping will no longer be available for purchase. You must first pay for the swap to officially reserve your spot.

2. Then, fill out this Google form completely, including the fragrance oil you would like to use. You must use a fragrance oil that Bramble Berry currently sells. Find the fragrance oils here. Because somebody may have already chosen your top fragrance choice, please include another fragrance oil selection as a backup. Click here to fill out your entry form!

3. Once you have bought your return shipping and have filled out this form completely, you're officially part of the swap! You will then receive an email within 24 hours with more information.

1. Unfortunately, this swap is not open to international residents. If you live in Hawaii or Alaska, you can enter the Soap Swap with an additional shipping fee.

2. Your soap must arrive to us by Monday, March 21st. Please plan in advance to make sure your soaps arrive to our warehouse by that date. If they do not, we cannot guarantee a place in the swap. You can send boxes to:
Bramble Berry Inc.
C/O Soap Swap
2138 Humboldt Street
Bellingham, WA 98225
3. You need to produce ten 4 oz. cold process or hot process bars. It's no fun sending full-sized bars and getting tiny ones in return. Every bar needs to be made of the same fragrance oil of your choice. There is no melt and pour soap option for this swap.
4. You must select a fragrance oil that Bramble Berry currently sells. Find the fragrance oils here. Essential oils are not an option in this swap.
5. Label your soap with all ingredients and fragrance used. Include contact info along with your soap on the packaging. This will help soapers who receive your soap to order from you in the future, or ask questions. Social media info is wonderful as well! Anne-Marie will be showcasing ten lucky soapers, so don't miss out on the great marketing opportunity.
6. We will send out boxes on Monday, March 28th. 
If you don't make it into this Soap Swap, we will have another swap in the fall. Be sure to sign up for our newsletter; we give our newsletter subscribers an advance notice on when the swap will take place! We can't wait to see your soaps. =)
The list of claimed fragrances is below. This list will continue to be updated!
Apricot Freesia – Betsy G.
Energy – Robin
Island Coconut – Cathryn Newton
Champagne & Cherry Blossom Blend – Devin P.
Burnt Sugar, Milk & Honey Candle & Soap, & Turkish Mocha Blend – Vanessa R.
Coconut Lemongrass – Gretchen O.
Chocolate Espresso Cybilla –Carly L.
Neroli & Shea Blossom – Brittany W.
Coconut Cybilla – Beth W.
Lemon Verbena Yankee Type – Laurie W.
Cucumber Melon Cybilla – Kari M.
Champagne – Bjorn-Ake S.
Kumquat – Mary B.
Almond Cybilla – Monica O.
Pink Grapefruit – Kimberly C.
Chipotle Caramel – Shiela T.
Dark Rich Chocolate – Kristie B.
Espresso – Tina M.
Spiced Amber Ale – Dawnia R.
Hello Sweet Thang – Angela B.
Cherry Blossom – Jill B.
Grapefruit Bellini – Connie A.
Berrywine – Melissa L.
Ancient Sedona – Robyn M.
Heather & Hyacinth – Leah R.
Kentish Rain – Kemira H.
Champagne & Crisp Anjou Pear Blend – Lisa W.
Yacht Club – Leela K-S.
White Tea & Ginger – Virginia F.
Shave and a Haircut – Shelley H.
Sweetgrass – Angela P.
Summer Melon Spritzer – Lindsay K.
Yuzu Cybilla – Leilani D.
Wasabi – Ashley S.
Lemongrass Sage Candle & Soap – Diane F.
Turkish Mocha – Susan S.
Sunny Herb Garden – Allison C.
Oatmeal, Milk & Honey – Georgia B.
Spellbound Woods Cybilla – Tina R.
Lavender Green Tea – Stephenie B.
Cucumber Oak – Mary Anne K.
Crisp Apple Rose – Amy S.
Black Raspberry Vanilla – Dawn D.
Lavender & Herb – Lisa P.
Fresh Snow – Rachel H.
White Magnolia – Darlene P.
Butter Mints – Deborah C.
Fresh Bamboo – Heather G.
Lavender – Nora M.
Pure Honey – Charis C.
Lychee Red Tea – Elena M.
Vetyver Type – Janice P.
Amazon Lily & Rain – Debra K.
Rise & Shine & Grapefruit Bellini Blend – Danielle D.
Chocolate & Amber – Heather R.
Vanilla Bean – Shanae Z.
Coconut Mango – Lane B.
Warm Flannel – Jessica J.
Ginger Patchouli – Andrea D.
White Rose – Toni K.
Lavender Forest – Melannie E.
Wildflower Honey – Maureen R.
Ocean Rain – Janine A.
Relaxing – Lisa A.
Heavenly Honeysuckle – Ami J.
Rosehip Jasmine – Jenny S.
Celestial Waters Cybilla – Sarah B.
Tobacco & Bay Leaf – Rhiannon H.
Herbal Essence – Dr Kem K.
Cranberry Fig – Cheryl M.
Black Amber & Lavender – Mioshee G.
Red Apple – Amy S.
Pineapple Cilantro – Roxanne U.
Plumeria & Mayan Gold Blend – Ana R.
Frankincense and Myrrh – Addy N.
Sage & Lemongrass Cybilla – Ree L.
Almond Biscotti – Mary D.
Beach Breezes – Michael G.
Passionfruit Papaya – Ranoah H.
Holiday Candy – Bethany E.
Orange Blossom Candle & Soap – Connie M-S.
Moroccan Mint – Kristie S.
Salty Mariner – Cindy H.
Spearmint Eucalyptus – Angela D.
Sweet Meyer Lemon – Jessica W.
Honeysuckle Surplus – Martina M.
Surplus Cherry Almond – Angela C.
Jasmine Dreams – Adriana M.
Hazelnut Toffee & Turkish Mocha Blend– Tara S.
Orange Peel Cybilla – Carolyn F.
Crisp Cotton – Rondi A.
Rustic Woods and Rum – Paige H.
Sensuous Sandalwood & Vanilla blend – Hannah A.
Oatmeal Stout – Terry S.
Applejack Peel – Hannah M.
Blackberry Sage Cybilla – Angela M.
English Rose & Sensuous Sandalwood blend – Sarah N.
Beau Brummel Cybilla – Karen K.
Cucumber Melon Candle & Soap – Priscilla H.
Gardenia – Shannon C.
Dark Rich Chocolate & Lemon Verbena Yankee Type blend – Rae S.
Earl Grey Lemon – Milena M.
Indian Sandalwood Cybilla – Crystal G.
Neroli – Erica R.