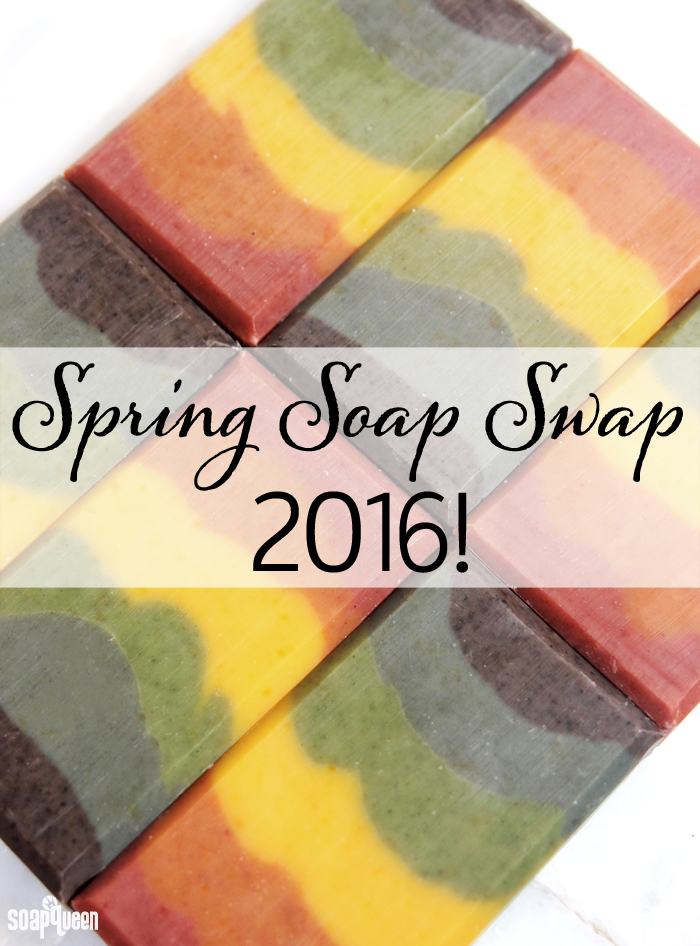 Nobody appreciates handmade soap quite like a soapmaker. When you know how much work and care goes into each batch, every bar of handmade soap is something to be admired. The Bramble Berry Soap Swap was created to give soapers a chance to ooh-and-ahh over each others work. It's a great way to smell new fragrances, get fun packaging ideas and be inspired by new design techniques.
The basic idea of the swap is you create ten 4 ounce bars of cold process soap made with a Bramble Berry fragrance oil. Then, send us your soap. We then swap the bars and send ten new bars back to you, each made by a different soaper. The swap is free; the only thing you pay for is shipping to get your box of unique soaps back to your doorstep.
The Spring 2016 Soap Swap is limited to 100 soapers. We wish we could include everybody, but the process of swapping 100 boxes is quite time consuming! =) If you'd like to participate, the swap is NOW OPEN. Don't wait to sign up, these spots will fill up very fast. The swap is full! Thanks so much to everyone who signed up. For those who weren't able to, we will have another swap in the fall. =)
For this swap, Anne-Marie will be participant #101! Ten random soapers will receive a bar of soap made by Anne-Marie. In addition, Anne-Marie will be opening her box of soaps on camera. If your soap is in the swap box, we would love to mention your business and information about your soap, so be sure to label your bars and include business information!
Follow the steps below to sign up.

1. To sign up, pay for the return shipping of your soap by purchasing the 'Magical Soap Swap Express' on the Bramble Berry website. Once all the spots are full, the shipping will no longer be available for purchase. You must first pay for the swap to officially reserve your spot.

2. Then, fill out this Google form completely, including the fragrance oil you would like to use. You must use a fragrance oil that Bramble Berry currently sells. Find the fragrance oils here. Because somebody may have already chosen your top fragrance choice, please include another fragrance oil selection as a backup. Click here to fill out your entry form!

3. Once you have bought your return shipping and have filled out this form completely, you're officially part of the swap! You will then receive an email within 24 hours with more information.