Warm weather means fun outdoor activities like swimming in the lake, gardening and of course – barbecues! Here at Bramble Berry, we celebrate summer each year with a company barbecue. Everyone brings delicious dishes to share. We all take a break and enjoy good food, sunny atmosphere and great company.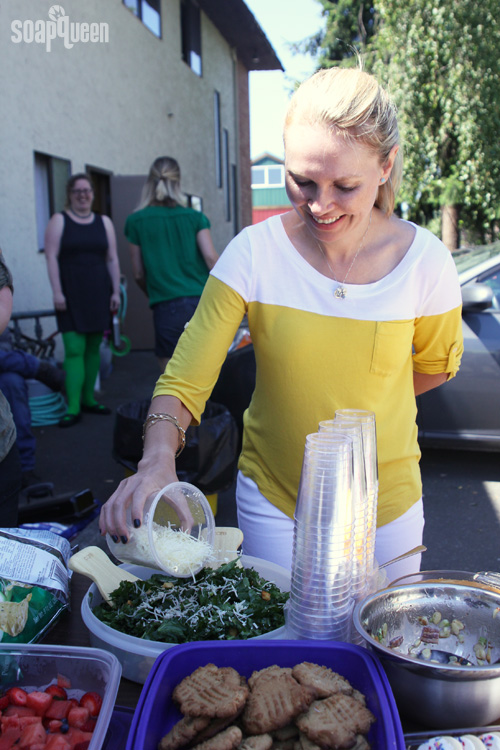 This year I brought salad made with fresh kale from my garden. Adding a little cheese and croutons on top is always a plus. Looking for some kale recipes? I have you covered! This Roasted Chickpea and Kale Cucumber Salad is one of my favorite summer dishes. My Blueberry Kale Smoothie is a great way to use up summer berries.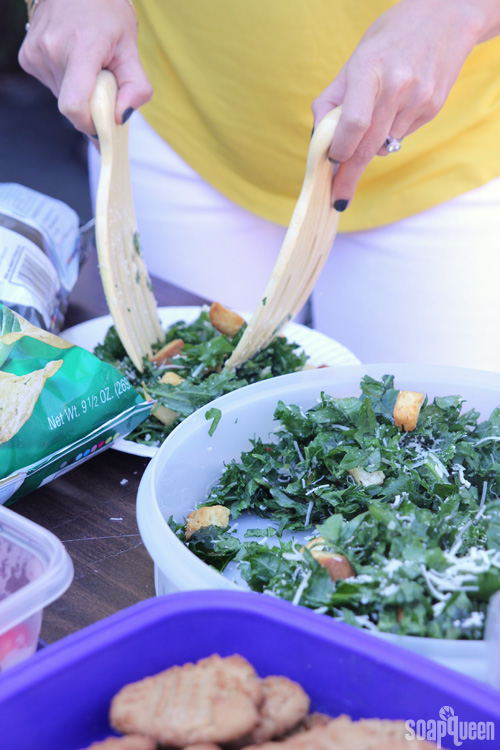 If you weren't in the mood for kale, there were several other great salads to choose from including ceasar salad and a mojito salad with fresh fruit. Yum!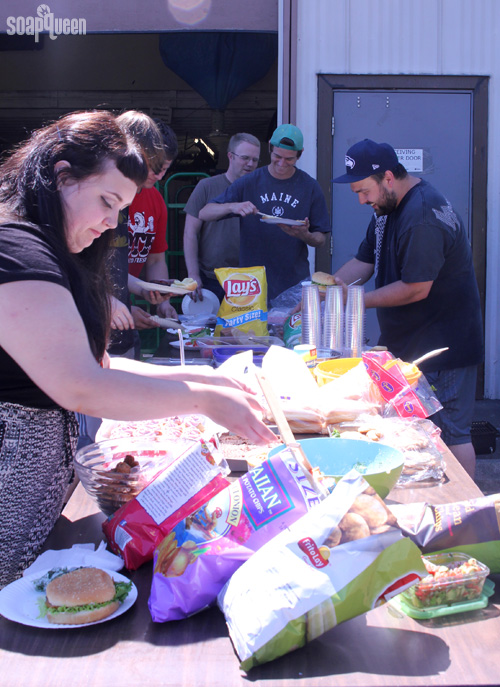 Terah, our new customer service representative, tries to decide what to pick. There were so many options!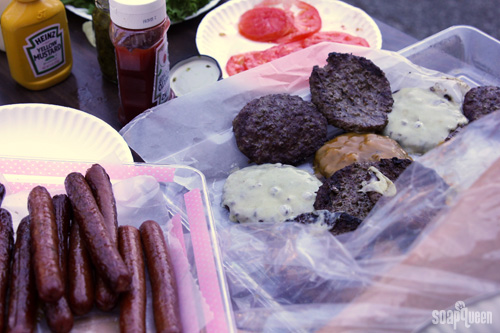 Who doesn't love cheeseburgers and hot dogs fresh off the grill? Mike, our warehouse manager, grilled the meat to perfection.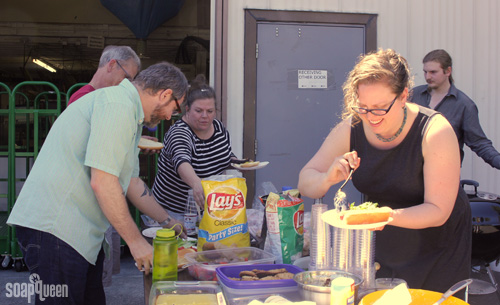 There were lots of laughs throughout the whole barbecue, even in line! From left to right, Shain, Mike,  Tina, Amber, and Ryan fill their plates with fresh homemade food.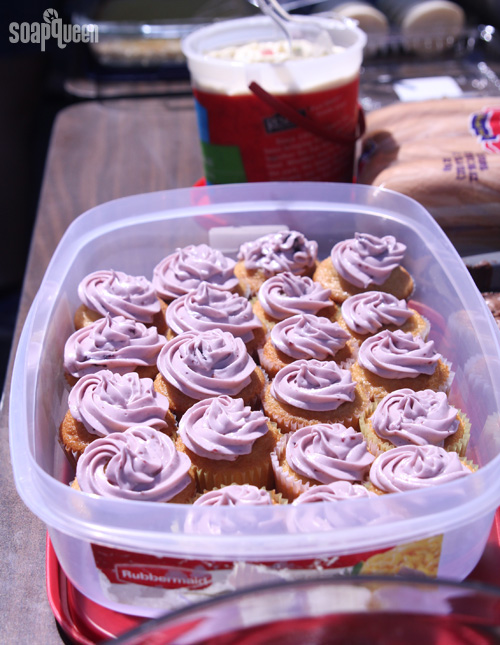 There were plenty of dessert choices, including these vanilla cupcakes with blueberry frosting. Oh so good, and I love the color the blueberries add to the frosting. They remind me of the Chocolate Chip Beet Cupcakes I made for Valentine's Day.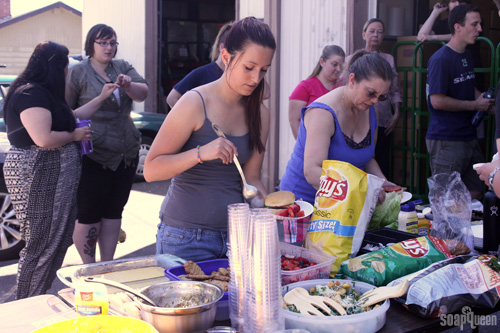 Warehouse employees Bentli and Tina prepare their plates while some of the other employees enjoy good conversation.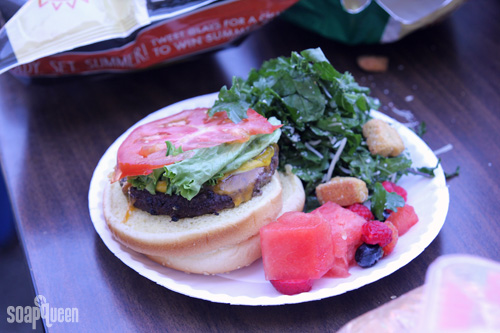 Summer on a plate – a juicy cheeseburger, kale salad and fresh fruit salad.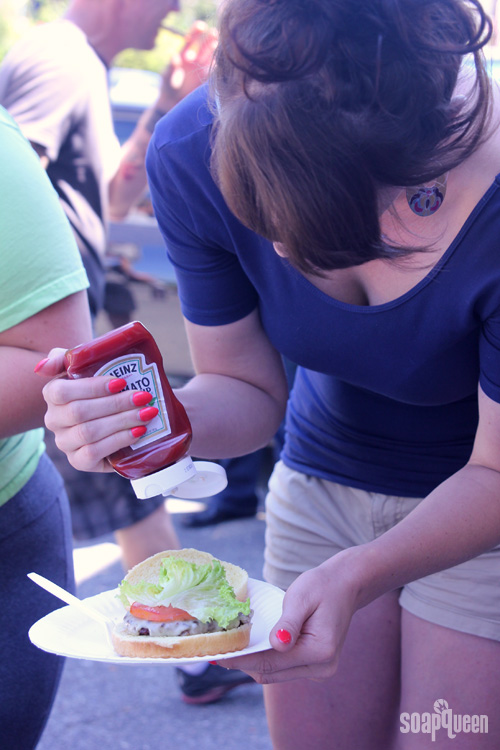 We had lots of topping options like ketchup, mustard and fresh lettuce and tomatoes to add some pizzazz to the burgers.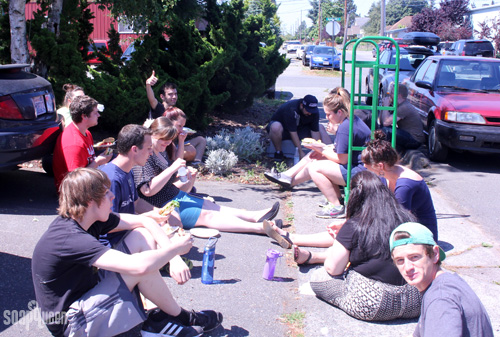 We look forward to these barbecues every year. Sometimes we get so busy at Bramble Berry, it's nice to have the opportunity to relax and see what everyone has been up to. Only 11 more months until next year's barbecue!