With temperatures in the 80's this week, I have been on the lookout for ways to stay cool while enjoying the sun (Lily has too!). When a dip in the lake is not possible, a cold treat is a great way to stay cool. While ice cream is a delicious way to indulge, sorbet is a lighter, more refreshing option. This week I took advantage of the fresh berries abundant in Whatcom County and made a batch of blackberry sorbet. I have a huge amount of basil in my garden so was delighted to use some of that for this recipe as well.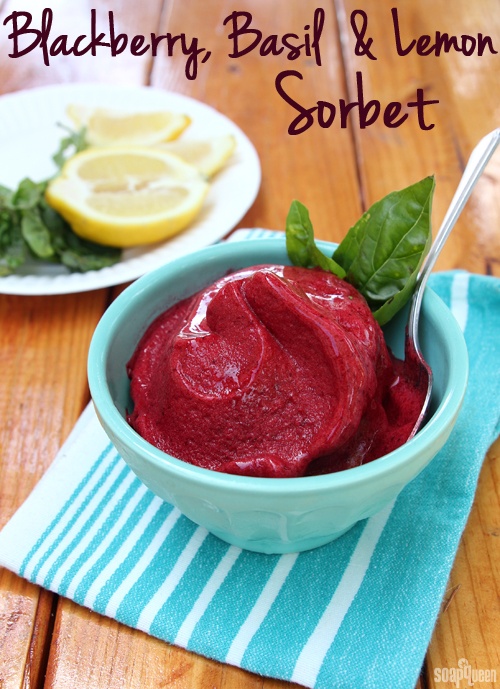 With a rich red color, tart flavor and just a hint of earthiness from the basil, this recipe was a hit. I used an ice cream maker to create this sorbet. If you do not have an ice cream maker, you can freeze the mixture, then place it into a blender to create a smoother icy texture. You could also pop the blackberry mixture into popsicle molds!

What You Need:
6 cups fresh blackberries (about 1/3 of a flat)
1 cup lemonade (homemade or store-bought)
1 cup sugar
1 cup water
6-7 fresh basil leaves
Note: This recipe does take a little prep, so keep in mind you should start making this sorbet a day before you want to enjoy it!
ONE: First, create the basil syrup. In a small saucepan, add sugar, water and basil leaves. Turn heat to high and let mixture come to a boil. Once a boil has been reached, lower the temperature to low-medium and allow mixture to simmer for about 10-15 minutes. The basil leaves should be withered, and the syrup will take on a slight green color. Remove from heat and allow to cool. Once cooled, remove basil leaves.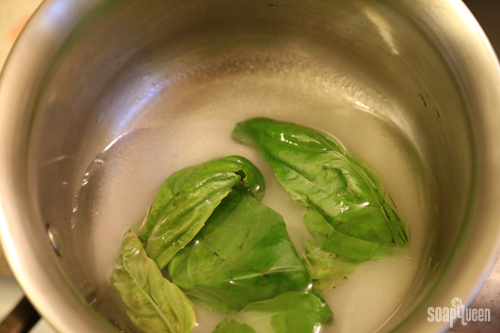 TWO: Rinse fresh blackberries. Place into a blender and add lemonade. Blend until completely smooth. If you prefer no seeds, strain mixture through a mesh strainer.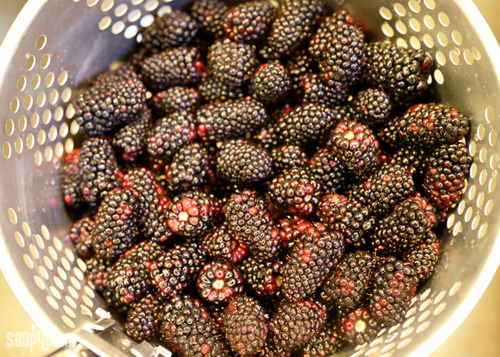 THREE: Combine the basil syrup with the blackberry and lemonade mixture. Place into an airtight container, place into the fridge until completely cool. This should take about 4-5 hours.
FOUR: Once cooled, pour mixture into your ice cream maker.

FIVE: Allow to churn in the ice cream maker for about 20 minutes, or until the texture of soft serve. If you like a soft sorbet, it's ready to eat!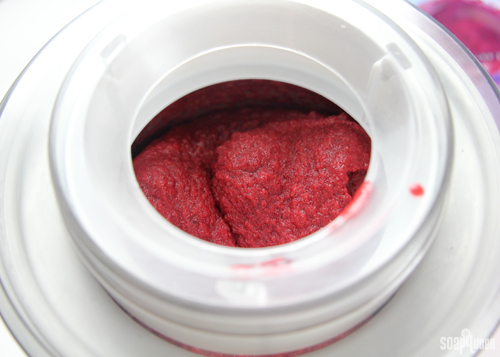 SIX: If you like a harder texture, transfer the sorbet from the ice cream maker back into an airtight container and place into the freezer overnight. Remove from the freezer, and enjoy!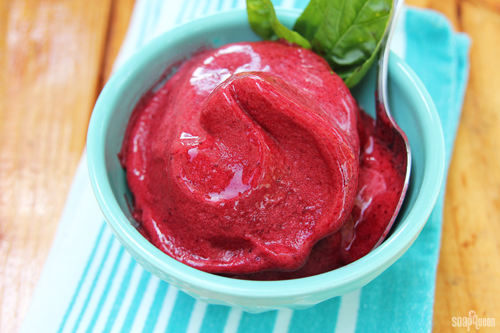 With berry season in full swing, what fruity dishes are you making?