Bramble Berry Orders: Behind the Scenes!
We often hear that coming home to a Bramble Berry box has the excitement of Christmas morning! So we thought you might like a glimpse of what the merry 'elves' here at Bramble Berry do to get you your order. Here's the play by play from placing your order to receiving your order for an exclusive behind-the-scenes peek into the Bramble Berry warehouse!
The first step starts with you, our valued customers (we wouldn't be here with out you!). Orders can be placed online on Bramble Berry's website using our easy to use online shopping cart. If you prefer to place your orders over the phone give us a call at 1.877.627.7883.
(Meet the Customer Service Team) The BB customer service team loves talking all things soap related and taking orders!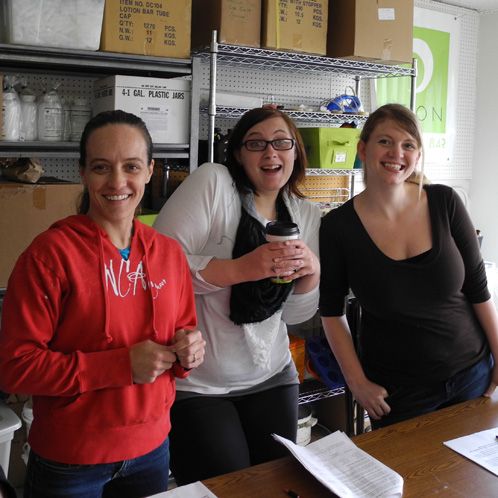 Once your order has been placed, you will receive an email confirmation. Did you know that you can make changes to your order within one hour of placing it? Just send us an email to orderchange(at)brambleberry(dot)com within one hour of placing your order or notify us by writing a note on your order.
Meet Carla: Once your order has been placed, our lovely Order Releaser, from the customer service team, checks the payment, address and shipping on the order. If everything looks good then the order gets printed and sent to the warehouse.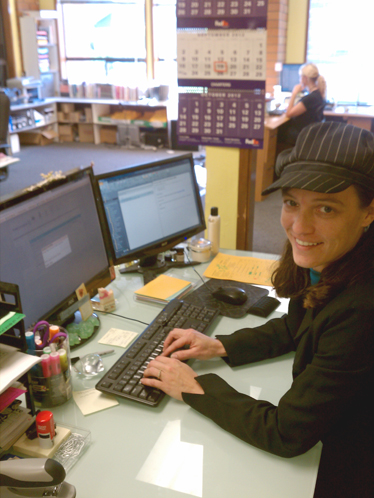 Meet DJ: Did you know that all your fragrance and essential oils are hand-poured? Even your butters, soaps, and colorants are all hand packed and picked by our warehouse team. It's a labor-intensive process but our warehouse crew is the best in town!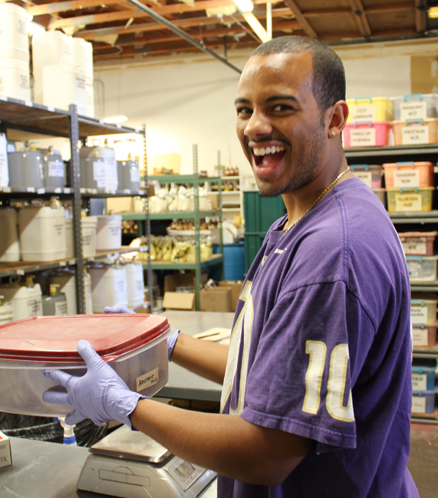 Your order then moves around the different sections of the warehouse depending on what you've ordered. A typical order will bounce between different departments: Fixed Oils and Butters, Fragrance and Essential Oils, Colorants and Herbs, Soap Bases, Molds and Tools. "Your items are being gathered and carefully packed" order status means we're running around the warehouse "pulling" everything that you ordered!
Meet Viet: Once your order has been pulled it is taken over to the packing area where we carefully double check the order to make sure all the items that you purchased are present. Then our packers carefully package up your items with our packing foam. Before we tape up the box we sneak in a 1/2 oz. fragrance oil sample (YAY).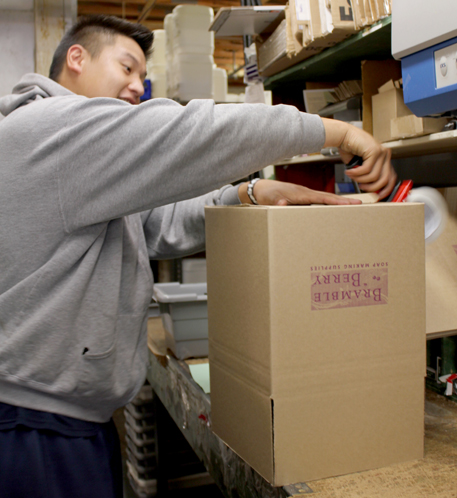 Meet Mark: After your order has been packed, your payment is captured then sent to our loading docks for FedEx or USPS to pick up.
Fun Fact: Did you know that we ship anywhere from 300-400 boxes per day?
Meet John: Once your order has been picked up from the Bramble Berry Warehouse it's on it's way to you!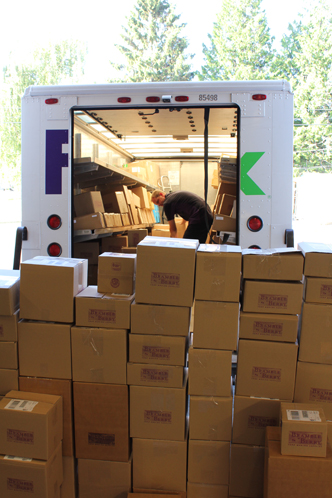 You can use the tracking number (found in your shipping confirmation e-mail) to follow your package until it reaches its final destination. Do you have any questions about our polices? Check out Bramble Berry's store and shipping policies here. 
A big thank you to our Bramble Berry customers for your orders and support.
Want to see more of the BB crew? Check out some older blog posts: Annual Trivia Bee, Our Softball Team, Christmas shopping, Baseball Outing, and Bowling Fundraiser,