After a brief hiatus, Bramble Berry LabColors are back and better than ever!
LabColors will be easier to use (see the first picture in this post for an example of spots from clumpy color), and you'll have vibrant colorants that will show up beautifully in your products. We're also changing the preservative to Optiphen ND, so don't forget to update your product ingredient lists!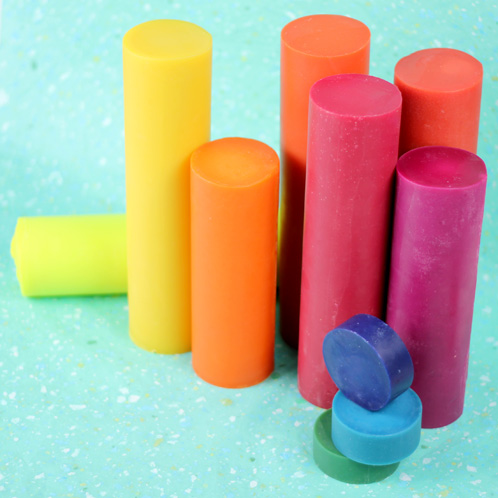 To keep things simple, the sizes of our LabColors will also change. Our new recommended dilution rates for LabColor use in both cold process and melt and pour soap are below:
Small dilutes into 4 to 8 ounces of water

Large dilutes into 8 to 16 ounces of water

Jumbo dilutes into 50 to 100 ounces of water

Despite the changes, the way you dilute LabColors is still the same. For a complete guide to diluting LabColor, refer to this blog post.
You may notice a large variation in how much water we recommend adding for each size. This is because if you plan on using the LabColors in cold process soaps, you'll want to dilute the color on the lower end of the recommended spectrum to produce a more concentrated color. In our experience, we've found that diluting the small sized bottle in 4 oz. of water produces the best result. It produces a strong, vibrant color without affecting the texture of the soap. That being said, you can experiment with the dilution rates we've listed above to achieve a specific shade of color.
Note: Remember to pour your LabColor into a heat-safe container or glass bowl to warm it up, as the plastic bottle can melt in the microwave. If you're using a plastic bottle, you can warm your color up in a hot water bath.
Now that we've filled you in on the LabColor news, read on for a quick primer on everything LabColor related!
What are LabColors?
LabColors are super concentrated liquid dyes. Keep in mind that because LabColors are FD&C dyes, they will bleed in soap. However, LabColors can give you such bright, intense hues that you will want to use them in every batch! Click here to learn more about LabColors and for a quick start guide.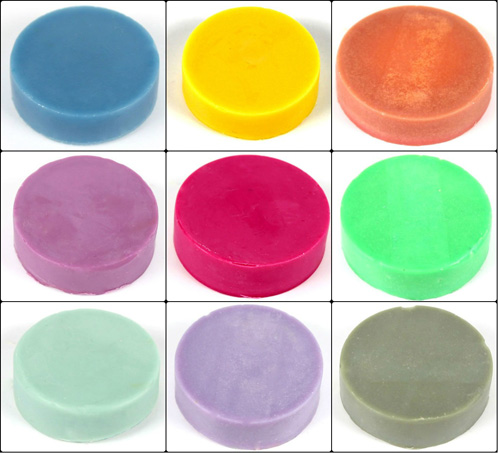 First Row: Azure Blue, Canary, Cimmeron
Middle Row: Grape, Flamingo, Citrus Green
Bottom Row: Gulf Stream, Hyacinth, Java Beans
What is the best usage rate for LabColors?
We have conducted extensive testing to give you precise usage rates for using LabColors in your projects. These usage rates give your soap a vibrant color without producing a colored lather, which can stain.
For 10 of the 12 basic high pH LabColors, we recommend diluting the small size of LabColor in 4 oz. of water, and then following a usage rate of 8 mL of diluted color per pound of soap (this is the total amount of soap you are making, not just the amount of oil in the recipe). These 10 colors are:
For the remaining two colors, Lime and Royal Purple, the usage rate is 4 mL per pound of soap. These colors are more likely to produce a colored lather in finished soaps, and so it's particularly important to not over-color your products with these two colors.
In melt & pour, LabColors are a what-you-see-is-what-you-get colorant, and we typically recommend using 1/2 teaspoon (about 2.5 mL) of diluted LabColor (the small-sized bottle in 8 oz. of water) per pound of melt and pour soap. To achieve specific colors in melt and pour through blending LabColors, see our Color Mixing Guide, which are available as a hard copy or in digital format.
As an added bonus, we're providing a helpful chart so you'll know exactly which LabColor size to purchase based on how much soap you plan to make:
| | | | |
| --- | --- | --- | --- |
| LabColor Size | Amount of Diluted LabColor (for CP) | Amount of Soap – Light Tint | Amount of Soap – Deep Tint |
| small | 4 ounces | 59 pounds | 15 pounds |
| large | 8 ounces | 118 pounds | 30 pounds |
| jumbo | 50 ounces | 737 pounds | 184 pounds |
Blending Colors
The high pH colors are specially formulated for cold process soap, but they can also be used in melt and pour projects. Keep in mind, the same LabColor may look completely different when used in cold process soap and melt and pour, which is why it is particularly important to only use high pH colors — that won't morph or discolor — in cold process recipes. We're giving you the usage rate for the basic 12 colors because you can blend them into hundreds — if not thousands — of other colors by following the ratios listed on our Color Mixing Guide Sheets (you can also buy a digital version of this guide here).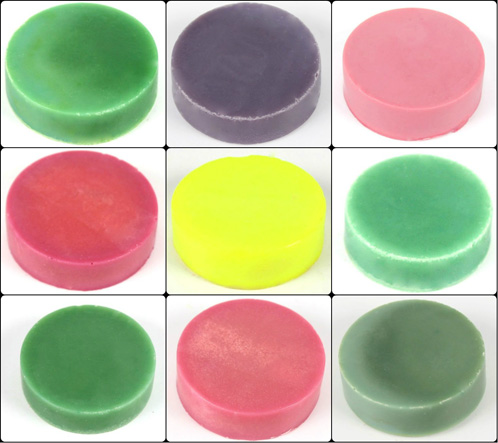 Top Row: Green Wreath, Purple Mist, Berry Red
Middle Row: Vibrant Orange, Lime, Seafoam
Bottom Row: Ivy Mist, Watermelon, Sage
When can I use LabColors?
If you are making cold process soap, take a look at our high pH LabColors that are specifically formulated for all those fun from scratch soapy products. If you aren't into making cold process soap quite yet, we also have a set of low pH LabColors that can be used in your M&P soaps and pre-made liquid soaps.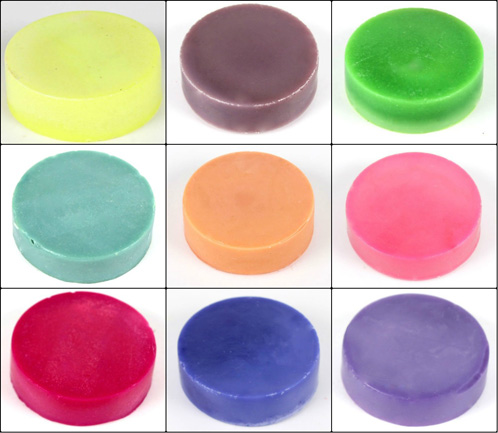 First Row: Lemon, Mauve, Green Apple
Middle Row: Eucalyptus, Soft Orange, Impatien Pink
Bottom Row: Tulip, Royal Blue, Periwinkle
For some fun projects using LabColors (including bath salts, soaps and more), check out the mosaic below. You can use the LabColors in so many different ways and we can't wait to see what you come with. If you have used our LabColors, be sure to share photos of your creations with us on Bramble Berry's Facebook page.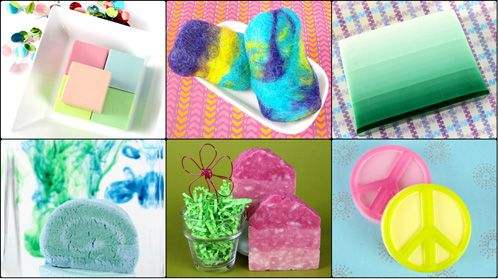 Top Row:  Holiday Soap Cubes, All's Wool That Ends Wool & Green Machine Melt and Pour Tutorial
Bottom Row:  How To Make Solid Bubble Bath, Ombre Rebatch Layers & Peace, Love and Soap
We'd love to know what your favorite LabColors are! If you have a tint or shade of color you'd like to see, let us know in the comments below. For a complete list of Bramble Berry LabColors by hue, check out this comprehensive list:
Reds & Pinks: Berry Red, Black Cherry, Brick, Bright Cherry, Countryside Pink, Flamingo Pink, Fuchsia, Magenta, Melon Red, Impatien Pink, Pinkberry Sherbert, Razzberry, Red, Red Velvet, Rio Rose, Santa Red, Tropical Hot Pink, Tropical Red, Tulip, Watermelon, Wineberry Mist, Pinked Mauve, Countryside Amethyst, Pinked Grape, Countryside Mauve
Oranges: Apricot, Countryside Orange, Peach, Orange Sherbert, Orange, Soft Orange, Tangerine, Tropical Orange, Vibrant Orange, Winter Orange,, Mango Sherbert, Cimmeron,
Yellows: Canary, Countryside Sunny Yellow, Countryside Wheat, Lemon, Lemon Sherbert, Sunflower, Tropical Yellow, Marigold 
Greens: Citrus Green, Countryside Mint Leaf, Emerald, Eucalyptus Mist, Forest Mist, Green Apple, Lime Sherbert, Ivy Mist, Gulf Stream, Green Wreath, Sage Mist, Seafoam, Soft Jade, Tropical Green, Lime, Java Beans
Blues: Azure Blue, Aqua, Blue Green, Blue Mix, Brilliant Blue, , Countryside Blue Dust, Countryside Blue, Countryside Peacock, Countryside Slate Blue, Countryside Oceana, Pool Blue, Navy, Royal Blue, Sapphire, Sky At Dusk, Sky Blue, Countryside Teal, Teal
Purples: Countryside Plum, Countryside Purple, Easter Purple, Dark Purple, Grape, Lavender High, Lilac, Hyacinth Low, Hyacinth High, Periwinkle, Purple Mist, Purple Passion, Royal Purple, Tropical Purple, Mauve Mist
Browns & Blacks: Vanilla, True Black, Oyster Mist