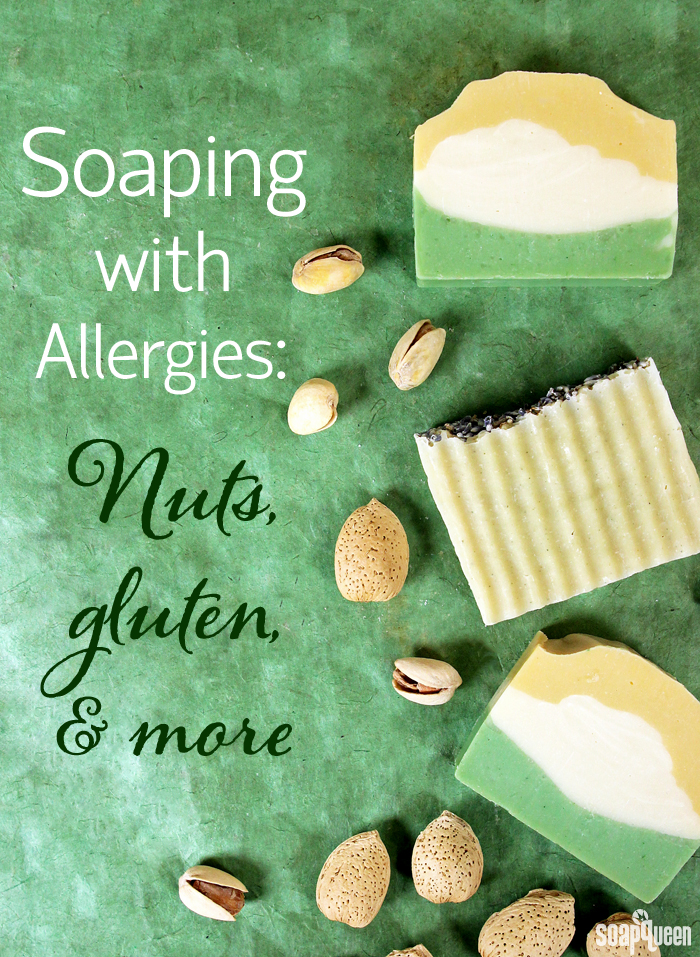 One of the benefits of making your own bath and beauty products is having complete control of the ingredients. Whether you have sensitive skin, allergies or prefer to avoid particular ingredients, creating products from scratch allows you to fully customize for your personal preferences. If you or somebody you know has severe allergies to products such as nuts or gluten, creating your own bath and beauty products can be especially appealing. If you have concerns regarding specific ingredients and how it will affect your allergies, it's always best to consult with your doctor.
Tree nut allergies are one of the most common allergens in both adults and children. Tree nuts include (but are not limited to) walnuts, almonds, hazelnuts, cashews, pistachios and Brazil nuts. Peanuts are also a common nut allergy, but are technically considered legumes. According to FARE (Food Allergy Research & Education), people who are allergic to tree nuts are more likely to be allergic to other types, and should avoid all nuts.
Some fixed oils used in bath and beauty products are derived from nuts, such as sweet almond oil and hazelnut oil. If you are allergic to nuts, you may want to completely avoid using oils from nuts. While these oils are bath and beauty products and are not being consumed, FARE states, "Tree nut oils may contain nut protein and should be avoided. Tree nut oils are sometimes used in lotions, hair care products and soaps." It's always better to be safe than sorry, so if you or a customer are allergic to nuts, you may want to avoid these oils in your projects. If you are unsure if you should use oils derived from nuts in your products, contact your doctor. A great substitution for both sweet almond oil and hazelnut oil is apricot kernel oil.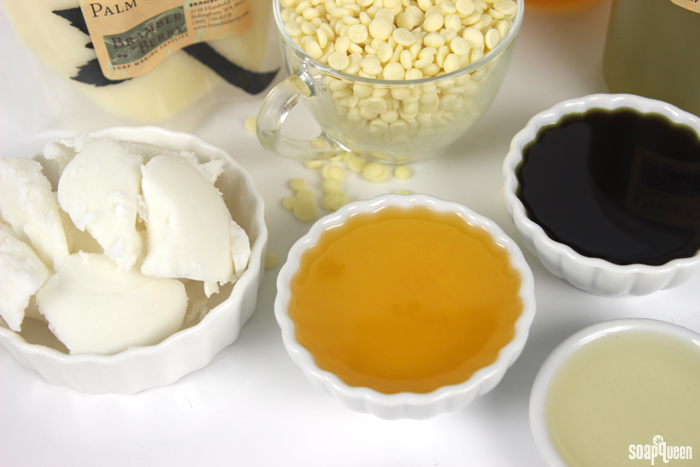 Some oils are derived from nuts. If you are allergic to nuts, you may want to completely avoid using oils from nuts in your bath and beauty products. It's important to talk to your doctor to help make the right decision for you. 
Hazelnut oil and sweet almond oil are easy to identify as nut derived. But others, such as argan oil and coconut oil, are a little harder to define. If you are allergic to nuts, should you avoid these oils? Below are statements from FARE regarding ingesting coconut oil and argan oil. If you choose to not consume these oils, you may want to talk to your doctor about using them for bath and beauty products. While less common than nut allergies, allergic reactions to seed-based oils (such as chia seed, sesame seed oil, etc) are also possible. Remember, if you're unsure which oils are right for you, contact your doctor.
Argan Oil: "Argan oil is derived from the nut of the argan tree and has rarely been reported to cause allergic reactions. While not common as a food source in the US, it is used in Morocco."
Coconut Oil: "The American College of Allergy, Asthma & Immunology (ACAAI) states: 'Coconut is not a botanical nut; it is classified as a fruit, even though the Food and Drug Administration recognizes coconut as a tree nut. While allergic reactions to coconut have been documented, most people who are allergic to tree nuts can safely eat coconut. If you are allergic to tree nuts, talk to your allergist before adding coconut to your diet.'"
Seed Allergy: "Some seed oils are highly refined, a process that removes the proteins from the oil. However, as not all seed oils are highly refined, individuals with a seed allergy should be careful when eating foods prepared with seed oils." Click here for source.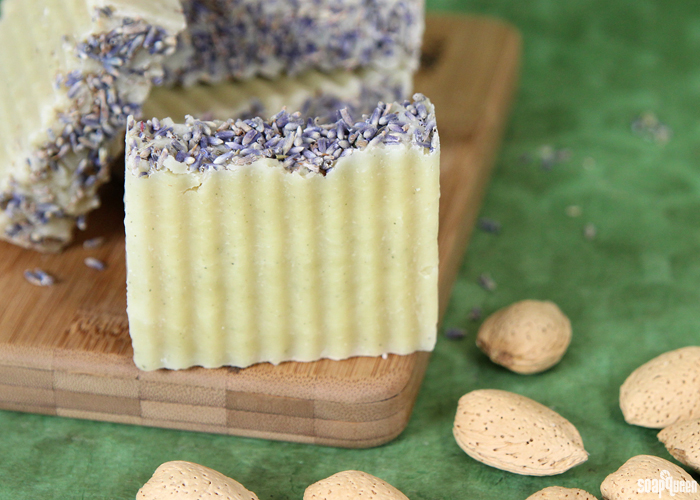 Nuts are a common food allergy, and nut based oils are a common ingredient in many soap recipes. Some people with nut allergies may choose to avoid these oils.
Another common ingredient sensitivity pertains to gluten. Most bath and beauty ingredients are gluten free and vegan, though you will want to check the INCI for the exact ingredients. We actually have an employee with celiac disease and have thoroughly researched our products to ensure her safety! With that being said, many suppliers, including Bramble Berry, cannot rule out any cross contamination. For most people with celiac disease, using skin care products that contain gluten is not an issue unless they products are ingested. Bramble Berry's warehouse is not a food safe environment and our products are only meant for cosmetics. This article from the Mayo Clinic has a great explanation about gluten and bath and body products. If you have any questions about which products are right for you, consult with your doctor.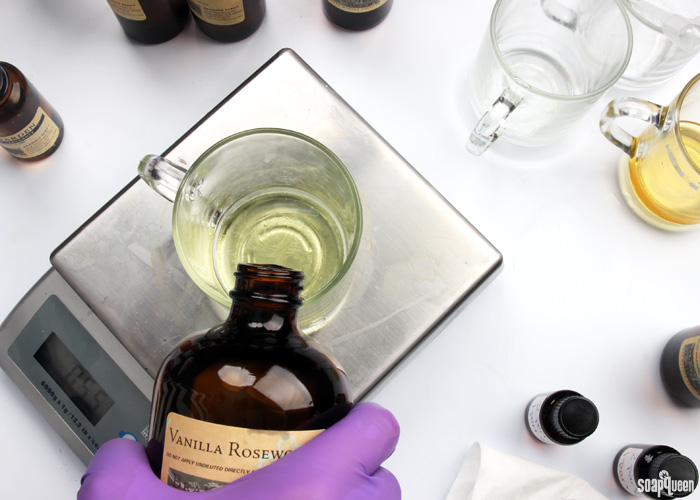 While fragrance oils are thoroughly tested to be skin safe, they can occasionally cause skin irritation. 
While you may not have a serious allergy like nuts, seeds or gluten, some ingredients may cause skin to become sensitive. Everybody's skin is different, and sometimes skin can become irritated to totally random things! Because of this, it's impossible to know if you or your customer's skin will agree with every single product and ingredient. If your projects are not only for personal use, it's important to label the ingredients on your products to help consumers avoid particular ingredients based on their own personal sensitivities. If you are looking for more information on how to label your products, check out the posts below. In addition, I recommend reading the labeling regulations for cosmetics on the FDA's website.
Another source of skin sensitivity when soaping can come from fragrance oils. Fragrance oils do not have full ingredient disclosure; they fall under "Trade Secret" status with the FDA and so simply putting "Fragrance" on an ingredient list will suffice. All ingredients in fragrance oils are tested for irritation, and more serious issues such as carcinogenic indicators. While fragrance oils are tested thoroughly, it's still possible that the fragrance oil could cause an allergic reaction for a select few. If you are a customer has an allergic reaction to a product, you may try making it without fragrance oil, with a different fragrance oil or with an essential oil. It's also important to use the correct amount of fragrance and essential oil, as too much can be irritating in products. You can use the Bramble Berry Fragrance Calculator to find out how much to add to your products.
What about the term, "Hypoallergenic?" According to the FDA, "Hypoallergenic cosmetics are products that manufacturers claim produce fewer allergic reactions than other cosmetic products. Consumers with hypersensitive skin, and even those with "normal" skin, may be led to believe that these products will be gentler to their skin than non-hypoallergenic cosmetics." Like the term "natural," there are no federal standards that govern the term "hypoallergenic." Click here to read more about the term "natural."
In addition, you may find it helpful to read over the historical background for the term hypoallergenic, found here. According to the 1978 FDA Consumer article,"Consumers concerned about allergic reactions from cosmetics should understand one basic fact: there is no such thing as a 'nonallergenic' cosmetic – that is, a cosmetic that can be guaranteed never to produce an allergic reaction."
It is not possible for a cosmetic to claim to be "nonallergenic," because everybody reacts differently to ingredients. By properly labeling your products, consumers who are allergic to specific ingredients are able to make informed decisions on the products they use. If you are concerned with the ingredients in your products, whether they are store bought or homemade, consult with your doctor.